Rural Governments Find a Voice
By staff reporter LI WUZHOU
WITH a history of about a decade, the press spokesperson system is new in China. Especially when it comes to county and township governments, the system is still in its infancy.
On a recent visit to Changfeng County in Hefei City, Anhui Province, China Today reporters were surprised to learn that there were 67 spokespersons for the local county and township governments. To learn more about how this quintessentially Western system of government-media contact has affected rural society, China Today interviewed several of the county's press spokespersons.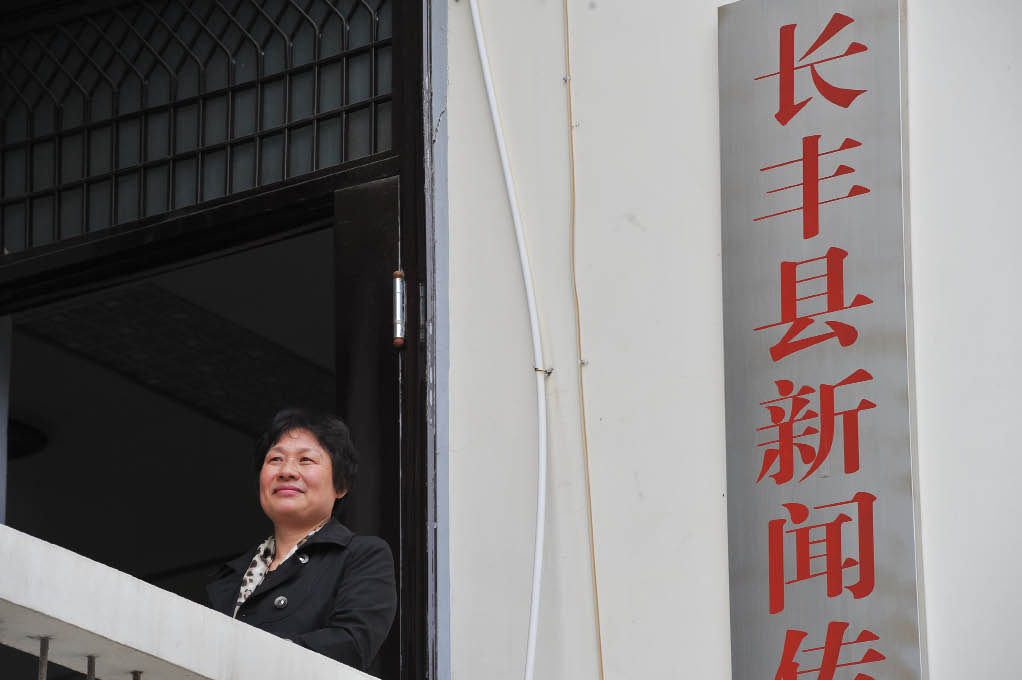 Kuai Wenhua, press spokeswoman and vice director of the Changfeng County Health Bureau. Photos by Yu Xiangjun  Photo by Yu Xiangjun 
Increasing Transparency in Government Affairs
On June 20, 2011 the election of representatives to the CPC Changfeng County Congress had just wrapped up, and a press conference, the first ever held in the county, was underway. Xia Lunping, deputy secretary of the CPC Changfeng County Committee, was acting as media spokesman. He briefed reporters on work done by the County Party Committee in the previous term and summed up aims, tasks and guidelines for the Party Committee going into the next. Reporters from more than 10 national and local media institutions, including Xinhua News Agency, Anhui Daily and Hefei TV, attended the press conference and raised questions.
"You know, the leaders of the County Party Committee were a little worried about this press conference. It's the first time we've done such a thing, and nobody even asked us to do it. But it was worthwhile. We've made public the work of the County Party Committee and increased transparency. People will better understand what we do now," Xu Shengbin, director of the county's publicity department who presided over the press conference, told China Today.
On July 7, 2011 the first batch of 67 spokespersons, including 15 for township governments in Changfeng County, completed their training. Most of them were deputy heads of their departments or governments, and a few were top leaders. For the press conferences themselves, the county government set aside a hall, anteroom and information room in the county's Party School.
To increase transparency of government affairs, in 2001 the central government introduced the press spokesperson system from abroad to its ministries and commissions. Later, the central authorities required local governments and Party committees at various levels to establish the system. Last year, the number of press conferences given by the central and provincial authorities alone topped 1,700. In Hefei, press spokespersons now feature in the municipal government and the Party committee and in all departments directly under the municipal government.