Happier Children, Better Future
Children are the future of humankind and society as well as extensions of their parents' lives. For various reasons, certain children encounter difficulties and misfortune in their lives and need special care. Over the past decades governments, as well as enterprises, NGOs, institutions and philanthropists, within and outside of China have done their part to help the children there who are less fortunate than most.
Care and Concern for Left-behind Children
By staff reporter LU RUCAI
NOWADAYS large numbers of young rural residents move to cities in expectations of better work opportunities. Statistics show that there are 230 million migrant workers in China – a figure that implies a huge population of so-called left-behind children in rural areas.
Left-behind children are those that fend for themselves while either one or both of their parents live and work in cities. The Study on Left-behind Children in Rural China released by the All-China Women's Federation shows that there are more than 58 million left-behind children under 18 years old in rural areas, of whom 40 million or more are under 14. Around one third have been living apart from their parents for more than five years. Of these, 52.86 percent are estranged from both parents, 47.14 percent are in a single parent arrangement and 48.35 percent live with their grandparents.
For left-behind children, living in a standard family with both parents is an impossible dream. People from all walks around the country have done their utmost to help those lone-living kids.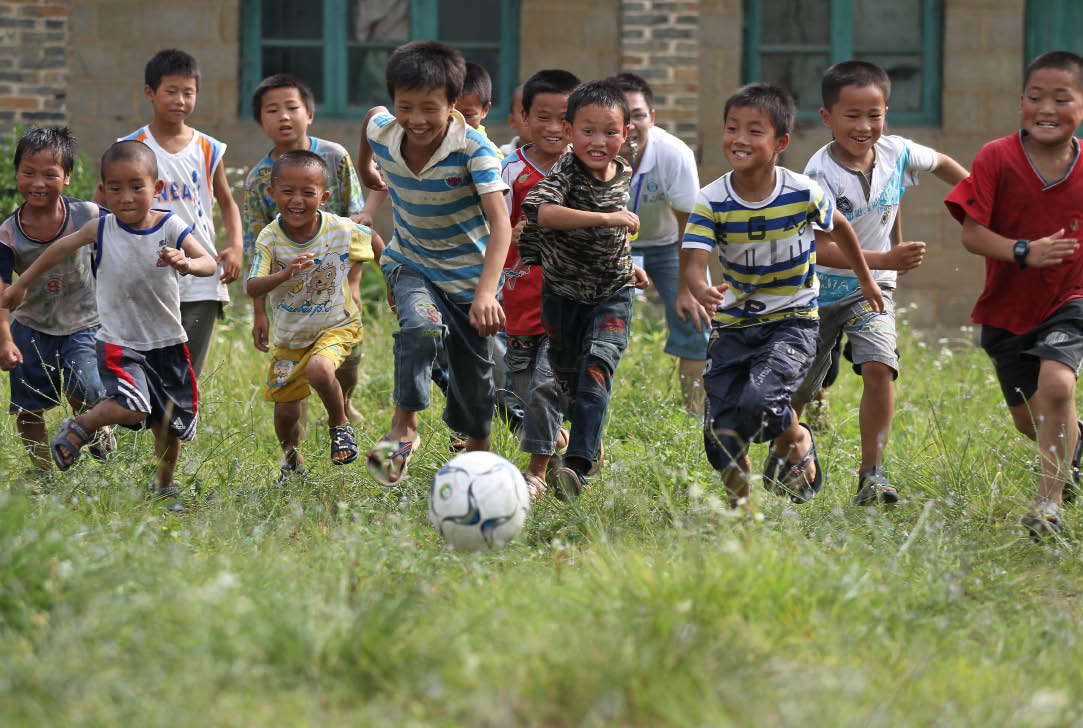 Soccer brings great fun to children at Hulu Primary School in Huayuan County, Xiangxi Tujia and Miao Autotonous Prefecture in Hunan Province.      CFP
Help from Civil Society
Twelve-year-old Cao Chengwei lives in Shangdonglin Village, Xipeng Town in Chongqing Municipality. At the end of the school day he goes to the village's Happy Home for Left-behind Children to have a video chat with his mom, who works in Guangxi Zhuang Autonomous Region. Cao's parents left home to find work in the city when he was just five years old. He has since lived with his grandparents, now in their 70s. The boy sees his parents only twice a year.
The Happy Home for Left-behind Children receives a dozen or so children like Cao Chengwei each day after school. The home consists of a video chatting room, a psychological consulting room, a reading room and a games room. Around 20 college-graduate village officials work in shifts at the home helping children with their homework or just playing with them.
There are more than 1,100 left-behind children in Xipeng Town, and every village in the town has set up its own Happy Home. Workers at the homes organize activities that help the kids to grow up happy and healthy. The village committee has also selected cadres to serve as substitute parents for these children. They are responsible for the kids' daily life and studies, but most of all for giving them a sense of parental love in their real parents' absence.