On Target for Posterity
Yang Fuxi Upholds China's Bow and Arrow-making Legacy
By staff reporter JIAO FENG
THE bow and arrow craftsmanship of the Ju Yuan Hao workshop in Beijing was recognized as one of China's National Intangible Cultural Heritages in 2006. It was among the first cultural traditions to be given the title.
At the time, 48-year-old Yang Fuxi was one of the few master craftsmen remaining adept at traditional Chinese bow and arrow construction. Yang's workshop, called "Ju Yuan Hao" for generations, produces some of the more complex bow and arrow designs of ancient China. Creating them today still requires many hours of handiwork by the most skilled technicians. The art is a true treasure of Chinese traditional culture.
Ju Yuan Hao, located in Beijing's eastern suburbs, is a two-story house that serves as both Yang Fuxi's home and studio. The reception room on the first floor features a horizontal plaque inscribed with the Chinese characters, "Ju Yuan Hao," a name of which Yang is proud. Beside the plaque is a row of bows. The tools Yang uses to fashion his exquisite pieces are scattered throughout his house, along with half-finished bows and in-progress arrows.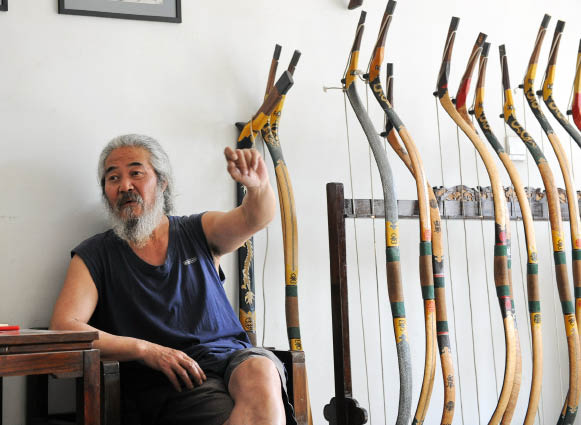 Yang Fuxi, successor to the bow and arrow craftsmanship traditions of the Ju Yuan Hao workshop.
The bow and arrow has been around for thousands of years in China and was the decisive weapon in many a battle. According to Yang, the Ju Yuan Hao workshop was opened in 1720 by an ironmonger under the patronage of the royal house of the Qing Dynasty (1644-1911).
With the proliferation of firearms in China, bows and arrows gradually disappeared from battlefields, and craftsmen went out of business. At the beginning of the 20th century, Yang Fuxi's grandfather, Yang Ruilin, bought the current premises, when the previous owner was set to close down.
Yang Ruilin was infatuated with bow and arrow making. He not only absorbed all the techniques for making all kinds of conventional bows and arrows, but also experimented with derivatives such as crossbows and sleeve arrows. With his considerable efforts, the workshop's business prospered and became one of the few bow and arrow manufacturers to survive until the founding of New China in 1949.
Yang Fuxi's father and uncle learned the techniques for bow and arrow making from an early age. In the early 1950s, Ju Yuan Hao's products began to be exported to the U.K. In all likelihood, had the "cultural revolution" (1966 – 1976) not taken place, Yang Fuxi too would have been given a traditional training in his ancestral craft.