The World of Ancient Coinage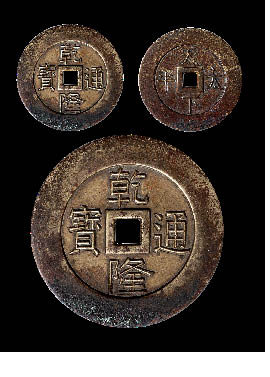 Qianlong Tongbao coins.
ANCIENT coins bear loyal witness to the vicissitudes of history and civilization.
China was the first nation on earth to adopt a common currency. For around 4,000 years, the country has produced coins from an array of materials in various shapes and sizes, beginning with shells in the Shang Dynasty (17th - 11th centuries BC). Metal coins first appeared in the Spring and Autumn Period (770-476 BC), and became popular during the Warring States Period (475-221 BC). Technology progressed in the Qin Dynasty (221-206 BC), with the circulation of round bronze coins with square holes at their center. It was at the end of the Qing Dynasty (1644-1911) that machine-pressed coins debuted. All have contributed to the grand Chinese legacy of minted currency.
Coin collecting has long been a hobby in China. For decades ancient coins could be picked up quite cheaply on the mainland, but their prices have skyrocketed over the past years. These days, some of the rarest examples can fetch several million yuan at auction.
The value of ancient coins is generally determined by the coin's historical context and age, and by its rarity. For example, the Western Han Dynasty (206 BC—AD 24) cast about 28 billion Wuzhu coins, and this enormous amount brought down their worth. Today, run-of-the-mill varieties sell for only a few yuan each. Coins from some short-lived dynasties or those cast during peasant uprisings have become valuable treasures in collectors' markets due to limited amounts and short circulation periods.
Until perhaps one or two decades ago, it was uncommon for rare coins to go for more than a few thousand yuan at auction in China. But as domestic collectors' markets have burgeoned, people are looking to ancient money as a way of, well, making money.
At a 2011 auction conducted by China Guardian Auctions Co., Ltd, three ancient coins fetched over RMB one million each. Several others sold for thousands or tens of thousands of yuan.
At the top of the list was the Xiwang Shanggong gold coin, which sold for RMB 2.3 million at the auction. It is small – 50.4 mm in diameter and weighs 48.6 grams – but in perfect condition. The coin, whose name translates literally as "Award from the King of the Great West to outstanding generals and soldiers," was commissioned by Zhang Xianzhong, leader of a peasant uprising in the late Ming Dynasty (1368 – 1644) who proclaimed himself "King of the Great West," but ruled for only three years before being killed by Qing forces. The coins he adopted were made of gold, silver and copper, gold ones being the most valuable and rarest.