The Sudden Mountains of Yangshuo
By NANCY TIAN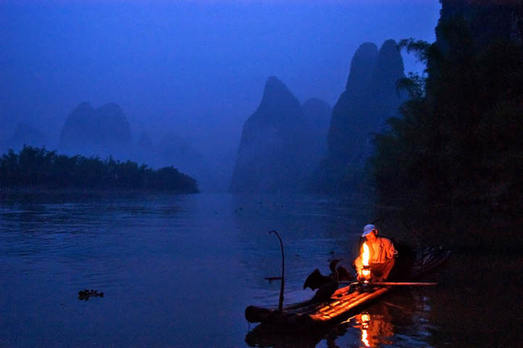 A lone fisherman and his cormorant fish by lamplight on the Lijiang River, close to Huangbu Shoal. 
The Lijiang River: Painted in Mist and Rain
Yangshuo in the northeastern part of Guangxi Zhuang Autonomous Region boasts more than 1,400 years of history, going back to the Sui Dynasty, and is home to more than 13 ethnic groups. It sits on the banks of the Lijiang River that connects it to downtown Guilin. Tourists often choose to travel from Guilin to Yangshuo along this five-hour water route, whose banks are bursting with history and dramatic scenery.
I planned to go rafting on the Lijiang River, but my spirits were almost quashed by the drizzle that pervaded all morning. Nevertheless, I determined to continue with my plan. I took a bus to Yangdi, a town upstream of Yangshuo, where I would drift on a bamboo raft to Xingping. I had been told that this 40-km route was the most beautiful stretch of the Lijiang River.
Far from the busy life in modern cities, I found myself enchanted by the tranquil atmosphere. The scene was especially devoid of people. Being wintertime, it was the slack season for tourism, and that day's rain had discouraged many of the few tourists from stepping out.
I found a raft piloted by a weather-beaten middle-aged boatman. He signaled for me to put on a life vest as I prepared to take my place on the ancient-looking bamboo chair that sat onboard. The craft much resembled traditional rafts, except for the modifications of a modern engine and a shelter to protect passengers from the frequent rain.
We drifted along the quiet river at a leisurely pace. A heavy mist enveloped the mountains along the banks and the rain played a soft melody on the river surface. The climate of Yangshuo is wet all year long, and it is this rain and mist that gradually dissolved the soluble limestone bedrock to form the area's dramatic scenery. One of the most fascinating mountains is Jiuma Huashan, known in English as Nine-Horse Fresco Hill. Its sheer cliffs, on which, if you use your imagination, you can make out a herd of nine horses, fall to the banks below. Not far away is a strangely familiar scene of Karsts huddled around the river. You can find out why by merely taking out a RMB 20 banknote, and holding it up against the view before you – these are the same collection of peaks that adorn its obverse side.
Drifting along the river, I felt like I was traveling through a Chinese ink painting. Bamboo with green and golden leaves danced in the breeze or hung still in a moment of calm, while flocks of birds called to each other as they flew overhead.The water was as blue and transparent as a perfect piece of jade. We passed several other rafts carrying tourists, and waved to each other, feeling lucky to meet on that rainy winter's day on the Lijiang River.