Property Owners Take Initiative
By staff reporter JIAO FENG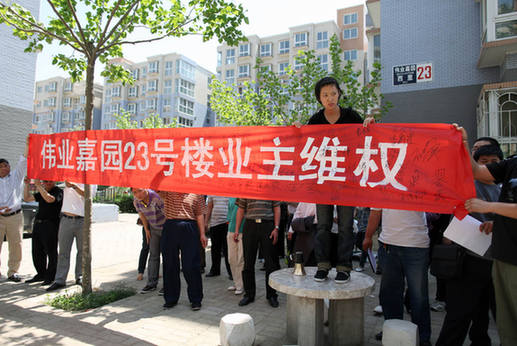 Property owners in a Beijing community safeguard their rights in May, 2010.
THE state of disrepair of household buildings, evident in falling exterior tiles, was a common worry last year among residents of the Shuiyan Mingju community in Beijing's Haidian District. Dissatisfaction with their property management company and the need to have a say in repairs and apportionment of related costs prompted Yu Lin and other householders to apply to the local administrative office for permission to set up a property owners' committee.
Rapid development of China's real estate market in recent years has spawned new social conflicts. Civil disputes among property owners, property management companies and developers now embody the bulk of problems arising within urban communities. Committees comprising the actual owners of estate property present a viable solution. They are autonomous civic organizations that protect the interests of the home-owning residents of particular residential areas that sponsor them, and play a decisive role in involving individuals in public affairs and building a more harmonious pattern of neighborhood relations amid China's sweeping urbanization.
Owners Take a Stand
Up to the 1980s, urban families in China lived mainly in accommodation allocated to them and administrated by their work units. Reforms to the housing system and developments in the commercialized real estate market gave rise to property management companies responsible for maintaining communal facilities. But as a third party contracted by developers and hence quite removed from the owners, these companies are often perceived as undermining property owners' interests.
Most of the residents of Langqinyuan, a 400,000-sq-m residential district in central Beijing's Xicheng District comprising 2,400 households, moved there in 2005. A year later, the property company arbitrarily raised car-parking fees from RMB 150 per month to RMB 2 per hour. Residents sent representatives to negotiate with the company on several occasions, but to no avail. Disputes on the matter soon escalated to the point where angry residents set up a roadblock at the community entrance. Eventually the local government stepped in to help settle the matter. Shortly after, property developers drilled 18 wells within Langqinyuan premises to provide water for newly built offices nearby. As six of the wells were within 20 meters of household buildings, residents were understandably concerned about the safety of their homes. As one owner, now a member of the owners' committee, Luan Jimin explained, "This incident alerted us to the imperative to set up a home owners' committee. We need an organization to represent our collective will and interests that gives us a united voice and the power to protect our rights in the face of unscrupulous property companies and property developers."