China and Turkey Reinforce Friendship ---- CIPG Signs Cooperation Framework Agreement with Calik Holding
By staff reporter LIU SHINAN
ON April 9, Chinese Premier Wen Jiabao held talks with visiting Turkish Prime Minister Recep Tayyip Erdogan at the Great Hall of the People in Beijing, after which they attended the signing ceremony for cooperation agreements between the two countries. Zhou Mingwei, president of China International Publishing Group (CIPG), and Ahmet Calik, president of Calik Holding, an important media conglomerate in Turkey, signed a cooperation framework agreement.
On behalf of their respective governments, Wen Jiabao and Erdogan expressed congratulations to CIPG and Calik Holding on signing the cooperation agreement, and hopes that the two conglomerates will further consolidate China-Turkey friendship, deepen bilateral cooperation and contribute to mutual understanding and trust between the two sides.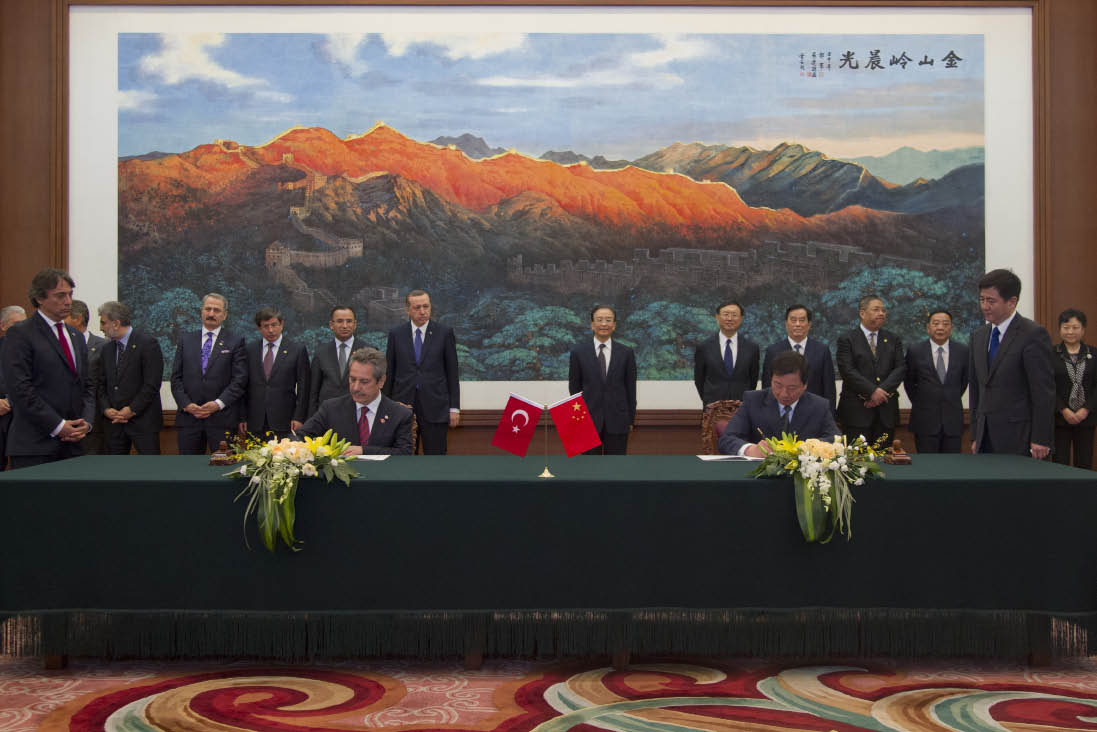 CIPG President Zhou Mingwei (right) and Calik Holding President Ahmet Calik sign a cooperation framework agreement. Photos by Duan Wei
On April 11, Liu Yunshan, head of the Publicity Department of the CPC Central Committee, member of the Political Bureau of the CPC Central Committee and secretary of the Secretariat of the CPC Central Committee, met with Ahmet Calik and his entourage.
Liu warmly welcomed the Turkish visitors and congratulated Calik Holding on signing the cooperation framework agreement with CIPG. Liu observed that in the 41 years since China and Turkey established diplomatic relations, the two countries have maintained a stable relationship and seen frequent top-level exchanges along with constantly growing political trust. He added that China cherishes its traditional friendship with Turkey and that the two countries should continually work together to expand exchanges and cooperation in various fields such as politics, economy and culture. Liu also said that the signing of the cooperation framework agreement signifies the great importance the two sides attach to cultural exchange and cooperation. He expressed hope that CIPG and Calik Holding will push forward the practical development of bilateral cooperation by sticking to the principle of mutual benefits, and establish a more convenient and effective channel of communication for peoples of the two countries.
At the same meeting, Ahmet Calik spoke highly of the achievements China has made in recent years in various fields, saying he is willing to strengthen exchanges and cooperation with Chinese media and work hard to deepen Turkey-China friendship and mutual trust.
Under the framework agreement, CIPG and Calik Holding, in addition to jointly publishing the Turkish edition of China Today, will further promote their cooperative relationship by collaboratively translating and publishing books and holding seminars. This will promote exchanges between the media of both countries and enhance their peoples' understanding and friendship.
Calik Holding owns multiple media businesses, including TV, radio, newspapers, magazines and websites. Extensive media experience makes Calik Holding extremely influential in Turkey, its market covering both Turkey and Northern Cyprus.
Zhou Mingwei visited Turkey in October 2011 at the invitation of the Chinese ambassador to Turkey. He attended the launch ceremony of Witness the Friendship, a commemorative album of articles and photographs celebrating 40 years of diplomatic relations between China and Turkey. During his stay, Zhou visited Calik Holding and met with Ahmet Calik, which resulted in an agreement to establish strategic partnership.
CIPG and Calik Holding share the belief that deepening mutual understanding and expanding exchanges will play a vital role in the development of bilateral relations. The two sides regard each other highly, both being major publishing groups within their countries, and influential regionally and worldwide.
Before the agreement signing ceremony, Hu Baomin, president of China Today magazine, met with visitors from the Turkuvaz Media Group, a subsidiary of Calik Holding. After welcoming the group, Hu elaborated on his thoughts and plans regarding the topics, contents, distribution and promotion of the Turkish edition of China Today. They discussed cooperation on the magazine, and reached consensus on a range of issues, including the aims of the cooperative publication, and the rights, responsibilities and obligations of the two sides.
It is widely recognized that the publication and distribution of the Turkish edition of China Today plays a significant role in promoting cultural exchanges between China and Central Asia.