Empowering China's Children
----- An Exclusive Interview with Gillian Mellsop, UNICEF Representative to China
By staff reporter ZHANG HUI
MOST of China's lay population learn about the United Nations Children's Fund (UNICEF) through its projects in the country's disaster-affected or poor rural areas. People are also acquainted with UNICEF China through its publicity activities, and Goodwill Ambassadors such as popular film stars Maggie Cheung and Chen Kun and celebrated broadcast journalist Yang Lan.
The history of UNICEF's collaboration with China can be traced back to 1947, when China entered a partnership with UNICEF to provide children with emergency relief services. In its early days (1947-1951) in China – the first country outside of Europe in which UNICEF worked – the organization also helped provide training on maternal and child health care, sanitation and first aid, so laying foundations for China's "barefoot doctor" rural healthcare system. In 1979, UNICEF began its modern-era cooperation with China, and has since contributed greatly to the country's significant developments that are geared specifically to children.
For a closer look at how UNICEF has worked in partnership with the central government in addressing the needs of children in China and promoting protection of children's rights, China Today sat down with Gillian Mellsop, UNICEF Representative to China, for an exclusive interview.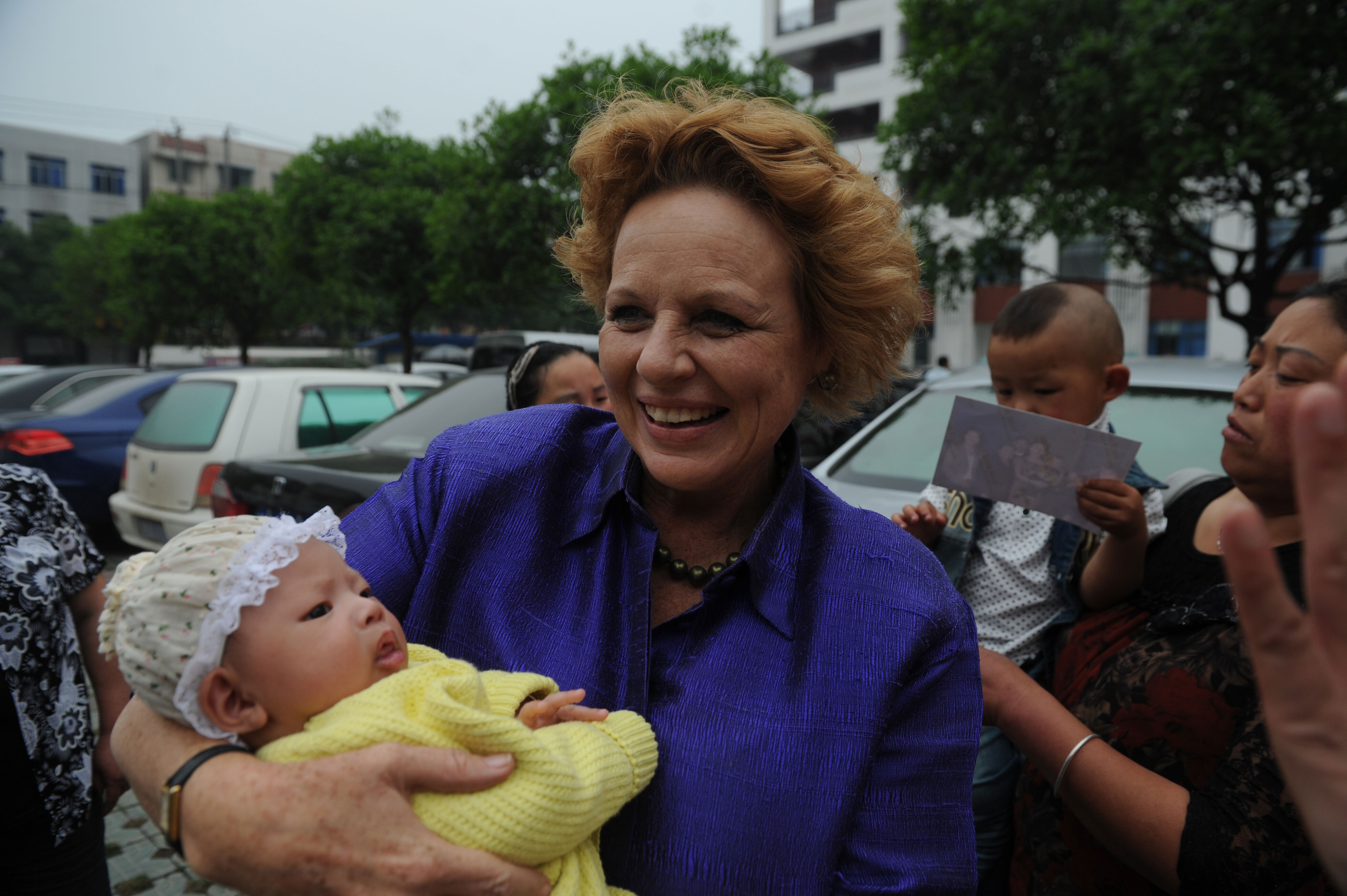 Ms. Gillian Mellsop holds a baby born in earthquake-stricken Hongbai Town, Shifang City, Sichuan Province on the third anniversary of the Wenchuan earthquake.  Photo courtesy of UNICEF 
Model Strategies, Commendable Achievements
Statistical data show that in 2010 the Chinese population living below the poverty line had fallen 2.8 percent to 26.88 million from the 1978 level of 250 million. The coverage of China's nine-year compulsory education is now 99 percent – a formidable advance bearing in mind that, only 60 years ago, 80 percent of Chinese people were illiterate. What's more, by the end of 2011, 95 percent of China's 1.3 billion population, including children, had basic medical insurance cover.
When talking about China's achievements in the protection of children's rights and improvements in children's living conditions, Ms. Mellsop said, "China is the role model for the rest of the world in this regard, and has made incredible progress in the last 30 years."
UNICEF's work with the Chinese government has contributed to this impressive progress. "Maternal and child health is one of the best examples of pilot projects that UNICEF has supported," Ms. Mellsop told China Today. In the 1980s and 90s, there was still a relatively high rate of maternal mortality in China due to lack of access to proper health care. According to Ms. Mellsop, the program that UNICEF helped pioneer to encourage rural mothers to deliver their babies in hospitals almost halved maternal mortality. Today the Ministry of Health has scaled-up the UNICEF approach to support all of China's rural poverty counties. Owing to the national program, to which central finance authorities allocate billions of RMB annually, all pregnant rural women are now eligible for free checkups and hospital deliveries.
In the 1980s, UNICEF also helped the Ministry of Health to expand child vaccination programs. At that time, most of China's remote areas lacked refrigeration for safe storage and transport of vaccines. UNICEF helped establish a cold-chain network. This significantly improved China's immunization program, leading to a dramatic drop in child mortality from diseases like measles, polio and tuberculosis that vaccinations can prevent.
Focus on the Most Disadvantaged Children
"As a United Nations agency and a leading global organization working on children's issues, UNICEF works with the Chinese government to enhance China's capacity to extend basic and essential services to children in the most remote and disadvantaged communities by developing demonstration models and approaches," Ms. Mellsop told China Today. "We focus on the most vulnerable and disadvantaged children."