Labor of Love
Embracing the Volunteer Spirit in Education
By staff reporter ZHANG HUI
FEELING her way carefully down the long, dark pathway of a bicycle shed in Shijingshan District's Laoshan Community, 72-year-old Yu Shuhua reaches a small room. It's a chilly winter's day in Beijing, and at 4 p.m. the afternoon light is dwindling. Luo Meiqi, the 12-year-old daughter of a migrant worker who runs the shed and also calls it home, is waiting inside. Yu, a retired college teacher-come-volunteer, tutors little Luo every day after school.
"I first met Luo's children on a summer day in 2008 when they were doing their homework in front of the shed. I spotted some incorrectly written Chinese characters in their exercise books and helped the children to fix them. They began to ask me questions," Yu told China Today.
Many migrant workers' children don't perform well academically when they first move to Beijing due to differing textbooks and lackluster teaching in their hometowns.
Yu is a member of the Laoshan community-based volunteer education help team that targets children with academic problems or who are in need of psychological help. Most of the children come from poor or unhappy families. This volunteer group currently consists of nine retired teachers from the community, and has provided free educational help to disadvantaged children for 11 years.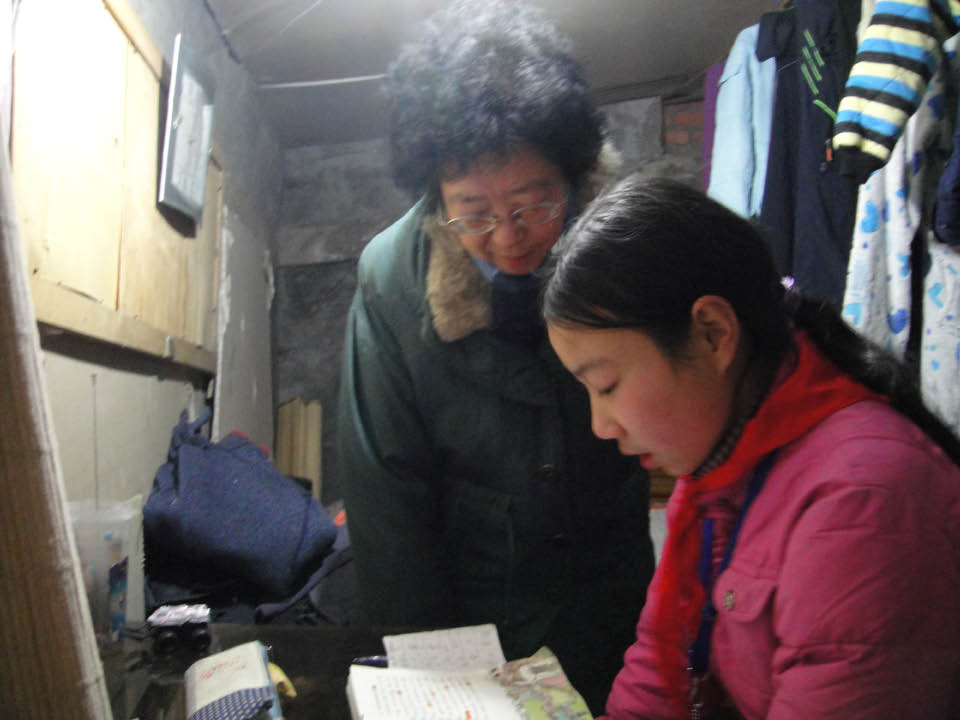 Yu Shuhua tutors Luo Meiqi in her bicycle shed residence. She's there every day at 4 p.m.  Photo by Zhang Hui 
Luo Meiqi' parents and her two brothers bunk together in the room. Meiqi lives alone in a small detached shack in order to have a quiet environment for studying.
In Luo's room, there are two chairs, a bed and a desk. As there is no heater, the room is cold in winter, and wind whistles in through the tiny cracks in the brickwork. "In winter, my feet are numb with cold after an hour sitting at the desk, " Yu said.
Luo Meiqi waits in eager anticipation for Yu's daily arrival. She counts on Yu not only in academic matters but also to share vexations and annoyances from school. "Granny Yu is very patient. She spent several days just correcting my pronunciation," Luo Meiqi said.
Luo came to Beijing in 2008 from Henan Province and it's still possible to detect her regional accent. She has improved immeasurably since Yu began to help her in early 2009. "I like to share my worries and feelings with Granny Yu. She always comforts and encourages me, and helps me find solutions to any problems," Luo said.
"I love these children. Their progress in school and happy laughter are the best reward for me," Yu said. She especially enjoys the feeling of intimacy between her and the children, who accept her as "granny" and close friend as well. She says getting to see Luo and other children grow and prosper makes it well worth the hours she puts in volunteering. She is a happy woman.
Helping the Helpless
The volunteer team was founded in 2001, first as a juvenile education theory research group of five retired teachers. It was initiated by Peng Shizhi, a retired cadre from the Laoshan Sub-district Office who had been responsible for juvenile education in the community during her government career. At first, they only provided educational guidance to parents in the community. While visiting local households, however, they witnessed the appalling conditions in which some of the less fortunate children lived and studied, and decided there and then to provide educational help to those in need.