Sojourn to the Nomadic North: Beijing to Arxan
By LU XIAN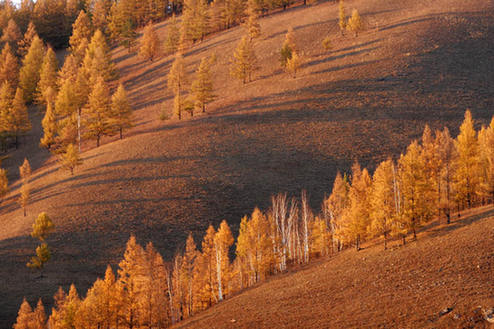 Late autumn at Mt. Arxan.
MY husband and I took a break from our busy schedules in late July 2011 to discover more of our country. Inner Mongolia, the historic and naturally beautiful meeting place of southern agrarian and northern nomadic cultures, had long been on our list of top places to visit. We decided on this occasion to do away with tour groups and headed off in our own four-wheeled transport for a five-day trip to Arxan in Northwest China's steppe frontier.
Arxan is nestled among the dizzying peaks of the Greater Hinggan Mountain Range which stretches for 1,200 kilometers north to south through Northeast China. Falling within the Hinggan League of Inner Mongolia Autonomous Region, Arxan is surrounded on all sides by four great grasslands – Hulunbuir, Xilingol, Horqin and Mongolia. The area is a treasure house boasting plentiful natural resources as well as hot springs, ancient forests, extinct volcanoes, wetlands, gushing rivers, azure lakes, majestic snow-capped peaks, and of course boundless steppe lands.
We took the expressway out of Beijing traffic early in the morning and arrived at Xilinhot, halfway between Beijing and Inner Mongolia's capital Hohhot by three o'clock in the afternoon. We had already begun to glimpse herds of sheep, cattle and horses in the pastures alongside the highway as the grasslands slowly eased their way into the scenery. The promise of wetlands, forests and more heterogeneous terrain spurred us on further north towards Arxan, but even at this short distance out of the capital, cotton ball clouds and the brilliant blue sky were spectacular to behold.
At around six p.m. we reached our first destination of Uliastai Town in the Dong Ujimqin Banner. We learned it was the final day of the traditional Mongolian Nadam Fair and that we had just missed the last of the entertainment. With so many visitors in town there was little space in the town's hotels and room rates were exorbitant. After much haggling, we secured the last standard room available in a quaint little place called "Xinyuan Hotel." We were pleasantly surprised to find high-speed internet installed in the room.
The following day, we headed up along Provincial Highway 303 from Dong Ujimqin Banner for Arxan City.
The scenery en-route was breathtaking and we snapped happily away on our cameras for most of journey. Recent rain meant the steppe was moistened to full splendor. The images of horses stopping to drink in newly formed plashets, calves sharing grass bounties with the mothers and snow-white sheep diffused across their broad realm like the clouds above them will stay with us for a long time.
On one occasion we were made to wait as a number of horses wandered across the highway. No question about honking our way through here: we were guests in their land and we knew it.