"Made in China" as a Good Thing
By staff reporter JIAO FENG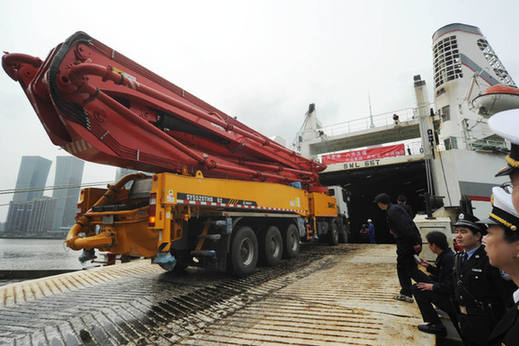 The 62-meter truck-mounted pump was shipped from Shanghai and delivered to Fukushima Daiichi Nuclear Power Plant in Japan on March 22, 2011.
MADE in China" is everywhere. In America especially, it is a rarity to enter a store and not see these three short words wherever you look.
China is the world's biggest exporter. It possesses abundant natural resources, relatively cheap labor costs by international standards and an extensive transport and business infrastructure. All this means Chinese products are extremely price competitive.
However, China's being able to mass produce goods at low cost is indicative of the fact that many of its industries are still in their infancy and are yet to move beyond low-value modes of production. Chinese businesses suffer from a lack of experience with market forces, sub-par production equipment, low levels of technological prowess in general and an undereducated labor force. These issues have contributed to the view held by some that "Made in China" is synonymous with bad quality and inferior technology albeit at low prices.
In fact, with a continually developing economy and the increasing maturity of some leading industries, quite a few Chinese firms specializing in machinery production, household appliances and a number of other areas have been performing well in world markets. They have successfully integrated with suppliers of international capital and labor resources to provide customers all over the planet with increasingly high quality products. As Sany Group Chairman and founder Liang Wengen says, "The greatness of the human spirit is that we cherish dreams, and what's more, fulfill them. My dream is to produce top quality products, and eventually change the image of 'Made in China' into a positive one."
"Made in China" to the Rescue
On March 11, 2011 an earthquake recorded at 9.0 on the Richter scale hit Japan and the subsequent Fukushima nuclear crisis sparked worldwide panic. During the clean-up operation, a 62-meter-high truck-mounted pump was spotted injecting water to cool down the nuclear plant's reactors. To monitor water injection, a video camera and radiation sensor mounted to the pump could panoramically monitor the reactor, and with long-distance remote control technology, the pump's operators kept at a safe distance from the site, guaranteeing their safety. The pump's effectiveness was much lauded. It was donated by China's Sany Group.