Keeping Health Close to Home
By staff reporter XING WEN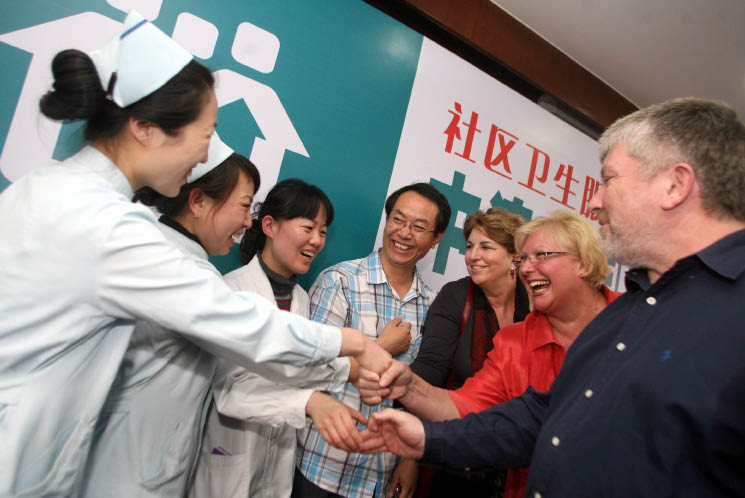 As part of a China-Australia cooperative program on chronic disease management, Australian experts come to the Fangzhuang Community in Fengtai District, Beijing, to train health counselors. CFP 
COMMUNITY services are part of the core of China's health care system. In urban neighborhoods today, community healthcare centers are seldom more than 15 minutes' walk away. With their medical treatments across the board, inexpensive prescriptions and considerate service, community clinics are becoming popular in China. More residents are preferring to turn first to community healthcare centers rather than major hospitals.
Closer, Cheaper, More Convenient
For years, Mrs. Song has suffered from a serious cough each winter. A time-proven traditional Chinese medicine (TCM) therapy for such chronic winter ailments is to apply medicated plasters on particular acupoints in high summer, when the heat opens the pores and the herbs used are more easily absorbed.
Although quite a few large hospitals offer the remedy, which is applied in three phrases, their distance and long queues are a great inconvenience to Mrs. Song, especially in the heat of summer. This TCM treatment, however, has been available in community healthcare centers in Beijing since 2010, and Mrs. Song and many patients like her now can receive it near their homes.
Covering numerous types of medical services, community healthcare centers are now an important part of people's lives. In Zhanlanlu Community Healthcare Center in Xicheng District, Beijing, visits have undergone a significant increase over the past few years, as the result of the steady upgrading of services and equipment. The center has departments and medical apparatus as good as can be found in major hospitals. This is a far cry from the situation just a few years ago, when most community healthcare centers were scantily funded and received few patients.
China's healthcare institutions, including those at the community level, are only partly funded by the government, and have to depend on income from patient visits to keep them in the black. Before the recent medical reforms were launched in 2006, community healthcare centers, understaffed and poorly equipped, were in no position to compete with bigger medical care providers, and many were deep in debt. People had little confidence in the quality of their services and flocked to larger hospitals regardless of the seriousness of their conditions, putting great pressure on those hospitals and pushing up medical costs.
In October 2006 reforms began to create a basic healthcare system covering both the urban and rural population. As the fundamental part of the public health system, community healthcare centers are essential to achieving the government's goal of providing basic health services to all, and were the first to undergo medical reforms. They have witnessed remarkable developments over the past few years.
In this reform the central government defined the non-profit nature of community clinics and explicitly set forth that their services should be affordable to the public. To achieve this, the government allocated RMB 60 billion in subsidies from 2009 to 2011. As of December 2006, commonly used medicines available in community clinics have been supplied by the government at wholesale prices. In this way their quality is guaranteed, and prices lowered through the removal of intermediate links in the supply chain. Mrs. Song no longer has to go to a large hospital for her medicine, and has found that it is cheaper in a community clinic than in a major hospital.
Today, the facilities, services and human resources at community clinics and healthcare centers have been greatly improved and their popularity is on the up. For example, in January 2012 over 40 percent of patients in Beijing chose to seek treatment at community healthcare centers, compared to just five percent in 2006.
Jack of All Trades: From Chronic Illness to Emergencies
Primary healthcare institutions have also expanded the range of medical services available to residents within their own communities. Normally they cover six areas – disease prevention, healthcare, health education, medical services, maternity care and rehabilitation. In the case of conditions that cannot be dealt with by the resources at their disposal, they can refer patients to specialists at major hospitals.
"In contrast to big hospitals that usually focus exclusively on diseases, community clinics pay more attention to people, family and community," said Chang Shuling, director of the Zhanlanlu Community Healthcare Center. Community healthcare centers monitor the overall health condition, prevalence of certain diseases and the main factors affecting residents' health in their areas by keeping a database of their patients and making regular analyses. Community health workers are expected to use this information to offer appropriate help to different groups of people and safeguard the whole of society from physical, mental and economic problems that can arise from poor management and low health awareness.