The Changing World of Social Work
By staff reporter LU RUCAI
WEARING a ponytail, 29-year-old Wang Qi has an infectious smile and a bright, capable look about her. In spite of her youth, she is director of the Donggaodi Community service station in Beijing's Fengtai District. In the three years that she has dedicated herself to community-based social work, Wang admits that she has had to learn a lot on the job. The residents in the community highly appreciate her efforts.
The Beijing municipal government started to recruit college graduates as social workers in 2009. So far 6,000 college graduates have joined the ranks of social workers. To add to the professionalism brought by these graduates, an exam for social work qualification has also been established. These strategies have begun to bring about marked change in the field of social work.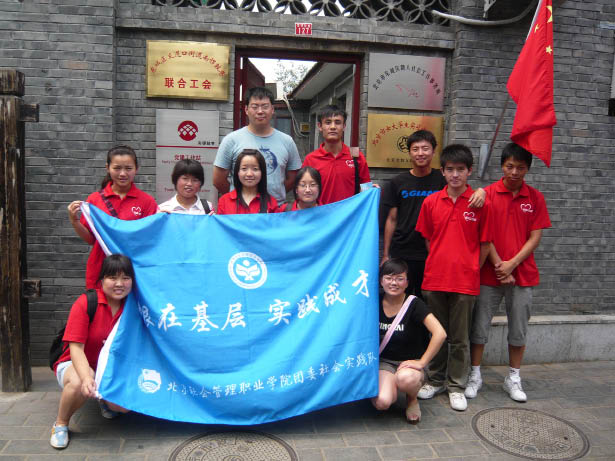 College students participate in community volunteer activities during their summer break.
College Learning Meets Street Smarts
Every morning at 8.30 when the working day starts, Wang checks her email for new assignments from the subdistrict office. In China, the subdistrict office is the lowest level of government and the service station under the subdistrict office where Wang works is non-governmental. As such, Wang is responsible not only for the station's daily operation, but also for its future development.
The service station is concerned with small details and practical matters. Wang's station provides 30-odd services, including managing the floating population and newborn registration, and helping the unemployed, elderly and disabled. "Helping the elderly, the disabled and people on low incomes takes up a large proportion of our work," says Wang, explaining her day-to-day work. "For example, residents over 60 can get the pass at our office to enter parks for free and those over 65 can get free bus passes. We also give the over-80s a RMB 100 cash coupon each month, which can be used at designated shops."
Wang did not major in social work at college. She studied athletics as an undergraduate and then obtained a sports medicine postgraduate degree. Wang is frank about her reasons for choosing social work. "On the one hand, it was not easy for me to find a job in the PE field; on the other, I felt I might like the job when I saw the information about recruiting social workers."
After passing the social workers' exam, Wang started her career in Wanyuandongli Community in Fengtai District. There she was responsible for organizing training and cultural activities for residents, including classes on photography, calligraphy and painting, lectures on health given by doctors from local hospitals and activities for students during their summer and winter breaks.
Wang says that what she has ended up doing is a little different from what she had expected. "I thought I would deal with administrative work," she said. "But I found that most of the time I have to handle minor practicalities, such as helping solve quarrels between neighbors and organizing activities."
Wang admits that though her college background and expertise gained from studies give her certain advantages, she still has a lot to learn in terms of practical work from more experienced social workers. "For example, the elderly want us to visit their homes to offer our services, while the young don't as they value their privacy. When I started I didn't know this and there were some misunderstandings," Wang recalls.
Wang is a quick learner, and has picked up working methods while putting what she learnt in college into practice. Seeing that more than half of the residents' committee staff was needed to deal with statistics, she recommended software that could speed up the process. As a result, there are now only two staff members doing the same work. In 2010, Wang beat rivals to win the position of director of Wanyuandongli Community's service station, and in 2012 was transferred to Donggaodi Community.
Wang was among the first college graduate social workers to reach the position of director, and together with them she is changing the profession. "The biggest impact of these college graduates has been to change the notions and methods of community-based social work," comments Lu Junxi, director of the General Office of the Fengtai District Social Work Committee.