China in Blue and White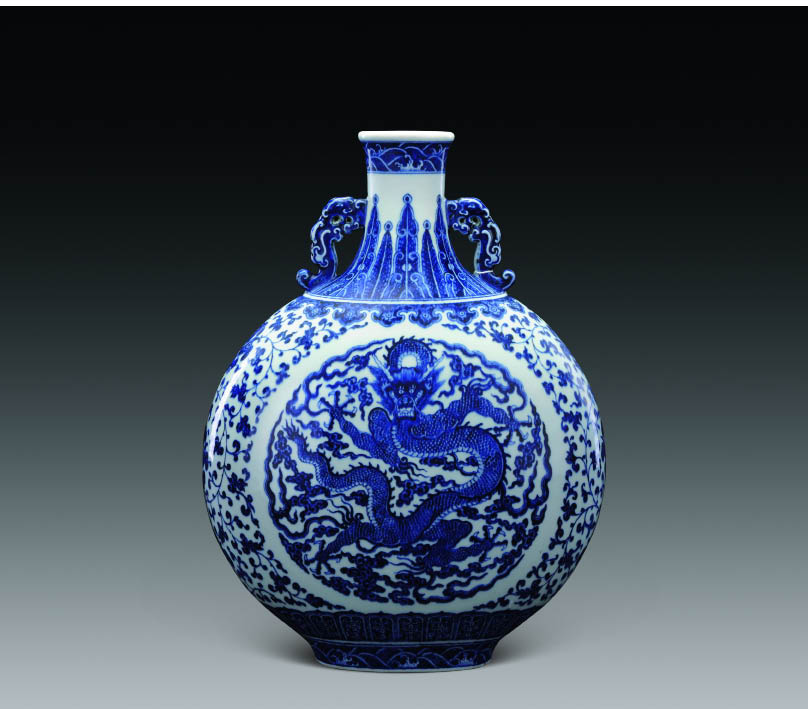 An exquisitely decorated jar from the Qianlong Reign of the Qing Dynasty.
KNOWN in the West as "china," porcelain has long been coveted as one of the highest forms of ceramics. The art was pioneered in its namesake country, and the most iconic examples of Chinese ceramics are fine works of white porcelain decorated with a blue pigment, whose major constituent is cobalt oxide, under a clear glaze.
Techniques reached maturity during the Yuan Dynasty (1271-1386) and the blue and white style gained particular popularity in the Ming Dynasty (1368-1644). Workmanship had reached its peak by the reign of Qing Emperor Kangxi (1661-1722). During the Ming and Qing dynasties, producers began to experiment by adding other colors for both the decoration and glaze, including peacock green, iron-red and yellow.
The blue and white porcelains that characterize the Yuan Dynasty are those produced in Jingdezhen, Jiangxi Province. They are especially prized for their rarity and technical excellence, with detailed designs, perspective and smooth expressive lines. The images range from portrayals of people, animals and plants to calligraphy of verses from poems and essays.
The Ming and Qing dynasties saw the art of making blue and white porcelains reaching its zenith. Works of this period can be divided into the delicate and formal style of the imperial kilns and the more casual style of common artisans. During the late Ming Dynasty the influence of Chinese painting became more and more prominent.
Fine blue and white wares from the Yuan, Ming and Qing dynasties are rare, in part due to many imperial collections having been lost overseas and many of those that remained in China being destroyed during the destructive "cultural revolution" (1966 – 1976). In the past years, such rarity has meant that these porcelains have fetched astronomic prices at auction.
In 2011, China Guardian auctioned off a number of notable blue and white porcelain pieces, some of which exceeded RMB 30 million. One particularly magnificent Yuan Dynasty jar featuring a delicate peony pattern and fish-shaped handles fetched a staggering RMB 36.22 million. A pair of globular bottles from the Qianlong Reign of the Qing Dynasty, featuring blue clouds and waves and red dragons playing ball, fetched RMB 34.5 million. Another noteworthy sale was a pair of identical bell-shaped vases from the Qing Dynasty with red circular patterns on translucent white glaze that were hammered down at RMB 24.15 million. There are few works of porcelain of this shape and age that are so immaculately produced due to the technical demands of such designs. The vases, which were auctioned off at less than RMB 1.3 in 1998, have almost doubled in price in a little over a decade.
As prices for antique blue and white china wares such as these keep climbing, investors' enthusiasm is extending to reproductions. Some fine works can sell for up to RMB 1 million. Though to some extent their presence has disturbed the market, the sums they fetch still pale in comparison to the immense value of genuine pieces.