Give and Take: China's Experience of Agricultural Cooperation
By staff reporter LI YUAN
WU Liangyong, a prominent Chinese expert on architecture and urban planning, once said, "You can't imagine industry without the support of agriculture, or urban life without any connection with the countryside."
As the global economy becomes more integrated, international communication about agriculture is growing and, with its massive import and export volume, China is no small player. Its international cooperation on agriculture is becoming increasingly influential in its primary sector development, evolving from focusing on trade, attracting foreign investment and importing technologies to establishing farms abroad, exporting domestically-developed facilities and technologies and participating in the formulation of international agricultural rules.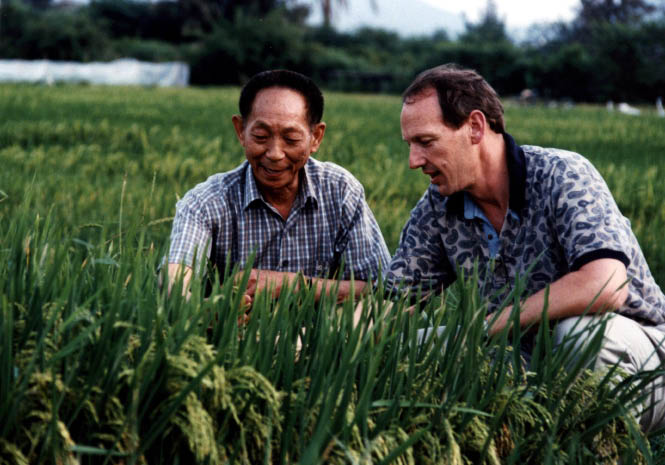 On April 2, 2004, Yuan Longping, China's "Father of Hybrid Rice," discusses super hybrid rice with an American expert . CFP 
Farm Produce Exports
In international agricultural cooperation, the trade of farm produce is a central issue. China is both the world's largest producer and consumer of farm produce, and a major agricultural exporter.
Since its entry into the WTO, China's share of world farm produce exports has been increasing year by year, from 2.9 percent in 2001 to 3.8 percent in 2010. Its export value on farm produce rose to US $60.75 billion in 2011 from US $16.07 billion in 2001. As of now, China has become the world's fifth largest exporter of farm produce and the fourth largest country in terms of trade volume. China is exerting ever-greater influence on the international agricultural market.
With a large population and limited arable lands, China has a comparative advantage in labor-intensive products, such as fruits, vegetables, animal and aquatic products, and its export volumes are huge. For such land-intensive products as soybean, cotton and vegetable oil, however, China is reliant on imports. "This shows that China is taking advantage of and participating in international division of labor," said Wang Ying, chief of the International Cooperation Department of the Ministry of Agriculture.
He also pointed out that currently the competitive edge of China's agricultural products lies in their relatively low prices, but that as exports from other labor-rich, land-poor countries and costs of domestic production increase, this advantage will gradually disappear. China should therefore turn away from its old strategy of price competition and adapt to the changing international agricultural landscape.
In 2011, the increase in China's imports of farm produce outstripped that of its exports, a trend that has been continuing for some time. China has seen an agricultural trade deficit since 2004.
In November 2011 the WTO's Fourth Ministerial Conference officially launched the Doha Round, the latest round of trade negotiations among the organization's member states. Agriculture has taken center stage in the talks, the most contended issues being market access, domestic support and export subsidies. Owing to persistent wide differences between member countries, however, an agreement has yet to be reached.
"The failure of the Doha round of negations on free trade for agricultural products indicates that, in the short term, it will be difficult to achieve a greater degree of multilateral trade liberalization, but regional integration and cooperation will expand," Wang said. "China and most other countries have been trying to create a fair and free international environment for multilateral trade. China has hence been seeking to establish free trade zones with countries and regions that produce complementary agricultural products. This will help China to expand its export market, discover more reliable sources of imports and achieve reciprocity and shared benefits in agricultural trade."
On a similar note, on March 19, 2012, Pascal Lamy, director-general of the WTO, announced that it had become impossible for the Doha Round of negotiations to achieve its goals, but that it could make progress on reaching international agreements on such aspects as forming common laws to facilitate the cross-border flow of products.
Overseas Agricultural Investment
In August 2011, the first feedstuff manufacturing plant invested by China's private enterprise New Hope Group officially began its operation in Cambodia. Cambodian Minister of Agriculture, Forestry and Fisheries Chan Sarun attended the opening, extending his personal congratulations and saying that this project shows that Chinese enterprises have full confidence in Cambodia's investment environment. The New Hope Group's plant, he said, will play an important role in promoting Cambodian poultry and livestock breeding industry.