Community Care for Seniors
By staff reporter HOU RUILI
COUNTED as a separate country, China's 200 million elderly (over 60), at one seventh of its total population, would be the fifth largest in the world.
China has seen the world's fastest growing population of over 60s since 1980, with an annual increase of 3 percent. The number of octogenarians and above has been growing even faster, registering yearly growth of 5.4 percent.
But herein lies a problem. China's existing 40,000 state-run retirement homes can only accommodate around 830,000 people – 0.5 percent of the senior population. Home care fills the gap, and services provided by community agencies are called upon to play a vital role in ensuring a happy retirement for the vast majority of China's senior citizens.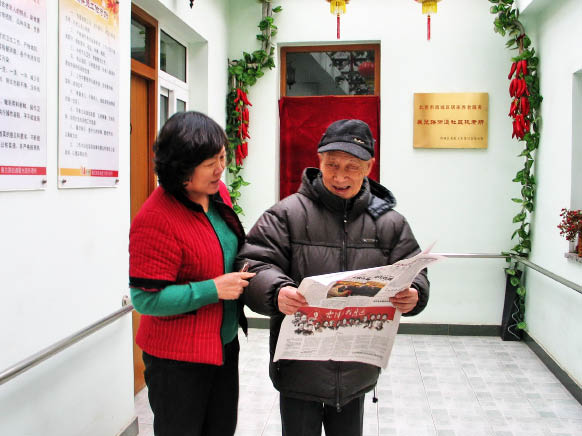 Chen Yifeng, head of a senior day care center, chats to one of its members.
Social Activities to the Fore
Every morning, 74-year-old Liu Xialing, who lives alone in an apartment in the West Baiwanzhuang Community Complex in Beijing's Xicheng District, takes part in an exercise program run by the Sunshine Fitness Team. The team was brought in by her community's service center, and takes participants through a workout involving aerobics and dance. After working up a sweat, Liu returns home for breakfast, which she follows once a week with a knitting class at Xingguangyuan Senior Day Care Center. She has been attending the class for one year, and now is able to knit a variety of toys.
"Last winter, I sent a Santa Claus made of plastic beads to a friend of mine as a gift. I did the design myself – I think I'm really developing my creativity with knitting, and feel young again. Knitting can be great exercise for the brain," Liu said.
A year ago, Liu's health was much poorer and she was showing signs of dementia. But times have changed, and with a busier, more social schedule, today Liu comes across as agile, active and on-the-ball.
The West Baiwanzhuang Community Complex comprises three-storied unit apartment buildings constructed in the 1950s. The complex is home to many retired seniors, including retired cadres from government institutions.
According to data from the sixth national census conducted in 2010, the permanent population of the community is 4,754 people, a mere 400 of whom are below the age of 18, while 1,636 residents are over 60, accounting for 34 percent of the complex's population, way above Beijing's over-60 average of 18.2 percent.
Locals say that in the past two years, residents over 60 have grown to more than 2,000 in West Baiwanzhuang. They are starting to assert themselves as the community's most influential population block.
Facing the reality of an aging society without the financial means to support extensive private-sector senior-related industries, home care is becoming the preferred choice for retirees to spend their later years.
To provide conveniences and enrich elderly people's lives, a total of 5,305 social care centers were established in Beijing's community complexes in 2010 alone. The Xingguangyuan Senior Day Care Center, to which Liu Xialing heads for her knitting lessons, is one of them.
The center used to be a small nursing home with just six beds, but underwent extensive renovations and now boasts a 50-plus-square-meter hall for activities, a fully equipped kitchen and several small classrooms. A bigger nursing home with room for 30 residents was built nearby, and provides accommodation and care for seniors from 21 community complexes in the Zhanlanlu Subdistrict of Beijing.
Elderly people gather at the Xingguangyuan Senior Day Care Center throughout the day. In the morning, programs such as knitting, calligraphy, photography and psychological consultations are on the agenda; in the afternoon, old folks have a choice of activities, including chess and cards. The center is managed by a staff of two, who are responsible for arranging schedules, providing physical help to their patrons when needed and cooking lunch. When the weather is bad, they even take it upon themselves to deliver packed lunches to residents' homes.
Elderly but Active
The staff members at the elderly affairs office of Zhanlanlu Subdistrict have a vested interest in ensuring their district's retirees get a fair deal — the seven members of the staff are retired themselves, and receive no salary.
With their contemporaries' best interests at heart, the office organizes various cultural and sporting activities for elderly residents of 21 communities in the Zhanlanlu Subdistrict, including the Baiwanzhuang Community Complex, and searches for talented seniors to fill leadership roles. According to Zhang Renxia, head of the Zhanlanlu Community Service Center, the monthly budget available to the West Baiwanzhuang Community for senior activities is a paltry RMB 2,200 to 2,300.
But enthusiasm is free, and retirees at the Xingguangyuan Senior Daycare Center have it in spades. Liu Xiechang, aged 67, regularly offers elocution and poetry recital classes, free of charge of course.
Liu says careful speech practice is a kind of mental gymnastics. He suffered a stroke two years ago, and with his hands and the corners of his mouth still numb, he set about training himself up in monologue performance and poetry recital. Nowadays he is back to his former enunciating best.