China's Economy Fueled by Domestic Demand and Foreign Trade in 2012
By staff reporters LI YUAN & WANG SONG
IN 2012, the effects of the world financial crisis are still lingering. China's economic rise continues to draw worldwide attention; and the appreciation of the RMB, the country's large stockpiles of foreign reserves and its export strength are all perennial topics of debate among media commentators. With many countries around the world still negotiating the rapids of economic recovery, will China avoid the tumult and chart its own smooth course of growth over the next couple of years?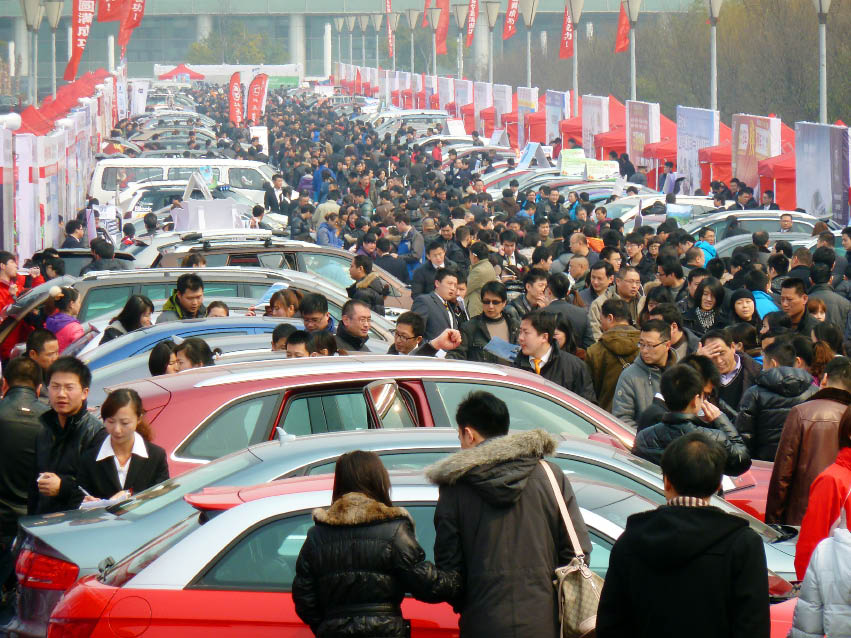 Auto fans flock to a March car fair in Nanjing, Jiangsu Province. Photo by CFP 
Domestic Demand Drives Growth
"The Chinese government pursued domestic demand-boosting policies as early as 1997 during the Asian financial crisis," said Liu He, deputy director of China's Central Leadership Office of Financial and Economic Affairs. "During the crisis, a large amount of capital flight took place from China to the U.S. While domestic demand-boosting policies were pursued to some success, the desire to attract foreign investment and ride the globalization wave meant that over the coming years, less attention was paid to domestic demand. As the global financial crisis was breaking out in 2008, international demand shrunk, and China was forced to focus on boosting domestic demand again," Liu explains.
At the Fifth Session of 11th National People's Congress (NPC) which opened on March 5, Premier Wen Jiabao said in a government work report that expanding domestic demand, particularly consumer demand, is essential to ensuring China's steady and robust economic development for the long term, and is the priority of government work this year.
Jia Kang, a member of the CPPCC and director of the Research Institute for Fiscal Science at the Ministry of Finance, pointed out: "While China has opened up its economy by relying heavily on foreign markets, the global financial crisis has taught us that we must pay more attention to expanding domestic demands, no matter what stage of the economic cycle we are in."
Expanding consumption has been increasingly stressed in Chinese government work reports over the past few years. Work reports of 2009, 2010 and 2011 all laid out measures to boost domestic demand, as well as implement and improve policies to further encourage consumption. This year's government work report promised to set up a permanent mechanism to boost consumption.
Since 2008 the Chinese government has implemented a slew of policies on a trial basis to stimulate domestic demand. They include providing subsidies for home appliance purchases in rural areas, cutting consumption taxes on cars with smaller engines, extending subsidies to cover more energy-efficient and environment-friendly products, raising thresholds for individual income tax brackets and improving the medical care system.
Statistics from China's National Development and Reform Commission (CNDRC) show that about 220 million home appliances were sold to rural residents in 2011, with sales volumes exceeding RMB 500 billion. Consumption accounted for 51.6 percent of China's economic growth in 2011, indicating that China has been successfully rebalancing its economy to rely more on domestic demand.
Zhang Ping, director of the CNDRC, pointed out that to expand domestic demand, the government must raise people's incomes as well as encourage them to spend more. To this end, the government should expand employment opportunities, raise procurement prices for farm products, increase the minimum wage and set up a mechanism to ensure increases in average wages. A sound social security system should also be established, Zhang says. The government should further improve infrastructure to foster the convenient flow of goods from factories to consumers, as well as develop new forms of consumption such as online shopping. It should also continue to enhance supervision over the market to prevent fraudulent practices and eliminate counterfeiting and shoddy products.
Nowadays, many countries hope to boost their lackluster economies by expanding domestic demand. How to boost domestic demand has become a burning question in the minds of policymakers around the world.
Many Chinese scholars have discussed the solutions: promoting structural tax cuts and increasing the disposable incomes of people in the low- and middle-income brackets, improving the social security system that covers both urban and rural residents, ensuring the even distribution of educational resources, and lowering import duties on luxury goods.