China and the EU's Economic Compatibilities
By SHEN XIAOQUAN
AFTER Chinese New Year's celebrations died down, the first few weeks of the Year of the Dragon saw a busy schedule of meetings between Chinese and European leaders. On February 2, China welcomed German Chancellor Angela Merkel on her fifth visit in six years. A couple of weeks later, on February 14, President of European Council Herman Van Rompuy and President of the European Commission José Manuel Barroso met with Chinese Premier Wen Jiabao for the 14th China-EU leaders' summit in Beijing. The next day they met with Chinese President Hu Jintao, and four days later Vice President Xi Jinping arrived in Ireland and met with Irish Prime Minister Enda Kenny.
These high-level exchanges demonstrate the growing partnership between China and Europe and highlight the significance once again of the strategic handling of China-Europe relations. It is particularly important at a time when the EU is faltering in the wake of an unprecedented debt crisis, the world economy has barely recovered from recession and several countries around the globe are experiencing political upheavals.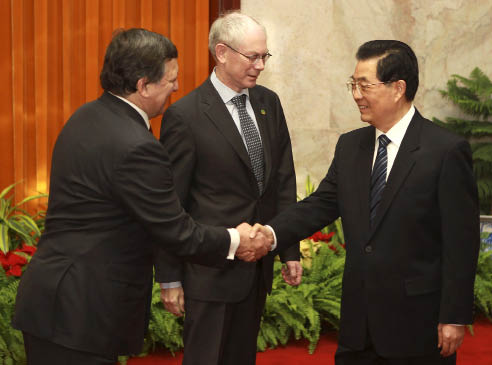 Chinese President Hu Jintao meets with President of the European Council Herman Van Rompuy and President of the European Commission José Manuel Barroso on February 15 in Beijing. Photo by Cnsphoto
"Helping Europe Is to Help Ourselves"
As a number of European countries are caught up in a debt crisis that threatens the economic health of the whole continent, the Chinese government has expressed its support for EU endeavors to buoy-up the regional economy and stabilize the Euro. In February meetings with their European counterparts Chinese leaders reiterated China's will to cooperate with Europe in combating the debt crisis and promised to help alleviate the stress through the continent's existing mechanisms.
This follows China's affirmative action last July, when China bought 400 million worth of Spanish 10-year government bonds. Mike Amey, a portfolio manager at Pimco, told the Financial Times, "The fact big Asian investors are back in the market is a big vote of confidence for the Euro zone."
Amid vociferous calls in the EU for more Chinese assistance to debt-ridden members there are loud voices expressing misgivings. Some worry that Chinese help will come with conditions, and will essentially be a buyout of Europe. After his meeting with Angela Merkel, Chinese Premier Wen Jiabao responded to these speculations, saying that their conversations on Chinese support and aid to Europe did not touch on controversial issues such as recognizing China as a market economy or lifting the arms embargo on China. Their discussion on this matter instead concerned improvement of the EU's investment environment, to which he said Chancellor Merkel was responsive. The premier has since declared on several occasions that China has neither the desire nor the ability to buy out Europe.
If the repeated declarations by Chinese leaders are not sufficient to dispel apprehension among certain Europeans over China's intention to help, they can find reassurance in the facts and figures of China-EU trade, which shows itself to be vital to both parties. Bilateral trade hit US $567.21 billion last year, securing the EU as China's top trading partner for the seventh consecutive year, while China is the EU's second largest export market. At a time when the continent's foreign trade as a whole is declining, that with China is showing an upward trend, increasing by 18.3 percent in 2011. Although China is transforming its pattern of growth to lessen its economy's dependence on exports, international trade remains a major driving force. Europe's sizeable market is thus critical to China. The two parties are increasingly interdependent in this era of globalization. In the scenario of an economic disaster, or the continued recession of the European economy, and the ensuing dramatic drop in imports, the Chinese economy, already under pressure due to the Western world's economic ailments, would be unable to avoid the drastic consequences that would bring. Premier Wen Jiabao put it succinctly: "To help Europe is to help ourselves."