Watch out for China Walt
By staff reporter CHEN JUN
THE millions of Chinese children captivated by the charismatic characters in The Pleasant Goat and Big Big Wolf, one of China's most popular homegrown animations, ardently follow their humorous misadventures on TV and DVD, as well as in books and comics. The sales volume of the 200 publications based on the TV series is in excess of 15 million.
Its producer, Guangdong-based Creative Power Entertaining (CPE), has made Chinese New Year movie adaptations of the goat and wolf story since 2009. All four films have generated impressive box office returns. Meanwhile, Disney has reached an agreement with the company to promote and broadcast 100 updated episodes of the TV series in 52 countries and regions in the Asia-Pacific Region. Industrial insiders estimate the market value of The Pleasant Goat and Big Big Wolf as in excess of RMB 1 billion, which makes these goatlings and their lupine foe China's most bankable animation characters.
The success of The Pleasant Goat and Big Big Wolf signifies the huge potential of China's animation market. Intensified finance and policy support from the central government over the past years has taken China's animation industry into a new phase of development.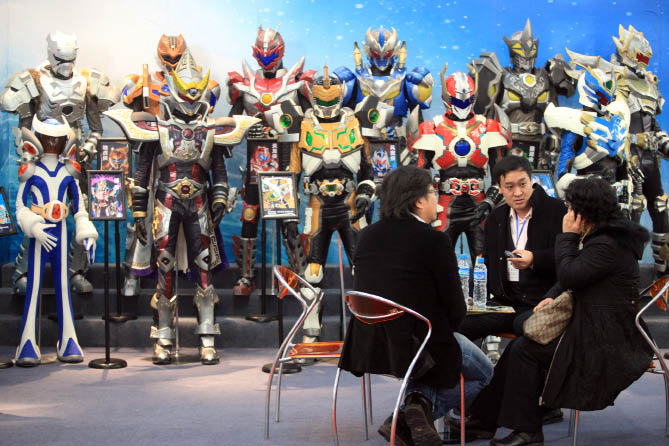 Shanghai-based HEROBOX displays cartoon characters of its production Armor Hero XT at an exhibition in Tianjin.  Photo by CFP
Ads to Full Length Features
Wan Laiming and his three brothers produced China's first screen cartoon, an advertisement for the Shuzhendong Chinese Typewriter, in 1922. China's animation industry has since produced such excellent works as Little Tadpole Looking for Mom, Monkey King, Black Cat Detective and Gourd Brothers. But only over the past decade or so have Chinese cartoons gained a foothold in the international animation market.
China's government turned its focus on the animation industry in 2004 – a year that marked a watershed in its development. The State Administration of Radio, Film and Television (SARFT) issued on April 20, 2004 the "Decisions on Development of China's TV & Movie Animation Industry," which represent the central authorities' first administrative measures to boost the industry. China established its first national animation and electronic game production base in Shanghai in July of the same year. By year-end the authorities had sanctioned three satellite cartoon channels in Beijing, Shanghai and Hunan respectively. The government also designated nine animation industry production bases and four teaching and research bases across the country. The SARFT invites public tenders for the honor of hosting and sponsoring the annual China International Cartoon and Animation Festival (CICAF), which has taken place since 2005. Hangzhou in eastern Zhejiang Province has so far won all seven bids.
In 2008, the central budget allocated RMB 7 million to cartoon and animation creation. The fund later doubled to RMB 14 million, and has financed over 100 projects involving full-length cartoon features and Internet and mobile phone animations.
It was against this backdrop that the central authorities proposed making culture a national strategic and pillar industry, for which China's animation industry has since acted as bellwether. Taking the cultural industry as a whole, Chinese animations have seen the most rapid development and displayed the best prospects as a market-oriented industry. The animation industry is also the vanguard of China's cultural trade in terms of industrialization and a cross-industrial brand operation.
According to the 2011 China Animation and Comic Industry Development Report released by the Chinese Academy of Social Sciences, over the 11th Five-year Plan period (2006-2010) China produced 78 animated features – five-fold those of the previous five-year span – and the annual animation industry output soared to 220,000 minutes. A surge in animation products has taken China past Japan as the world's largest producer of animations.