Liu Dai'e -- A Master Craftswoman of Tujia Brocade
By staff reporter JIAO FENG
In August, the osmanthus flowers blossom and send forth fragrance.
The Tujia girls are busy weaving brocade.
The fragrance drifts far away,
But the brocade girls' cloth stretches even further.
– Song of Weaving Girls, traditional Tujia song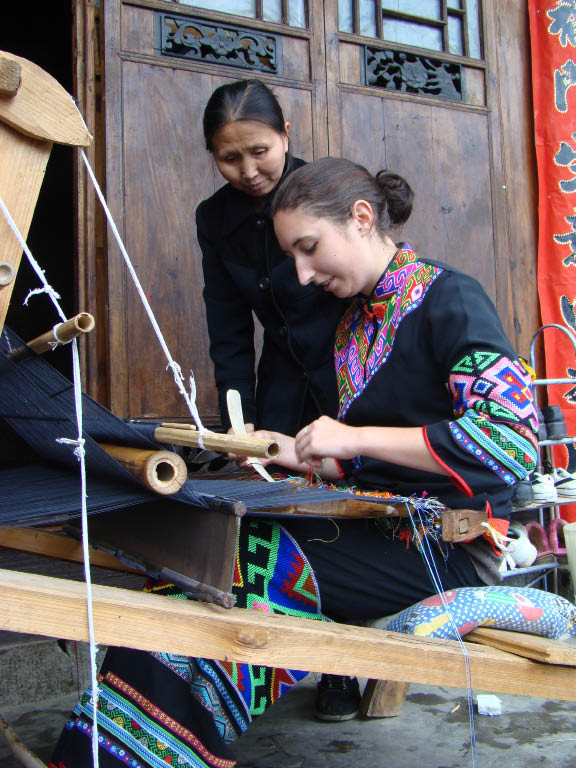 Liu Dai'e teaches a Canadian tourist how to make Tujia brocade. CFP

 

 

With no written language, the Tujia people have relied on their traditional craft of brocade weaving, known locally as xilankapu, to record their history and pass it on to future generations. Through these designs, the Tujia people express their understanding not only of history, but of life, society, nature and, of course, art.

This craft plays a part in everyday life of the Tujia people from birth, when a newborn baby will receive a brocade quilt from his or her grandmother. Tujia girls learn brocade weaving from a young age. Girls who can make fine brocade are considered clever and likely to win boys' hearts. A bride's parents will prepare at least one brocaded quilt for her as a dowry, the more the better.

Longshan County in Hunan Province is a center of Tujia brocade weaving. Within the county, Laochehe Village appears like some kind of Shangri-La, at the convergence of two crystal clear rivers. Ferryboats come and go on the rivers, whose banks are dotted with traditional wooden houses raised up on stilts. This picturesque village is the home of Liu Dai'e, a master craftswoman of Tujia brocade.

 

Liu was born into an ordinary Tujia family in 1955. She started to learn brocade weaving when she was just 12 years old. After graduating from high school, Liu stayed at home and devoted herself to weaving. In the decades since, she has collected a huge number of patterns that were on the point of disappearing. She reproduces some of them and combines traditional patterns with her own designs. Many academic institutions have added her brocades to their collections or for research, and her home has become a research center for Tujia brocade. In 2006, Liu was appointed representative successor of Tujia brocade weaving, when it was listed as a national intangible cultural heritage.

The art of making Tujia brocade has been passed down from generation to generation. Liu learned it from her grandmother, a renowned brocade weaver. "We were poor then. We relied on weaving to earn money for tuition and living expenses. Gradually weaving became a part of our life and we placed our hopes on the loom," Liu recalls. After her grandma passed away, her elder sister, Liu Daiyu, took up her tutelage.

This training set Liu Dai'e in good stead when she graduated from high school. That year was a time of new opportunities for the young woman, as the household responsibility system, which linked the income of rural households more closely to output of their lands, was implemented. After finishing her farm duties, Liu would spend all her free time weaving. Eventually, she stopped farm work altogether and weaving became her career. She instructed her younger sister Liu Daiying in the craft and the three sisters set up a workshop dedicated to developing Tujia brocade. They have become well known for brocade weaving in their region, their fame spilling over into neighboring provinces.