China's New "Four Inventions" and More
IN a recent survey by the Beijing Foreign Studies University, international students from various countries including Nepal, Cambodia, Egypt, Ukraine, India, Poland and Malaysia were asked to name the Chinese manufactured items they most aspire to bring to their respective native countries. The highest number of votes went to "the four great inventions of modern China" – high-speed trains, mobile payments, the bike sharing system, and online shopping.
Centuries ago, the compass, gunpowder, papermaking, and printing – the great four inventions of ancient China – were introduced to the West by way of Arab traders along the Silk Road. In modern times, these four innovative solutions and their unique implementation are transforming Chinese life in a similar manner, and are craved by people of other countries.
Why So Admired
High-speed rail is nothing new to France. Back in the early 1990s, while reporting for the Shanghai-based Wen Hui Bao newspaper, I personally covered the rivalry between TGV of France, ICE of Germany, and Shinkansen of Japan for the Chinese market. China at the time was more interested in the French technology of high-speed rail. I also had the opportunity to accompany Zhu Rongji, then mayor of Shanghai and later the Chinese premier, on his ride on the Paris-Lyon line.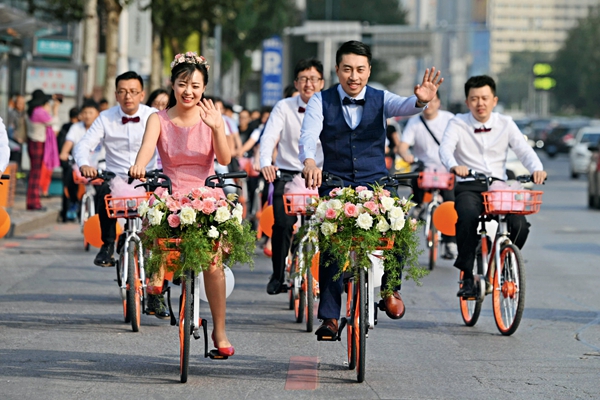 A couple in Shenyang ride shared bikes to their wedding on September 9, 2017.
China approached Alstom for technology transfer in this area, but was rejected. It then began to develop high-speed train technology independently, and put it into operation a decade later. If Alstom had considered a long-term strategy more prudently, the 22,000-km high-speed railway network across China today might possibly have been implemented by the French. At present, China is home to more than 65 percent of the world's high-speed rail mileage, all domestically manufactured with operational speeds between 300 and 350 km/h.
Foreign students in China love its high-speed trains for several reasons. The first is obviously the speed and the resultant time saved. A ride from Beijing to Shanghai, 1,318 km apart, takes just under five hours. The ride is also lauded for its smoothness; a student stood a coin on its edge on the window sill of a train moving at high speed, and it remained stationary for minutes. Adding to that is the incredible affordability of traveling on these trains. Economy class tickets from Beijing to Shanghai cost a mere RMB 553 (€73). Furthermore, among other amenities, the seats can swivel around 180 degrees, a feature only available in the business class carriages of the updated French high-speed trains starting this year. Though a latecomer, China has overtaken France in the high-speed rail sector, which debuted in the European country in the 1980s.
Foreign students are also quite fond of the ubiquitous mobile payment systems in China. It is incredibly convenient to swipe one's mobile phone and pay through Alipay or WeChat. And almost all retailers accept them, for payments as trivial as one yuan. As an experiment, a U.S. reporter spent a day in China without any paper or plastic cash. Yet he was able to hail a taxi, eat in a restaurant, shop, pay utility bills, go to the cinema and transfer money to his friend... all through his mobile phone.
According to a report in the Financial Times, China's mobile payments are nearly 50 times greater than those in the U.S. Last year 358 million Chinese people paid through their handsets, and the sum added up to RMB 5.5 trillion. One reason for such popularity might be that credit cards never superseded the popularity of cash transactions in China. China now leads the world in mobile payments, whose impact on the rest of the world is yet to be seen.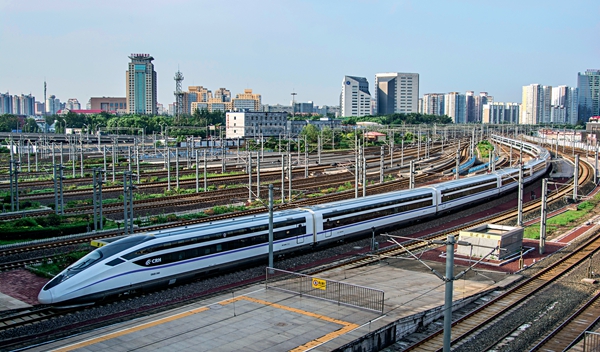 A China-made high-speed, double-deck sleeper train arrives at Beijing South Railway Station on August 16, 2017.
Shared bike systems, or bike rental schemes, have also long existed in France. But what makes the Chinese implementation considerably more appealing and useful is that one can pick up and drop off the bike at any location one desires instead of designated spots. To unlock the vehicle, and pay for the ride, all that is needed is to scan the QR code on it after downloading an app to one's mobile phone.
I presume everyone knows about online shopping nowadays. Alibaba founder Jack Ma is world famous. Taobao and TMall under his group's umbrella and other retailer websites such as JD and Dangdang are all available to French consumers. In China the number of Internet users has reached 731 million, and 467 million of them, or 64 percent, shop online regularly. The value of their transactions stands at RMB 26.1 trillion (above €3.4 trillion), accounting for close to 40 percent of global retail e-commerce.
After taking a fancy to a cell phone charger in my home, a French friend of mine ordered one online with my help. The order was placed at 10:30 am and by 3:00 pm the same day, the new charger had arrived. According to Chinese law, all products ordered online can be returned or exchanged unconditionally within seven days of purchase. My friend was amazed by the efficiency and convenience of online shopping and delivery, which is testament to China's extensive and incredibly efficient logistics network.
E-commerce is not limited just to cities. It has begun to boom in the countryside. JD, a leading Chinese e-commerce player, began delivery by unmanned drones in far-flung rural areas in certain provinces. The Internet has triggered a veritable revolution in Chinese people's buying habits.
Reflections on a Changing Lifestyle
These aforementioned Chinese innovative applications of solutions epitomize the changing lifestyle in the Asian country. During my years working in France, I was impressed by the ease and comfort of local living. But on returning to China four years ago, I found my habits formed in Europe to be obsolete here.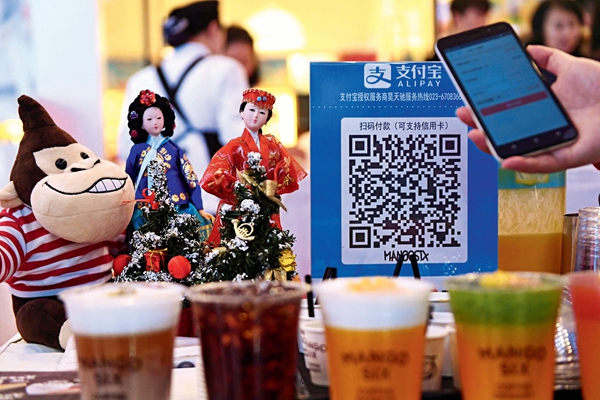 A customer pays through Alipay at a shopping mall in Chongqing on December 10, 2016.
For instance, I was a regular visitor to the post office in France. In China everyone uses express mail, but no one bothers going to the post office. Dial a number and a courier will appear at your door in no time. Private express mail companies are steadily encroaching on the turf of the post office with a barrage of new ideas and services. Not long ago, two stacks of drop-off and pick-up lockers were set up in my neighborhood. Whenever I have something that needs to be delivered, I leave it in a locker, input the relevant information and pay through my mobile phone. It is soon sent to its destination safely and swiftly. It really is that simple.
Uber and similar services are banned in France. In China, online car-hailing is all the rage. If I'm going to give a lecture in Shanghai, I book a car from UCAR to pick me up at the local airport at a said location and time, and find it waiting there when I arrive. I have had discussions with several drivers of car-hailing drivers about their competition with conventional taxies. The latter are not always available when needed, while car-hailing services are designed to meet a customer's needs, such as pick-up location and time, and the car model. The payment is made through mobile phones, with no cash changing hands. Many old-fashioned taxi drivers have joined the growing car-hailing service fleet in China.
Innovation Transforms Life
I have asked myself the question, what led to the ongoing transformation of life in China? It is not difficult to find the answer. When industrialization comes to a certain stage, innovation emerges as the driving force of industrial development, and has broad, profound impact on people's daily lives. Take online shopping and the accompanying courier service as an example. The viability of e-commerce is, to a great extent, associated with the speed of delivery. Many online retailers have installed automated sorting systems (disc-shaped robots) in their warehouses that, at the instruction of the company's order processing system, find the ordered items and move them to different sections of the warehouse according to their destinations. It is quite a spectacle to behold a horde of tiny robots gliding back and forth across the floor, swiftly but orderly.
This scene, however, is no comparison to the automatic wharf at the Qingdao Port. Developed three years ago and put into use in May, the system reduces the required manpower by 85 percent and increases work efficiency by 30 percent. For instance, it now takes only nine workers to load up a container, down from 60 in the past.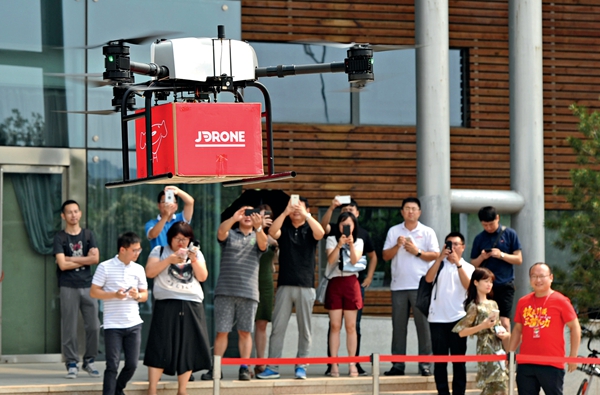 Chinese e-commerce giant JD successfully delivers a package by drone to the office building of the Administrative Committee of Xi'an National Civil Aerospace Industrial Base on June 18, 2017.
The impact of industrial innovation can be felt in all aspects of Chinese people's lives, ranging from clothing, dining, and housing to transport. Some are of revolutionary significance. It is widely recognized that China is a leading player in the unmanned drone sector, hosting 400-plus drone manufacturers and supplying 70 percent of the global market for both civilian and military drones.
In January 2016, China unveiled the world's first autonomous passenger drone, heralding the age of the "air bus." The country has also developed a near space solar unmanned aerial vehicle that can stay airborne for months at a time and potentially even years, in the future. Its impact on the world may exceed our wildest imaginations. To borrow a popular catchphrase, as long as we can dream it, we can make it.
There are more technological innovations in the making in China, including combustible ice, quantum computers, autonomous rail transit (ART) and voice translation machines (by iFlytek). Some will soon enter commercial application. The ART train, for instance, can run without tracks, which saves construction time and money, while its carrying capacity is on a par with its railed peers. Zhuzhou City, where the ART developer CRRC Zhuzhou Institute Co., Ltd. is located, is planning on China's first ART route that may start operation in 2018.
A Chinese phrase describing fast change is "taking on a new look with the passing of every day and month." This is exactly what is happening in China. Under sweeping industrialization, the country has reached a new inflection point in history.  
ZHENG RUOLIN is a former Wen Hui Bao newspaper journalist stationed in Paris and author of Les Chinois Sont des Hommes Comme les Autres.
Services