International Students Flock to Chinese Universities
By staff reporter DEGEN HILL
IN 1950, a year after the founding of the People's Republic of China, the country received its first group of 33 international students. As of 2017, China is the first choice for many international students in Asia, and ranks a world third overall. China's emergence as an economic, scientific, and cultural powerhouse has prompted more and more international students to further their education at Chinese universities. China now hosts almost 10 percent of all international students – a number likely to rise.
In recent years, Chinese universities have exemplified China's prominent presence on the international stage. Many are evolving into more innovative, more international, and more humanity-oriented institutions of higher education. With their ever-improving international rankings, better employment opportunities, and cheaper tuition than Western institutions, plus the chance they offer to explore a rich and historical culture, Chinese universities are attracting more international students than ever before. According to China's National Plan for Medium- and Long-term Education Reform and Development (2010-2020), the country's stated target for 2020 is to attract 500,000 international students.
Foreign students cheer at the 10th International Students' Dragon Boat Race in Shanghai held on June 3, 2017.
Having completed his undergraduate degree in computer science at Tsinghua University in 2015, Hallam Henry, a student from Barbados, chose to continue his studies at Tsinghua and pursue a master's degree in international relations. He graduated two months ago.
"My decision to come to China in 2010 sprang from the desire to explore and test my skills in an unfamiliar but productive environment. My passion for technology drew me to research China's rapid advancements in this sector, and Tsinghua University was at the pinnacle of computer science in this region of the world." Hallam went on to explain that his interest in computer science was specifically focused on cyber security, and that studying international relations would offer the platform to continue to strengthen and develop that interest in a more global arena.
More Globalized Universities
China is striving to build world-class universities, and investing heavily in higher education. This is evidenced in China's 13th Five-Year Plan (2016-2020), which outlined a renewed commitment to the quality of Chinese higher education. The government has invested RMB 14 billion (US $2.2 billion) to elevate 39 of its top universities to first-rate global institutions by 2020.
Furthermore, the Chinese government has signed an agreement on mutual recognition of academic qualifications with 65 other countries and regions, including the U.K. in 2003, Canada in 2005, and South Korea in 2008. The academic qualifications awarded by Chinese universities are recognized by most developed countries.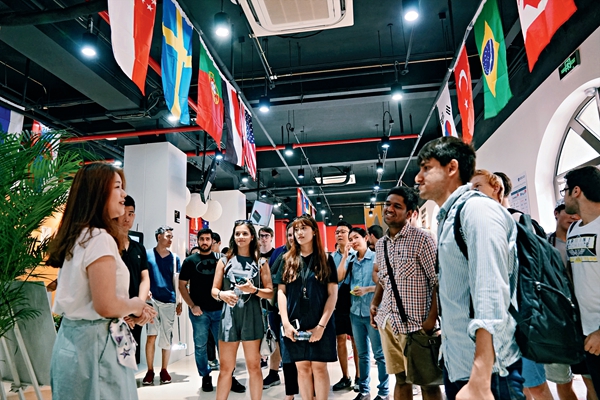 Students from the Experiencing China summer school program at Tsinghua University visit a startup company. Zhang Bo
One of the reasons why so many countries around the world accept these qualifications is the rise in both the quality of academics and reputations of so many Chinese universities. One such example is Tsinghua University, which ranked 14th in the latest Times Higher Education (THE) World Reputation Rankings, compared to 18th last year. Tsinghua also ranked 30th in the 2017 THE academic rankings. As a unique comprehensive university bridging China and the world, Tsinghua's recognition, as well as that accorded other Chinese higher education institutions, is thanks to both its tremendous accumulated heritage and the global strategy adopted in the new era.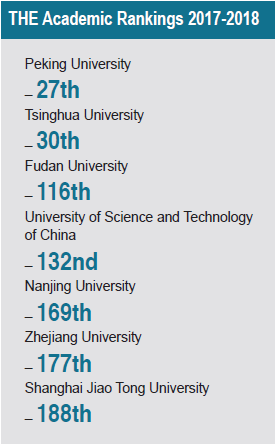 According to THE's most international universities in the world in 2017, the Chinese mainland is now the sixth most represented in the top 200. It has seven universities ranked in the top 200 (see Chart 1). Furthermore, almost all Chinese universities have improved, signifying that the country's commitment to investment has garnered year-on-year results.
In order to further strengthen their international cooperation and exchange, many of China's major universities have shifted their focus to a more global strategy to better prepare students through broader perspectives and an international outlook in the 21st century. This includes offering more English language majors, developing more exchange programs with foreign universities, and accepting more international students each year.
Many Chinese universities offer full degrees, the majority of programs in Chinese and a growing number in English. However, most Chinese institutions also have joint programs with foreign universities such as the Global Innovation Exchange Institute – a joint project between the University of Washington and Tsinghua University. Tsinghua also offers a dual-degree program with John Hopkins University, as well as serving as host university for the Schwarzman Scholars, whose inaugural class of 2017 just celebrated its graduation. The number of such joint programs between Chinese and foreign universities has grown in recent years.
Attractive Destination, Culturally and Economically
Chinese universities have seen an influx of international student enrollments over the years, largely due to China's rapid development. Yu Liang is the director of the International Affairs Department of the MBA Program at Guanghua School of Management, Peking University. She commented, "China's rise to prominence on the global stage has created expansive business opportunities, and it is now becoming less and less possible to ignore China in this respect. Cross-cultural skills, the ability to build bridges between Eastern and Western cultures, as well as gaining a greater understanding of the nuances of doing business in China are just some of the key reasons why international students choose to come to study in China."
China is also home to a culture that goes back thousands of years, and many internationals choose to study at a Chinese university to experience that culture firsthand. Big cities in China offer not only some of the best food, shopping, and entertainment in the world, but also among the best cultural heritage sites. These include the Terracotta Warriors in Xi'an, the Forbidden City in Beijing, and the Bund in Shanghai.
Many Chinese cities are a mix of traditional Chinese food and culture and the Western amenities that international students are used to back home. The world's fastest bullet train between Shanghai and Beijing recently speeded up again. China's integration of its social media apps into everyday life, including online shopping and the convenience of an ever-growing "cashless" society, all contribute greatly to the quality of life enjoyed by students here.
Economically speaking, foreign students' study in China is relatively more cost effective compared to that in Western countries. The multitude of scholarships available at the Chinese government and university levels represent enormous education opportunities in the current economic environment. The number of scholarships offered in China rose from around 8,500 in 2006 to 40,600 in 2016, according to the Ministry of Education. With scholarships covering the cost of tuition plus room and board, the incentives to study at a top-ranked university, practically for free, are enticing to say the least. Another factor is the lower cost of living in many major Chinese cities compared to their Western counterparts, which is another big incentive for those considering study abroad.
Start Something Big
China is not only the world's second biggest economy, but has also been the world's fastest growing country for the past 30 years. China also promotes a globalized economy, with the world's top 500 companies all doing business in China, and many choosing to base their Asia-Pacific headquarters here.
China's rise makes abundantly clear that people who can speak Chinese and who have first-hand experience of living in China have a considerable advantage when searching for employment. China is home to a huge employment market of multinational corporations, and employers are well aware that a real understanding of China, Chinese culture, and Chinese people is of tremendous advantage to those who want to become the world's next generation of leaders.
Many international students also choose to study in China with the specific aim of learning the Chinese language, with the expectation of better employment opportunities in fields such as tourism, news media, academia, diplomacy, finance, trade, banking, and many more. Meanwhile, international companies are looking for candidates with Mandarin Chinese skills to place as executives in their China ventures. With China as an emerging economic superpower, understanding the Chinese language, its culture, and values are becoming increasingly important.
Louis Gogger, a German student, returned to China to continue studying Chinese at Beijing Language and Culture University after finishing his undergraduate degree in modern Chinese studies in Germany, which included a semester at Peking University, in 2015. He said, "China's relationship with a lot of Western countries is constantly improving. Therefore, people are becoming more and more aware of the good chances to find a job related to China."
The growing prestige of Chinese universities cannot be denied. Through providing quality education at a cost-effective price in multicultural, modern cities, Chinese universities have changed the educational landscape for international students looking to study abroad.
The size of China, its industries, and the potential business and/or employment market it offers creates an ambitious, fast-paced, study environment enriched with eager minds from all over the world. The finance, technology as well as sports and healthcare sectors, among others, are all set to gain momentum in China in the coming years. As an emerging leader in education and modernity, China shows no signs of slowing down, and neither does the international interest in China's institutions of higher education.
Services