China's First "Bicycle Skyway" Draws Local and Distant Fans
By staff reporter ZHANG HUI
AERIAL cycling is amazing. The winding cycleway traverses Xiamen's busy downtown area. You know, it's really fantastic to enjoy the city's spectacular landscape while cycling and chatting with your friends," Song Hua, a PhD candidate of Xiamen University, told China Today, still radiant after his first experience on China's first elevated cycle track in Xiamen.
Green Transportation Innovation
The elevated bicycle expressway that Song Hua cycled along is located in the center of Xiamen Island. It is the longest elevated cycleway in the world at 7.6 kilometers in length. Its construction started in August 27, 2016, and only took five months to reach completion. It was put in operation on January 26.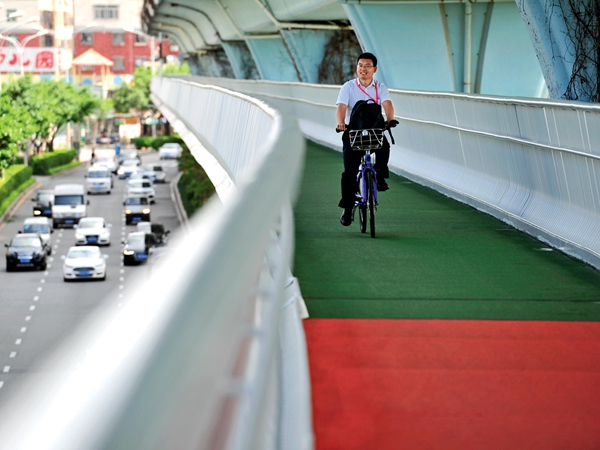 Xiamen's Bicycle Skyway has drawn lots of people across the city to give it a try.
Xiamen Island accommodates the central downtown area of Xiamen City, hosting clusters of large-scale shopping centers, business areas, and residential blocks. Despite its relatively small area, it has a high population and traffic density. With its rapid urban development, the island has also been plagued by various urban problems. The sharp surge in the number of motor vehicles has overloaded the island's road network. To ease congested traffic, Xiamen has creatively made use of its multi-level spaces. The BRT (Bus Rapid Transit) system within the island is a viaduct network, starting operation in September 2008, and the country's first elevated BRT system. The 7.6-km-long bicycle skyway was set up along the BRT route, five meters above the ground, and beneath the nine-meter tall BRT network. It starts at the BRT Hongwen Station, and ends at Xianhou Station.
According to the construction project manager of the bicycle expressway Rao Jianhui, in the early days of planning the project, there were several route options, but they finally decided to build the bicycle lane along the BRT viaduct. They mainly took into account the following aspects: the BRT system's viaduct structure could be incorporated into the building of the bicycle skyway; the BRT route passes many commercial centers and communities with dense populations, so the corresponding cycleway would bring convenience to more people.
A Well-designed Layout
Recounting his first experience on the bicycle skyway, one feature that impressed Song Hua was the rest area. "You don't have to ride all the way along till the end. When you feel tired or just want to stop and admire the view, you can easily spot a rest zone by the lane."
"There are many sections for U-turns, rest and slowing down, so if you pass the exit, you can easily turn around," Wei Jianlong, a staff member of the municipal bicycle expressway management center, told China Today.
According to Wei, the bicycle skyway has 11 entry and exit points respectively, intersecting with three pedestrian overpasses and connecting with BRT stations and bus stops along the route. After the completion of the local subway line, it will connect two subway stops. In addition, there are seven platforms for parking bikes equipped with elevators big enough for bikes. The bicycle route passes three industrial parks, five large residential areas, three large commercial centers and some public service departments, including the municipal service center.
"Our first ride on the bicycle skyway was partly out of curiosity, and can also be ascribed to a dinner rendezvous for several classmates in the restaurant of a nearby shopping center along the route. It was really convenient. After exiting the cycleway, it took us only a few minutes to reach the restaurant," Song Hua told China Today.
Since the cycleway came into use, the average daily number of cycling commuters has been around 5,000. Wu Yuanquan, a local resident, told China Today that he used to drive to work, and occasionally took a BRT bus, but now cycling has become his favorite choice. "I used to drive to work, but often hit gridlocks. In the past BRT was also one of my options, but the buses were always packed at rush hour. So I'm really pleased to see the cycle way come into use. It can not only save my commuting time, but also give me some exercise."
An Attractive Green Corridor
Since its completion, many residents who don't live in the nearby communities have also paid a special visit to the cycle skyway. It has become a tourist attraction. "Many of my classmates have tried the cycle way. They all love it. You know, it's the first one in China, which has made it even more exciting. We first cycled there late one afternoon in May. It was very comfortable to ride in the elevated lane with a breeze brushing your skin. It's a winding viaduct, and so has a spectacular view," Song Hua told China Today.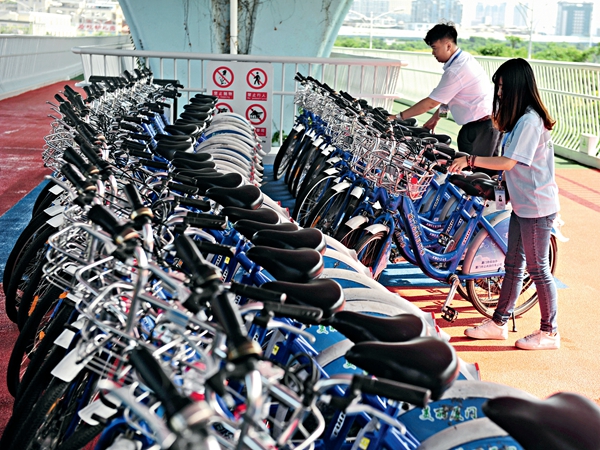 Workers arrange bicycles in one of the skyway's parking zones.
The gorgeous views along the cycle way include not only dazzling shopping centers, but lovely parks with lush greenery and clear lakes. Cyclists are agreed that the charming landscape, coupled with Xiamen's fresh air, make riding the skyway a truly uplifting experience.
"During the Spring Festival period, the traffic flow approached the cycle way's maximum capacity almost every day from 9 am to 4 pm, so we took some measures to restrict access, ensuring an unobstructed flow," Wei Jianlong said. The cycle lane's maximum traffic capacity is 2,000 bicycles per hour for lanes in both directions with the maximum speed of 25 km/hour.
The cycle lane is paved green and dotted with orange slowing-down zones and blue waiting zones. According to Wei Jianlong, the cycle way is equipped with a camera every 200 meters, which enables the monitoring center to observe the situation on the lanes in real time. In addition, to guarantee its safe and orderly operation, the bicycle skyway has at least one management staff member guarding an entry, and each large intersection has two to three guards.
The skyway is exclusively for bikes, refusing entry of any electric and motor vehicles as well as pedestrians. "Its entrances are all installed with an entry control system. With its stereo-imaging and smart scanning, the system can detect any unqualified vehicle and bar its entrance while sending an alarm to the monitoring center," Wei said. Owing to its modern and efficient management and dynamic monitoring, as of now the cycle way has been accident free.
Services