Jointly Building a Community of Shared Future for All Humankind
By staff reporter AN XINZHU
THE world is facing serious dilemmas in its push for further growth, such as insufficient impetus to drive economic growth, the gap between rich and poor, prevalence of protectionism, and global governance that needs to be improved. The questions remains: How to work together to promote common prosperity and inject new impetus to boost sustained economic growth?
"In promoting mutually beneficial cooperation, we should raise awareness on building a community of shared future for all humankind. A country should accommodate the legitimate concerns of others when pursuing its own interests; and it should promote common development of all countries when advancing its own. Countries should establish a new type of global development partnership that is more equitable and balanced, stick together in times of difficulty, share all rights as well as shoulder all obligations, and boost the common interests of humankind." This is quoted from the report adopted by the 18th National Congress of the Communist Party of China (CPC) in November 2012, which attracted the world's attention.
An Increasingly Clear Notion
"It is a world where countries are linked with and dependent on one another at a level never seen before. Humankind, by living in the same global village within the same time and space where history and reality meet, has increasingly emerged as an intimate community of shared future," said Chinese President Xi Jinping. He first made the remarks about sharing with the world China's perspective on the future development of human civilization in his speech delivered at Moscow State Institute of International Relations during his first overseas trip after becoming China's president in March 2013.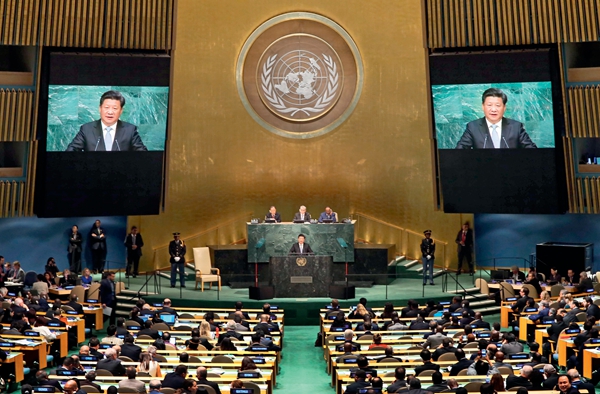 Xi Jinping delivers the speech, "Working Together to Create a New Mutually Beneficial Partnership and Community of Shared Future for All Humankind" at the General Debate of the 70th Session of the UN General Assembly in New York on September 28, 2015.
The response from international society showed that Xi's understanding of the future development of the whole world and human society is "far-sighted." The concept of building a community of shared future for all humankind has struck a chord with the rest of the world.
In a series of conferences and major events in the ensuing years, Xi Jinping has expounded on the notion repeatedly. All the remarks he has made and what he has called for over the past five years, including "an intimate community where everyone is interlinked," "there is only one Earth in the universe and we, humankind, have only one homeland," "foster a keen sense of a global community of shared future," "let the awareness of a community of common destiny take root in the neighboring countries," "create and fulfill an Asia-Pacific dream," and "move towards a community of common destiny and a new future for Asia," have made the concept of "building a community of shared future for all humankind" a global notion that has surpassed national boundaries and the constraints of nationality and ideology. China's influence on regional cooperation and global governance has been expanded from merely an institutional aspect to a spiritual level.
On May 18, 2015, People's Daily, the flagship newspaper of the CPC, published an article by Guo Jiping, to elaborate on the concept of "a community of shared future for all humankind." The article pointed out that China has expressed its wish for peaceful development through this global notion that has surpassed the constraints of nationality and ideology.
The article, entitled "Promise of a Better Future for the World," noted that there are divergences and conflicts when pursuing different state interests, religious beliefs, ideologies, and social systems. However, we are all humans, and people are the subject of any historical activity. Countries with different beliefs, systems, and ethnic groups could coexist peacefully and compete with each other equally and in an orderly fashion, so that the common interests outweigh divergences and confrontations and the people can rationally decide the future of the world.
A New Model of International Relations Based on Win-win Cooperation
The famous British historian Arnold Joseph Toynbee said: "If the CPC can blaze a new path in its social and economic strategies, then it can prove its capacity to endow a gift on China and the world. The gift will be a combination of the vitality of modern Western society and the stability of traditional Chinese culture."
The notion of "building a community of shared future for all humankind" is probably part of this gift.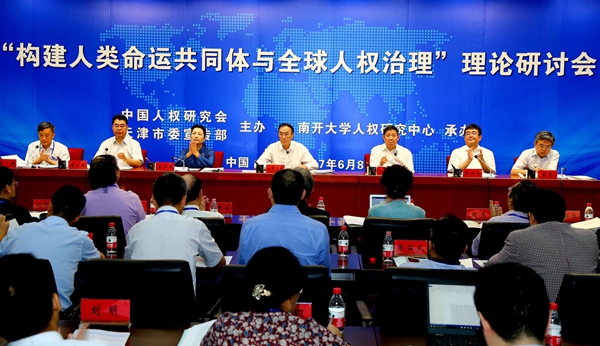 The Seminar on Building a Community of Shared Future for Humankind and Global Human Rights Governance, held in Tianjin on June 8, 2017.
In September 2015, Xi Jinping gave a comprehensive elaboration on the notion when he attended summits marking the 70th anniversary of the United Nations' founding in New York. He pointed out that efforts should be made to establish a partnership in which countries treat each other as equals with mutual consultations and mutual understanding, build a security pattern featuring fairness and justice that is contributed and shared jointly by all nations, strive for open, innovative, and inclusive development that benefits all, advance inter-civilization exchanges featuring inclusiveness and harmony amid diversity, and build an ecosystem that puts nature and green development first.
His elaboration has made the overall plan for building a community of shared future for all humankind clear, depicted the bright prospects of international relations, and also represented the innovation of major country diplomacy with Chinese characteristics.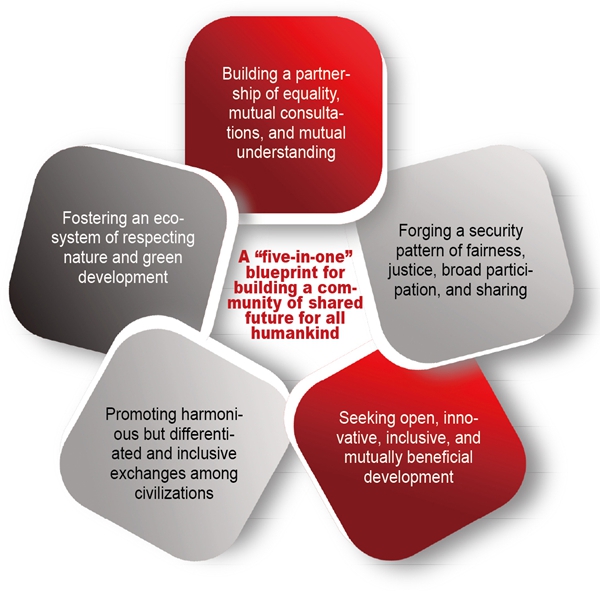 Following the traditional Chinese doctrine of "the unity of knowing and acting," China has become a pioneer and contributor in realizing this notion through its actions. Over the past 30-odd years since the implementation of the reform and opening-up policy, China has climbed from the 10th to second largest economy in the world, with its contribution to world economic growth remaining at around 30 percent annually, proving its commitment to development. Meanwhile, China has lifted more than 700 million people out of poverty in the past three decades — which amounts to more than 70 percent of global poverty reduction over that period.
From a political aspect, China insists on a new approach to state-to-state relations that features dialogue rather than confrontation and partnerships instead of alliances. Efforts should be made to seek common ground while shelving differences. Countries need to respect other countries' unique social systems and development paths, as well as respect each other's core interests and major concerns. Countries may differ in size, strength, or level of development, but we should discuss and look for solutions together on matters that involve us all. China takes the lead among major countries to make "establishing a partnership" a guiding principle of building international relations. So far, it has established partnerships with over 80 countries, regions, and regional organizations. A partnership network between China and the rest of the world has begun to take shape.
On security issues, China calls for abandoning the outdated Cold War mentality in all forms, and fostering a new vision of common, comprehensive, cooperative, and sustainable security. As people of all countries become increasingly interdependent, no country could ensure its own security without also ensuring the security of other countries or of the wider world. Therefore, all countries should play a constructive role in safeguarding global and regional stability. Guided by the new vision of security, China is working hard to provide solutions to regional hotspot issues. It has actively participated in the UN's peacekeeping operations by sending the highest number of peacekeepers among all five permanent members of the Security Council and contributing the greatest amount of funds to the UN peacekeeping budget as a developing country.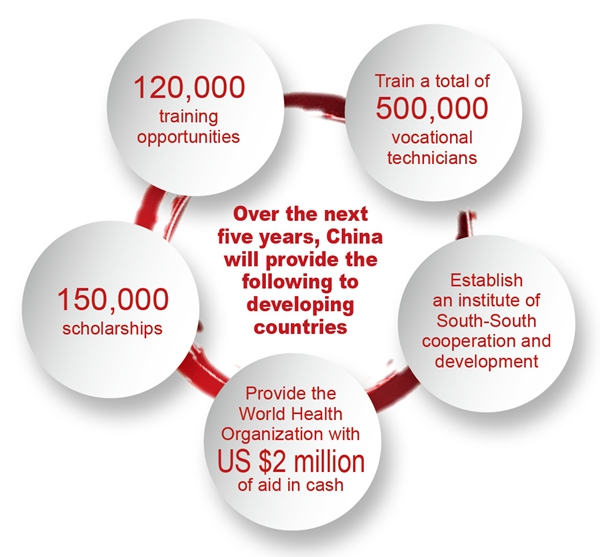 Regarding the economy, China calls for an open, innovative, and inclusive development that benefits all, so to achieve win-win cooperation and common development. China supports the establishment of a more open economy and firmly boosts free trade and investment by promoting the facilitation of trade and investment and opposing protectionism. Against the anti-globalization movement, China calls for eliminating gaps among countries and allowing the people around the world to share development fruits together.
For cultural exchanges, China strives to promote exchanges among different civilizations and different development models, so that we can learn from each other's best potential for common progress. "Different civilizations represent different wisdoms and are made up of the contributions from different nationalities. They are equal, none of them superior or inferior. We should respect all civilizations, treat each other as equals, learn from each other, and take in each other's excellent essence so as to promote human civilization towards creative development," said Xi Jinping in a speech delivered at the Peruvian Congress in November 2016.
To encourage green development, China has made significant efforts to promote the implementation of the United Nations Framework Convention on Climate Change (UNFCCC). China takes the lead among the world's biggest carbon emitters in starting domestic procedures to ratify the Paris Agreement. Patricia Espinosa Cantellano, executive secretary of the UNFCCC, said during her visit to China at the end of August 2017 that China is one of the most important leaders in tackling global climate change, noting that the country has made positive efforts in line with its green development concept. She added that China plays a leading role, especially in promoting the implementation of the Paris Agreement.
Sincere Partner for Developing Countries
Building a community of shared future for all humankind starts from surrounding countries. The Boao Forum for Asia witnessed the concept of an Asian community of shared future.
During the annual meeting of the Boao Forum for Asia in 2013, Chinese President Xi Jinping stressed "firmly establishing the consciousness of a community of shared future." President Xi then delivered an important speech in the Indonesian parliament, and proposed five major initiatives to build the "China-ASEAN community of shared future." At the Central Conference on Work Relating to Foreign Affairs in 2014, President Xi stressed the need to create a "community of shared future in surrounding countries."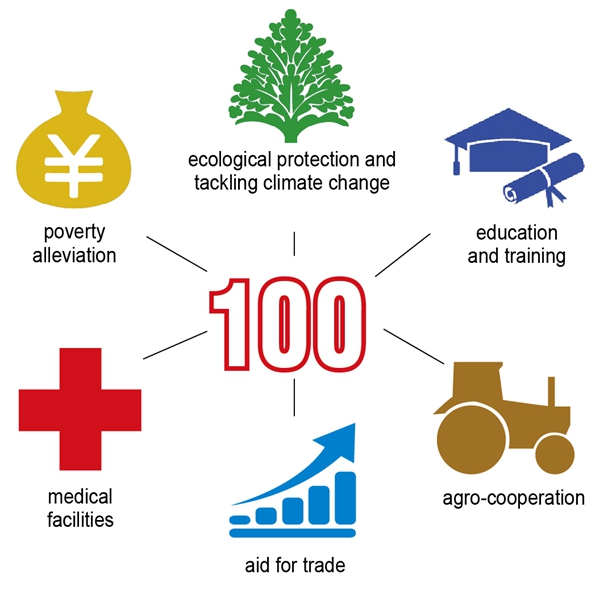 The theme of the Boao Forum for Asia in 2015 was "Asia's New Future: Towards a Community of Shared Future." At the opening ceremony, President Xi once again explained the proposition to "march towards the community of shared future, and create a new future in Asia." The forum is regarded as the symbol of Asian solidarity by foreign media.
The concept also reaches Africa and Latin America across the ocean.
In March 2013, when President Xi gave an address in Tanzania, he said that China and Africa have the same historical experience, development tasks and strategic interests of a community of shared future. And his 30-minute speech won 30 rounds of applause.
In July 2014, Xi Jinping visited Brazil and attended the meeting with leaders of Latin American and Caribbean countries. In his speech entitled "Strive to Build a Community of Shared Future," he proposed a new pattern between China and Latin America, and called for the creation of the "Sino-Latin American community of shared future."
As a developing country, China's diplomatic work has never neglected the common progress of other developing countries, believing that only joint self-improvement can allow developing countries to go to the center of the world stage. During the 2016 G20 Summit in Hangzhou, China extensively invited developing counties to participate in and to enhance the representation and speaking right of the developing countries at the G20. During the BRICS Leaders Meeting in 2017, the Chinese side held a dialogue between emerging market economies and developing countries, with the aim of building a network of partners and building a community of common development and shared future.
The concept of "community of shared future" has extended from the "real world" to "virtual space."
According to international media, to build a community of shared future has become China's new diplomatic strategy, even the new blueprint to establish a fair international order.
Contributing Chinese Wisdom
"The community of shared future" is rooted in the inheritance of thousands of years of Chinese culture.
Chinese Foreign Minister Wang Yi pointed out that the concept is rooted in the long history of Chinese civilization and China's magnificent diplomatic practice, in line with various countries' sincere desire and lofty pursuit of peace, development and cooperation.
The Chinese people have said, "The world is a commonwealth." The community of shared future is not only the resonance of the Chinese philosophy of life, diplomatic traditions and the contemporary era, but also the pursuit of better life of peoples of various countries.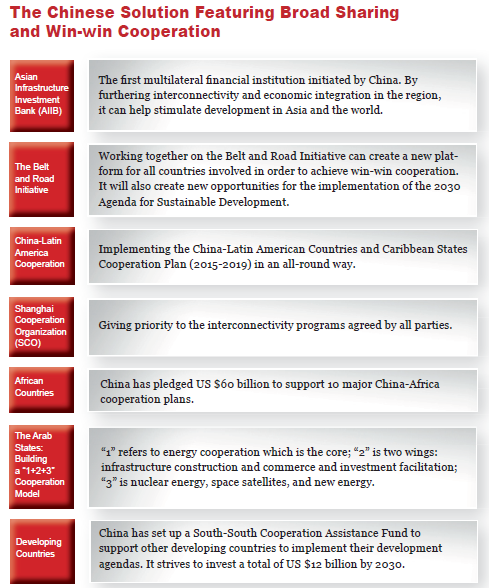 In the China Hall of the United Nations Headquarters hang two Chinese paintings – the Interactive World and the Home of Us All. According to former United Nations Secretary-General Ban Ki-moon, the two paintings reflect the important role of China in the peaceful development of the world. China is not only the advocator of community of shared future, but also the responsible practitioner.
On September 28, 2015, in the UN headquarters, President Xi stated that "we are going to inherit and carry forward the purposes and principles of the Charter of the United Nations, build a new type of international relations centered on win-win cooperation, and build a community of shared future for mankind." This was the first time that Xi Jinping had elaborated the concept at the United Nations.
On January 18, 2017, President Xi delivered an important speech entitled "Jointly Build a Community of Shared Future for Mankind" in the United Nations Office at Geneva, and clearly put forward China's approach of "building a community of shared future to achieve win-win results." In February, the concept was first written into the United Nations resolution. One month later, at the 34th meeting of United Nations Human Rights Council, China, on behalf of 140 countries, issued a joint statement entitled "Work Together to Promote and Protect Human Rights and Build a Community of Shared Future for Humankind."
China has not only provided a unique vision to promote the progress of world civilization, but also put forward the "China approach" to this idea.
Proposed more than three years ago, the Belt and Road Initiative has entered the new stage of action and implementation. The circle of friends along the Belt and Road is expanding. Since establishment, the Asian Infrastructure Investment Bank has gained plentiful and substantial achievements. As a growing number of Chinese initiatives have become international consensus, a series of constructive public goods have benefited the world.
UN Secretary-General Antonio Guterres highly appreciates the idea put forward by President Xi. "China has become an important pillar of multilateralism, and the purpose of multilateralism is to establish a community of shared future for all humankind ," he said.
Services