Growing Vegetables in Deserts
By staff reporter LI YUAN
COME and have a taste of our new varieties!" Crop breeding specialist Liu Xueqin warmly invites us to taste her freshly picked vegetables and fruits – yellow-flesh watermelons, netted melons, mini cucumbers, and strawberries. Although small in size, they are both fragrant and sweet, which are particular features of vegetables and fruits grown in the desert, according to Liu Xueqin. The green world of vines and leaves inside the greenhouses in the Engebei Ecological Demonstration Area forms a sharp contrast with the drab desert outside.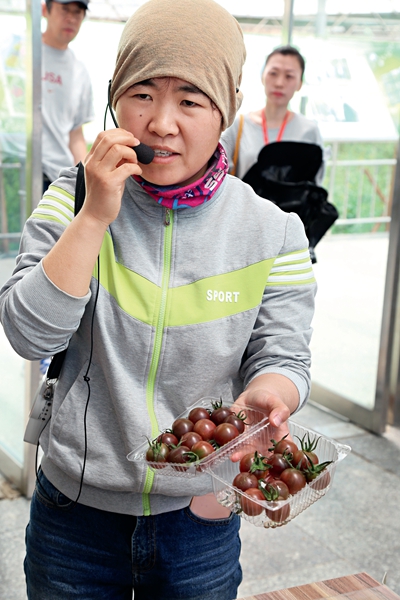 Liu Xueqin has accumulated rich experience in desert breeding. Photos by Li Yuan
Engebei, meaning safety and auspiciousness in Mongolian, is located in the middle of the Kubuqi Dessert. Over the past few years, Engebei made serious efforts to develop desert industry, relying on more light, less water and new technologies to generate better yields. It has managed to turn this wilderness into a national demonstration area for ecological construction, a four-A level scenic spot and a demonstration area for ecological tourism. This great leap forward in the agricultural sector – fuelled by new advances in biotechnology – has been dubbed the "Sixth Industrial Revolution" by renowned Chinese scientist Qian Xuesen.
Deserts Are Not Barren
The area of desert in China has reached 2.62 million sq km, accounting for 27 percent of national territory, and is still expanding. The large number of deserts, scattered across the country, have already had extremely negative impact on China, making the prevention and treatment of desertification a pressing issue.
Qian Xuesen, forerunner of China's aerodynamics and rocket science, introduced the theory of "Desert Industry" and "Grassland Industry" in the 1980s. When looking upon the vast but poor-quality land of western China, the respected scientist made the surprising comment that the then 107 sq km of desert could generate millions of yuan for Chinese people every year. The way to achieve this idea was to develop desert industry.
Qian's theory was based on fact: deserts are not absolutely infertile. Only a few small pieces of extremely arid land cannot support plants; with a little precipitation, plants – even some perennials – can grow. These unique geographical conditions are suitable for some plants, especially herbs best grown in sandy soil. These plants could make it possible for deserts to become fields of gold.
Since these theories were put forward, desert and grassland industries have attracted increasing attention. With the implementation of the Western China Development Strategy at the turn of the 21st century, these new industries are gaining momentum, not only injecting vitality into the local economy, helping alleviate poverty among farmers, but also exploring a new method of ecological construction.
Engebei Ecological Demonstration Area is a model for Inner Mongolia's desert industry. "Since we are close to the desert, room for normal planting is very limited," said Ren Xuejun, director of the Agriculture, Husbandry, Forestry and Water Resources Bureau, part of the Management Committee of Engebei Ecological Demonstration Area. "Our work is to provide the most adaptable varieties of plants and new technologies, and promote the use of new energy resources. We have hit the market with our organic vegetable and fruit produce, which benefited local residents and improved the local economy."
A New Generation of Agricultural Agents
Engebei Ecological Demonstration Area went into operation in 2009, and Liu Xueqin, then a fresh graduate from Shandong Province, started her career here. Her job was to cultivate commercial crops and grow new varieties of vegetables and fruits in greenhouses.
In order to take advantage of the abundant sunlight and high diurnal temperature variation, solar greenhouses and semi-basement greenhouses were built to utilize the thermal insulation effect. Thanks to drip irrigation systems designed by the Chinese Academy of Sciences, 60 percent less water was needed compared to a normal irrigation set-up. "Relying on more sunlight, less water and new technologies to generate better results" is the motto at the core of desert industry.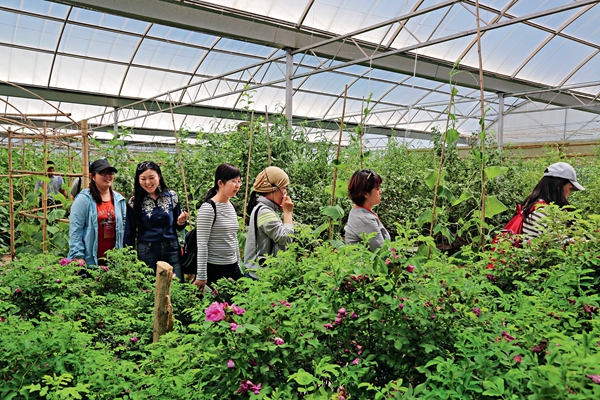 The 200-plus varieties of vegetables and fruits are a striking feature of the Engebei Ecological Demonstration Area.
Liu Xueqin told us that in the beginning the team selected mature plants in high-quality hybrid varieties, like bell peppers from Israel, netted melons from Hokkaido of Japan, and yellow-flesh watermelons from Taiwan. One of the major challenges, however, is for plants to adjust to local conditions. In order to lower costs they bought compost to mix with the local soil, but the saline and alkali content in the local soil was so high that all the pepper plants failed. It was only after they replaced all the soil with compost that the peppers finally began to grow. The sunlight was so intense that the peppers got scorched, so they set up sunshade nets and reduced the number of leaves. "Even the best varieties need to be adapted to local soil and climate conditions. No existing experience is available for reference," said Liu Xueqin.
In 2015 the team began to introduce space plants. "Space varieties display high stress resistance and do far better than ordinary crops against coldness, drought, pests, and saline and alkaline soil. They are the future of green foods," said Liu Xueqin.
Space plants, also referred to as "space mutation breeding," are new varieties produced by sending seeds into outer space and placing them in a unique environment – keeping them in a sterilized area in a vacuum and exposing them to high-energy ionizing cosmic radiation. Once back on Earth, the seeds are planted to produce new seedlings, which produce new materials and varieties. So far, only America, Russia, and China have successfully conducted space mutation breeding.
Space mutation breeding and genetic modification are two different concepts. The former uses unique conditions in outer space to accelerate mutation, which is the same as natural mutation in nature. While space mutation breeding involves the re-sequencing of plant DNA, genetic modification actually involves introducing new genes. This is the fundamental difference between the two. Over 20 space plants have been successfully grown in the demonstration area, including space corn, small melons, mini cucumbers and mini white gourds.
Liu goes to the field every morning and afternoon to record any changes in the plants, whether it is 40 degrees centigrade or knee-deep in snow outside. To increase her knowledge of the numerous new varieties, diseases, pests, weeds and new technologies, Liu works in the field during the day and reads books or consults local farmers in the evening. As a result, she has accumulated rich experience in desert breeding.
Under Liu's care, the 200-plus varieties of vegetables and fruits have become a striking sight at Engebei Ecological Demonstration Area. Liu said they plan to increase acreage and promote mature technologies to benefit more locals.
"We're open to the neighboring farmers and herdsmen and also offer them free technical guidance. They were used to traditional methods of farming and planting, and had never considered intensive agriculture or scientific management. But after they saw what we had achieved at Engebei, they were convinced." Liu told us that with their guidance and support, over 30 local households have acquired independent production capacity.
"Take tomatoes for example – one mu of land (666.67 sq m) could yield 5,000 kg of tomatoes, and we could harvest twice a year. According to current prices, we could receive a net income of RMB 50,000." Liu added that their produce is free from pollution, tastes good and contains abundant nutrition. It not only enriches the diet of local people, but specialty produce also sells as far afield as Hong Kong.
"Turning deserts into oases, turning oases into homesteads and turning homesteads into paradise … this is our ultimate goal in developing the desert industry," said Liu Xueqin.
From Barren to Fertile
Engebei Ecological Demonstration Area has 136 greenhouses, including a smart one, 42 semi-basement ones and 93 poly tunnels. Total acreage has reached 11.6 hectares, and it is now a multi-functional complex for industry, study, and research.
Sunshine horticulture is just one of the many high-tech experimentation projects at Engebei, and along with plantation gardens, cultivation gardens, methane projects, and microalgae breeding base, they comprise the Engebei Demonstration Area for Circular Economy. It's also a model project for the Engebei desert industry.
The desert industry also boosts the development of related theories. Since 2011, Engebei has hosted several conferences and seminars, including the First Engebei Ecological Forum, a symposium held by Russian academician Igor Zonn, and the National Joint Conference of Desertification Prevention and Treatment and Desert Industry.
By combining desertification prevention and control with industry development, Engebei has made progress in improving the environment, economic development and enhancing local livelihoods. An industrialized future of agriculture in formerly barren deserts also signifies huge potential for humans exploration of these areas. For many years, Engebei has worked to achieve the dream of making barren deserts fertile.
Services