"Mexico Knows That There's a Growing Market in China" – Interview with Mexican Ambassador to China José Luis Bernal
By staff reporter MICHAEL ZÁRATE
IN February of this year, the new Mexican Ambassador to China, Mr. José Luis Bernal, said before the Mexican Senate that his country was facing unprecedented challenges at the international level that demanded a change to the current paradigm of its relations with the outside world. Recent changes in the United States have sparked debate, with many people insisting that Mexico should further diversify its economic relations, especially towards markets like China. Ambassador José Luis Bernal welcomed China Today to discuss the challenges posed by the important position he stated a few months ago.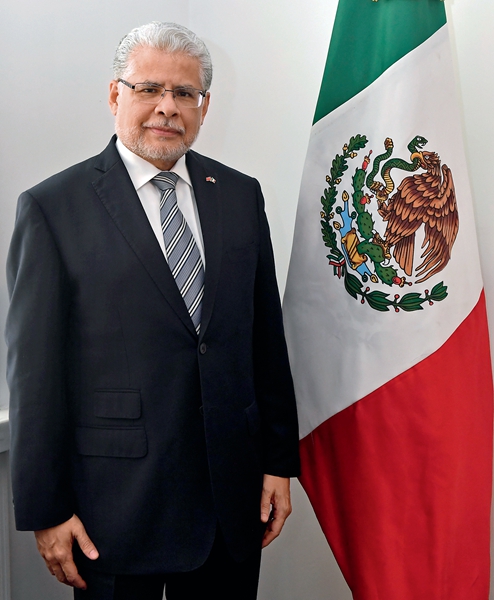 China Today (CT): Because of the trade policy that the United States has adopted, Mexico is increasingly being encouraged to get closer to China. How does Mexico view China today? Is China an alternative to Washington's policies?
José Luis Bernal (JLB): With a population of more than 120 million inhabitants and a GDP that ranks 15th among the largest economies on the planet, Mexico, for several years, has been seeking to diversify its economic relations with different regions of the world.
For this reason, over the past few years, it has been a policy of Mexico to give strategic importance to China because we recognize the importance of this great country as an ascending power, the place that China occupies in the world, and the role that China is destined to play in the future.
China is Mexico's second largest economic partner. We are receiving more and more investments and technology from it. The Chinese market is the third most important for our exports and we are generating new forms of cooperation for development, as well as technical, scientific, educational, and cultural cooperation. All these led our leaders to establish the comprehensive strategic partnership in 2013. China is a great partner, not only for economic circumstances, but also for its strategic and long-term importance. In addition, we have a large institutional structure, consultation mechanisms, and a constant political dialogue at the highest level.
CT: Mexico's Secretary of Economy, Ildefonso Guajardo, will arrive in China in September. Mr. Guajardo has said that his visit is also a sign that Mexico has many commercial alternatives. What is the purpose of this official visit?
JLB: Mexico clearly has many trade alternatives, as evidenced by the volume of our total foreign trade, close to US $800 billion, and trade and cooperation agreements with more than 45 countries. When we refer to diversification, we are talking about where we find the greatest growth in consumer markets now and in the future. China is opening up more sectors, and has rolled out many policies that aim to increase Chinese people's incomes and improve wealth distribution.
Commercial, economic, and investment missions, those of buyers or sellers, pursue the multiple objectives of providing the best products, opening new markets, bringing more technologies, and inviting new players for investment.
The instruction that Presidents Xi Jinping and Enrique Peña Nieto gave in 2013, when we started the comprehensive strategic partnership, was to increase exchanges at the ministerial level. The mission announced by the Secretary of Economy would seek these objectives: economic diversification, rapprochement, and generation of new contacts for mutual benefit.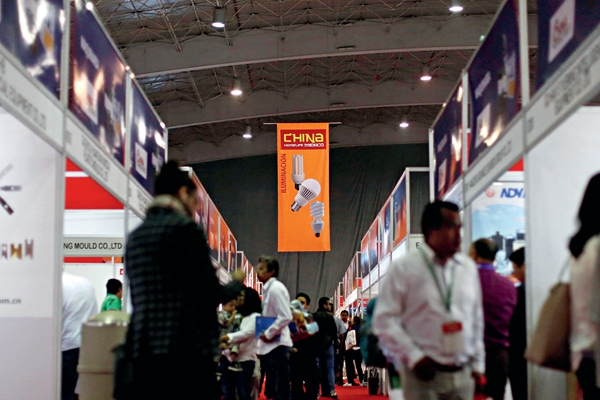 An exhibition of Chinese articles of daily use in Mexico City attracts many visitors on June 13, 2017.
CT: In recent years, Mexican products such as avocados have been widely accepted in China. The Chinese middle class is increasingly demanding high-end products. What is the policy that your mission as ambassador hope to introduce?
JLB: Mexican exports of food products reach more than US $30 billion annually. We are a producer of enormous potential in this sector and we see that the market in China will continue to grow. We are negotiating new health protocols for product entry. We are going to promote partnerships with distribution companies and, internally, we insist that Mexican producers should create production niches. We are talking about dedicating some regions, some sectors, and some segments within Mexican production to what the Chinese consumer specifically demands. We have done it with other markets in Asia and will insist on it for China.
In this diversification that Mexico seeks, we aim for a greater presence of manufactured goods with high added value in our bilateral trade. Mexico is already a major world supplier of manufactured products, such as automobiles, electronics, household appliances, medical equipment, and aeronautical products, among other leading sectors. We are incorporating technologies from different countries to improve the participation of Mexican national inputs in our value chains.
For that reason, we certainly want to increase the sale of primary products, but we are even more interested in generating new productive linkages in which there is greater added value in Mexican production that participates in international markets. We also seek to make a qualitative leap in services, in which Mexico is highly competitive.
CT: Mr. Enrique Dussel Peters, coordinator of the Center for China-Mexico Studies at the National Autonomous University of Mexico, has pointed out that Mexican exports to China have stagnated in last five years. As Ambassador to China, is improving this situation one of your biggest challenges?
JLB: When we talk about bilateral trade and see the volumes of US $75 billion, I would point out two things: First, the size and composition of this trade, and second, when we look at the distribution of exports and imports, obviously Mexico appears with a large trade deficit in this bilateral relationship. However, our objective has not necessarily been to focus on each bilateral trade balance to try to be balanced.
We have to see the general trade balance. There are many articles imported from China that, when they arrive in Mexico, are incorporated into our production processes and transformed into new products that are going to be exported to other countries in value chains. In many of these cases, the final result is positive for Mexico, not only for manufacturing within the country, but also for the generation of new foreign trade channels to other countries.
CT: What is your opinion on China's Belt and Road Initiative? How could Mexico participate in it?
JLB: We have been watching with great interest this very important initiative of President Xi Jinping, which has been well received worldwide. In Mexico, we believe that it can have global, regional, and national impacts on international cooperation. How can Mexico incorporate if it is not a geographically close country? With the global impact, new sources of product demand will emerge. There will be a new generation of exports, as well as new markets where Mexico and other Latin American countries can participate.
Through this great project and the increased demand of exports in new markets, we also have to recover what used to be another great sea route: the "Manila Galleon," also called the "Nao of China," which originally connected China with the Viceroyalty of New Spain (Mexico), through the Philippines.
And what is the role that Mexico could play in this great initiative? Because we already have connectivity, Mexico aims to become a global logistics center to connect Asia-Pacific with the Americas. We are improving the infrastructure to connect Mexico with the rest of the world in a more efficient way and to serve as a bridge between regions, given our recognized multiple belongings.
CT: The Pacific Alliance – to which Mexico belongs – has prioritized the Chinese market for its tourism goals. What measures do you hope to boost for the arrival of more and more Chinese tourists to Mexico?
JLB: The Pacific Alliance is a very innovative regional integration mechanism in matters of trade, accumulation of rules of origin, investment, education, transportation, and many other sectors, and certainly the four countries – Colombia, Chile, Peru, and Mexico – all have great strengths for tourist attraction. Mexico itself is a major tourist power. Recent global statistics indicate that Mexico is already the eighth largest tourist destination in the world.
The Asia-Pacific region – and China in particular – is a priority objective. Last year we received about 120,000 visitors from China. It is a good number, but also very little in relation to the total number of Chinese citizens who traveled to other countries. What are we doing to boost this? Improve interconnectivity. The only Latin American country that has a direct flight to China is Mexico, with AeroMexico. We are also opening the Mexican market for the presence of Chinese airlines. For example, a flight from Guangzhou to Mexico City began operating last April. We expect a second flight to arrive in Mexico City in the next few months. We are improving our airline alliances with other international companies, so that connectivity is improved.
We continue to improve infrastructure and services in Mexico, and more and more Mexicans are studying the Chinese language to receive Chinese visitors in their own language. At the international level, particularly in China, we are carrying out intense campaigns to promote Mexico's tourist destinations and its many attractions.
Mexico waits for your arrival!
Services