An Expanding Circle of Friends
By LIN MINWANG
THE international situation remained complex, and domestic policies of some major powers saw new changes in 2017. Sticking to the principle of being proactive and responsible, China has continued to enrich the system of its diplomatic theories, and achieved fruitful outcomes in terms of diplomatic ties with other major nations as well as its neighbors.
Major-Country Diplomacy
Creating favorable external conditions has always been a key task for China's foreign affairs. The country's diplomatic practices and principles that have been carried out since the 18th National Congress of the Communist Party of China (CPC) held in 2012 were reviewed and summed up in the past year, which has not only provided political and theoretical references for the 19th CPC National Congress held in October this year, but also set the course for future development of China's diplomacy.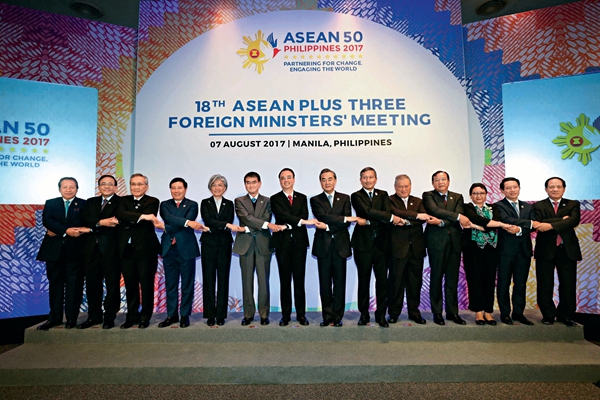 China's Foreign Minister Wang Yi (eighth left) attends the 18th ASEAN Plus Three Foreign Ministers' Meeting in Manila, the Philippines on August 7, 2017.
In the past five years, President Xi Jinping has put forward and constantly augmented the philosophy of major-country diplomacy with Chinese characteristics, underlining that foreign affairs should be carried out in a distinctive Chinese style. His in-depth elaborations on the goals, paths, principles, and methods of China's diplomacy under the new circumstances have established the basic theoretical framework for major-country diplomacy with Chinese characteristics, and show the direction for the nation's diplomacy.
According to President Xi, China is closer than in any other period in history to the center of the international arena and the goal of national rejuvenation. Strengthened capabilities provide richer resources and means to defend the national interests and contribute more to the world. On the other hand, it means China should take on greater responsibilities and play the role of a large responsible country to find solutions to burning issues and global challenges, making international governance more just and equitable, and promoting global peace and development.
In his 2016 New Year speech, Xi made the remarks: "The world is so big and the problems are so many. The international community expects to hear China's voice and see China's plans. China cannot be absent."  
Based on the concept of major-country diplomacy, China defines the overarching mission of its foreign affairs in the new era as being committed to peaceful development and forging a community with a shared future for humankind. In the past five years, China has been promoting reform of global governance through cooperating over the Belt and Road Initiative, establishing the Asian Infrastructure Investment Bank, setting up the Silk Road Fund, organizing the Belt and Road Forum for International Cooperation, and hosting the Asia-Pacific Economic Cooperation Economic Leaders' Meeting, the G20 Hangzhou Summit, the BRICS Xiamen Summit, and the Conference on Interaction and Confidence-Building Measures in Asia Summit, among many others.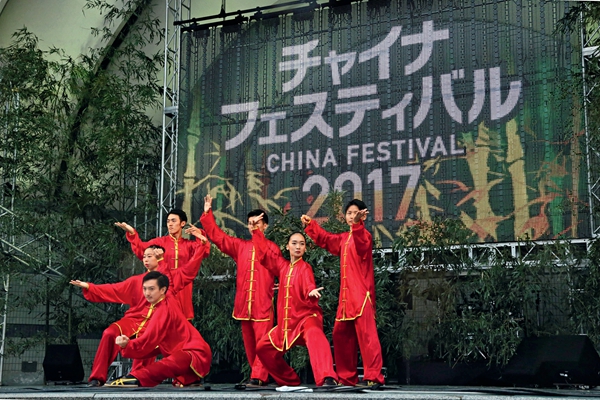 China Festival 2017 unveils in Tokyo, Japan on October 21. Performances with Chinese elements such as kungfu, lion dance, and traditional operas are shown.
A multi-dimensional and multi-layered diplomacy that China is working to build will provide a favorable external environment for China's development. To date, China has created partnerships of various forms with around 100 countries, regions, and regional organizations. Its circle of friends is expanding to cover different regions and different types of states.
In his report delivered at the 19th CPC National Congress, Xi highlighted that the nation has actively developed global partnerships and expanded the convergence of interests with other countries. "China will promote coordination and cooperation with other major countries and work to build a framework for major-country relations featuring overall stability and balanced development," he said.
Xi added that China will deepen relations with its neighbors in accordance with the principle of amity, sincerity, mutual benefit, and inclusiveness and the policy of forging friendship and partnership with its neighbors. Guided by the principle of upholding justice while pursuing shared interests and the principle of sincerity, real results, affinity, and good faith, China will work to strengthen solidarity and cooperation with other developing countries. It will also strengthen exchanges with the political parties and organizations of other countries, and encourage political organs, the military, local governments, and people's organizations to engage in exchanges with other countries.
Actively Planning Major-Power Relations
Playing a vital role in China's foreign affairs, major-power relationships maintained a steady development in 2017. For instance, its relations with the U.S. have remained sound and opened up new prospects in cooperation. High-level strategic cooperation with Russia has been strengthened, and fresh steps have been made in building the China-EU partnership for peace, growth, reform, and prosperity.
Donald Trump took office as the 45th president of the U.S. last January. His protectionist tone and some "shoot from the hip" remarks have more or less caused concern for Sino-U.S. relations. In their phone conversation on February 10, Xi and Trump exchanged views on issues of common concern. The visit to the U.S. made by State Councilor Yang Jiechi in February and the visit to China made by Secretary of State Rex Tillerson in March have led the bilateral ties onto the track of enhanced exchanges.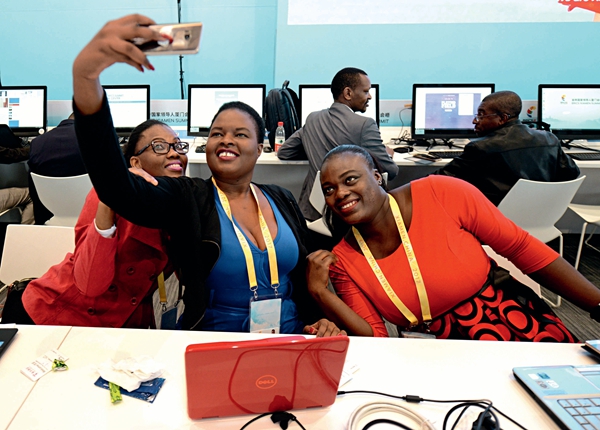 Three journalists from Africa take a selfie at the news center of BRICS Xiamen Summit on September 3, 2017. Around 3,000 journalists from 80 countries and regions gather in Xiamen to cover the summit.
Later in April, the heads of the two states held their meeting in the Mar-a-Lago resort in Florida where they underlined the strategic importance of the bilateral relationship, and agreed on facilitating its further development from a new starting point. What's more, Trump's state visit to China in November marks a smooth transition in bilateral relations.  
China and Russia have maintained close consultation and coordination on key international and regional affairs. In addition to progress made in fields such as energy, investment, and finance, the two countries are actively exploring ways to connect the Belt and Road Initiative with the Eurasian Economic Union.
Russia has always supported the Belt and Road Initiative. Russian President Vladimir Putin participated in the Belt and Road Forum for International Cooperation in Beijing in May. His Chinese counterpart Xi paid a state visit to Russia later in July. Besides, the two leaders met on other occasions including the Astana summit of the Shanghai Cooperation Organization in June and BRICS summit in Xiamen in September.
Sound strategic cooperation between China and Russia is not only a strong underpinning for China's major-country diplomacy, but also functions as a ballast of world peace and stability.
The China-EU relationship has also witnessed further advancements. During his visit to Europe in 2014, Xi called for building partnership for peace, growth, reform, and civilization with the EU. In the past year, the partnership has been strengthened, shown by frequent meetings between senior officials of the two sides.
In January, Xi visited Switzerland, and delivered a speech at the annual meeting of the World Economic Forum held in Davos which has been widely echoed in the international community. In early April, he visited Finland, his first trip to the Nordic region as president of China. He met with many more leaders of European states when he visited Germany and attended the 12th G20 summit in July.
In their talks, the U.K. Prime Minister Theresa May reaffirmed that China-U.K. relations are in a "Golden Era." During a meeting with his French counterpart Emmanuel Macron, Xi noted that bilateral ties should be viewed in a strategic context and from a long-term perspective so as to work towards better Sino-Franco relations. Chancellor Angela Merkel's reelection in September has guaranteed stability of the China-Germany relationship.
In addition, a range of new cooperation initiatives on deepening China-EU comprehensive strategic partnership for mutual benefit were reached when Premier Li Keqiang met with President of the European Council Donald Tusk and President of the European Commission Jean-Claude Juncker at the 19th China-EU Summit in Belgium in June.
A Stable Neighborhood
China endeavors to build a harmonious neighborhood. In 2017, ties between China and Japan appeared to thaw. Despite setbacks brought about by a border standoff, China-India relations have stayed on track.
The years 2017 and 2018 respectively mark the 45th anniversary of normalization of China-Japan diplomatic ties and the 40th anniversary of the signing of the Sino-Japanese Treaty of Peace and Friendship, which offer opportunities to improve bilateral ties.
Japan's Prime Minister Shinzo Abe sent a delegation led by Liberal Democratic Party's Secretary General Toshihiro Nikai to attend the Belt and Road Forum for International Cooperation in May. On the sidelines of the G20 summit in Germany in July, Xi met Abe and expressed the hope for Japan to prove its willingness for better ties with China through concrete policies and actions. For his part, Abe said his country is ready to add momentum to improve its ties with China. Abe's attendance at the ceremony marking China's National Day at the Chinese embassy in Tokyo on September 28 in a sense reflected Japan's desire for fostering better bilateral ties. However, as Abe has been reelected as prime minister, it is hard to forecast the future of China-Japan relationships.
The summer of 2017 saw a setback in Sino-India relations due to the 71-day standoff between their armies in China's Donglang area. It has not only reflected that bilateral ties have been souring in recent years, but also displayed that the Indian government is playing hardball with China.
While meeting with Indian Prime Minister Narendra Modi on the sidelines of the BRICS Summit in Xiamen in September, Xi stressed that both countries should understand that they present development opportunities rather than threats for the other. He hoped India will maintain a proper and reasonable attitude toward China's development. Modi agreed that the two sides should not regard each other as opponents, but make cooperation the centerpiece of bilateral ties. Nevertheless, with India's general election approaching, a number of issues might cause potential conflicts between the two nations. Therefore, more efforts should be made to properly manage differences and stabilize bilateral relations.
Speaking of the relationship with the Philippines, a turnabout has taken place since President Rodrigo Duterte took office in 2016. More in-depth cooperation has been carried out in 2017.
Furthermore, relations with Singapore have improved again. Singapore usually adopts a balancing diplomacy among big powers, but has shown a tendency of deviating from this policy in recent years. In his commentary published on The Straits Times in July, the Dean of Lee Kuan Yew School of Public Policy at the National University of Singapore Kishore Mahbubani suggested the country exercise greater discretion when it comes to foreign affairs in the post-Lee Kuan Yew era. Singapore's adjustment on policy toward China was embodied by Prime Minister Lee Hsien Loong's official visit in September.
It is worth noting that the Belt and Road Initiative has accelerated cooperation between China and its neighbors. A railway to connect Laos' capital Vientiane with China's southwestern city Kunming began construction in December 2016. The project is in line with Laos' strategy to turn itself from a land-locked country to a land-linked one. Besides, the Chinese-invested Sihanoukville Special Economic Zone has grown into the largest of its kind in Cambodia as well as a prime example of China-Cambodia economic collaboration.
In the meantime, projects including Kyaukphyu Deep-sea Port in Myanmar, the Malaysia-China Kuantan Industrial Park, Jakarta-Bandung High-speed Railway in Indonesia, Sri Lanka's Colombo Port City, and Angren-Pap Railway Tunnel of Uzbekistan represent China's greater cooperation with neighboring countries boosted by the Belt and Road Initiative.
Lancang-Mekong Cooperation (LMC) mechanism is another highlight in China's neighborhood diplomacy. Launched in March 2016 by the leaders from China, Cambodia, Laos, Myanmar, Thailand, and Vietnam, the mechanism has been developing rapidly, which is lauded as Lancang-Mekong speed and Lancang-Mekong efficiency. Over the past year, a multi-layer cooperation structure including meetings of state leaders, foreign ministers, other senior officials, and working groups has been established. On top of that, a "3+5" cooperation framework has been set up, referring to the three cooperation pillars – political and security issues, economic and sustainable development, cultural and people-to-people exchanges – and the five priority areas for cooperation – connectivity, production capacity, cross-border economic cooperation, water resources, agriculture, and poverty reduction. More than half of the 45 early harvest projects and initiatives agreed upon at the first leaders' meeting held in March 2016 have been either fulfilled or underway so far. Within the framework, headway has been made for the China-Indochina Peninsula Economic Corridor.
All in all, China's diplomacy has evolved to be more proactive, enterprising, mature, and confident in the past year. Its major-country diplomacy and policy toward its neighbors are making great contributions toward the realization of the Chinese Dream of national rejuvenation and enhancing world peace and development.  
LIN MINWANG is an associate professor at the Institute of International Studies of Fudan University.
Services