China's New Journey Offers New Hope for Asia-Pacific
CHINESE President Xi Jinping's attendance at the 25th APEC Economic Leaders' Meeting and his state visits to Vietnam and Laos from November 10 to 14 marked his first overseas trip after the 19th CPC National Congress, charting a new course for China's diplomacy with its own characteristics in the new era.
Chinese President Xi Jinping, also general secretary of the Communist Party of China Central Committee, attends a grand welcoming ceremony hosted by Nguyen Phu Trong, general secretary of the Communist Party of Vietnam Central Committee, ahead of their talks in Hanoi on November 12, 2017.
According to Chinese Foreign Minister Wang Yi, Xi's talks during the trip are significant in three aspects. Firstly, he illustrated China's development path and broadened the international community's understanding and recognition of it. Secondly, his talks have charted the course of cooperation in the Asia-Pacific, and deepened mutual benefit and mutual trust among different parties in the region. Thirdly, Xi's visit has promoted the Chinese tradition of developing good-neighborly relations, and brought China-Vietnam and China-Laos ties closer.
China's Wisdom and Sense of Responsibility
President Xi's keynote speech at the 25th APEC Economic Leaders' Meeting in Vietnam outlined pragmatic ways in which the economic environment in the Asia-Pacific can be improved – by furthering economic globalization, fostering an open economy, and promoting trade and investment liberalization.
His emphasis on the importance of an open economy, innovation-driven development, connectivity, and inclusive development shows China's insight on global economic governance and commitment to common development. It also shows the responsible role China has assumed in international affairs, contributing Chinese wisdom to global development.
At a time when some countries are turning back on economic globalization, China has lived up to its responsibility by pursuing the irreversible trend. "We should uphold multilateralism, pursue shared growth through consultation and collaboration, forge closer partnerships, and build a community with a shared future for mankind," Xi underlined in Vietnam.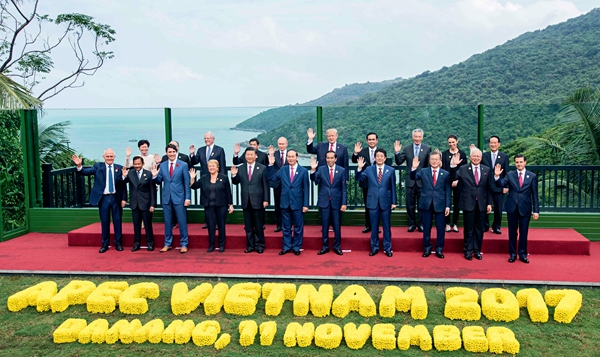 Chinese President Xi Jinping (fifth left, front) poses for a group photo with other leaders and representatives from the APEC member economies at the 25th APEC Economic Leaders' Meeting in Da Nang, Vietnam on November 11, 2017.
He urged for an open Asia-Pacific economy, promoting trade and investment liberalization and facilitation, and making economic globalization more open, inclusive, and balanced to benefit different countries and people.
China has also lived up to its responsibility by adapting to new situations with initiative and promoting structural reform for progress.
As the world's second largest economy, China has over the past five years taken proactive steps to adapt to the new normal of its economy and deepened supply-side structural reform. As a result, the Chinese economy has maintained steady performance, steering toward a better-quality, more efficient, fairer and more sustainable development. Over the past four years, China's economy has grown by 7.2 percent on average annually, contributing over 30 percent of global growth.
China has also lived up to its responsibility by offering viable and effective solutions to the thorny problems facing the world economy. The global economy faces profound changes in growth drivers, the model of growth, economic globalization and the system of global economic governance. Infrastructure construction and interconnectivity are key factors to sustain growth.
To improve connectivity, China has proposed the Belt and Road Initiative, comprising the Silk Road Economic Belt and the 21st Century Maritime Silk Road. They will promote infrastructure construction and connectivity among countries along the routes and strengthen their coordination on economic policies. The initiative is also a meeting point for different development strategies, boosting interconnected development to achieve common prosperity. Though the blueprint is from China, the initiative belongs to the world. Though rooted in history, it is oriented toward the future.
China has been pursuing shared development benefits across the globe. The call for deepening regional economic integration, developing an open and inclusive market, and strengthening the bond of shared interests attests to that.
Interconnected Neighbors
Developing ties with peripheral countries is a priority of China's diplomacy. Having similar paths of development with China, Vietnam and Laos are close to China geographically. Xi's visits are of special importance because China's relations with the two countries are of great significance in its neighborhood diplomacy.
China and Vietnam enjoy a time-honored relationship. Prior to his visit, Xi stressed the "comradely and brotherly" friendship between the two countries in a signed article published on Vietnamese media.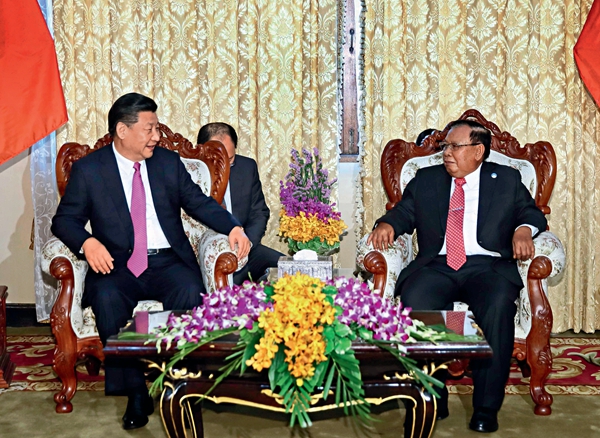 Chinese President Xi Jinping, also general secretary of the Communist Party of China Central Committee, holds talks with Bounnhang Vorachit, general secretary of the Lao People's Revolutionary Party Central Committee and president of Laos in Vientiane on November 13, 2017.
During his stay in the country, Xi specifically visited the former residence of late Vietnamese Communist revolutionary leader Ho Chi Minh. Vietnamese leaders said the country will inherit and give full play to the traditional friendship between China and Vietnam, as well as support the China-proposed Belt and Road Initiative.
The two leaders emphasized the active role of historical factors in shaping China-Vietnam ties, which were further confirmed by a joint statement issued on November 13. It's fair to say that remembering history is an important guarantee of the positive and healthy development of China-Vietnam relations.
The two leaders also witnessed the signing of a series of documents, including the memorandum of understanding on the construction of the initiatives of the Belt and Road and the Two Corridors and One Economic Circle, injecting new impetus to the future development and cooperation of the two countries. They also agreed to properly handle maritime issues and steadily promote maritime cooperation such as joint development in a bid to safeguard peace and stability in the South China Sea.
The signing of the agreements is a reflection of China's courage to face sensitive issues and its peripheral diplomatic principle of building friendships and partnerships with neighboring countries.
China-Laos ties set an example of good neighborliness and all-round cooperation between China and its neighbors. "When brothers are of the same mind, they have the power to cut through metal," President Xi said, using a Chinese proverb to describe China-Laos friendship. It is high praise for the relationship.
Leaders of the two countries agreed to accelerate the strategic alignment of China's Belt and Road Initiative and the strategy of Laos to transform itself from a landlocked to a land-linked country. They also agreed to jointly build a China-Laos economic corridor, and forge ahead with major projects such as the China-Laos railway, in a bid to better serve the people of the two countries.
In recent years, Laos has proactively supported China on regional affairs, playing a leading role in the synergy of development strategies with China. The China-Laos railway, which officially commenced at the beginning of 2017, is a tangible achievement of cooperation on interconnectivity between China and Southeast Asian countries.
In 2018, Laos will co-chair the Lancang-Mekong Cooperation, a dialogue and cooperation mechanism initiated by China and jointly established by five countries on the Indo-China Peninsula, including Laos and Vietnam.
The mechanism is expected to offer more assistance to these countries. As a major practice for China to benefit its neighboring countries with its own achievements, the mechanism will build a tranquil and prosperous neighborhood.
It is believed that China will progress with its neighboring countries toward more shared goals and at a more coordinated pace, and their cooperation will yield more fruitful results.
(Source: people.cn)
Services