Create a Friendly Vibe for China-France Relations
I am delighted to be the new French ambassador to China!" said Jean-Maurice Ripert, who took the post last July. The ambassador's work schedule is tighter than usual in view of French President Emmanuel Macron's upcoming state visit to China at the invitation of his Chinese counterpart Xi Jinping.
Diplomatic Family
Ripert was born into a family of diplomats. His father Jean Ripert, a prestigious economist and diplomat, worked at the UN for many years. Throughout his career, Jean Ripert has witnessed milestones in France's economic and diplomatic affairs since WWII. What's more, he participated in the negotiations to establish the European Coal and Steel Community – the forerunner of today's European Union (EU).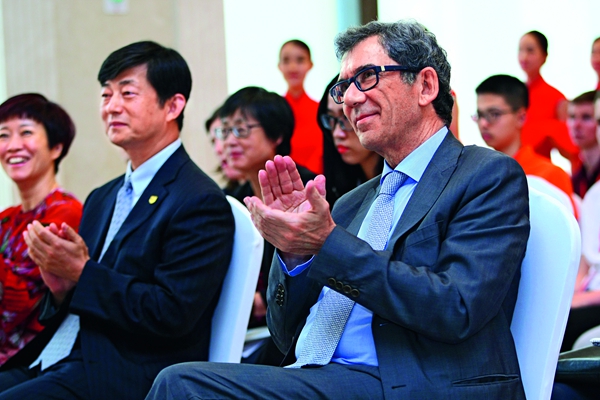 Having inherited a passion for foreign affairs, young Ripert started work at the French Ministry of Foreign Affairs after graduating from the National School of Administration in 1980. He was a technical consultant to former Foreign Minister Roland Dumas and worked at the office of former Prime Minister Michel Rocard. Later, in the 1990s, he held such posts as the Consul General of France in Los Angeles. From 1997, he began to work at the office of the then Prime Minister Lionel Jospin. Since 2000, he has taken on many assignments including Ambassador to Greece, Permanent Representative of France to the UN in Geneva and then New York, as well as Ambassador to Russia. From 2003 to 2005, he came back to the Ministry of Foreign Affairs and took charge of the affairs of the UN and other international organizations.
The policies of the new French government are highlights of Ripert's public speeches as the new ambassador to China. He stressed that France endeavors to become more open, modernized, and competitive. Meanwhile, it will continue to facilitate building up the EU, which has become a key contributor to global stability and is China's largest trading partner.
More Exchanges and Cooperation
A day after he presented the Letter of Credence to the Chinese President on July 12, 2017, Ripert emphasized the importance of China-France relations in a video speech. He stated that the history binding the two countries together sets a solid foundation for joint progress. Moreover, "both of us are permanent members of the UN Security Council. The help of China in tackling global crises and challenges is much needed." The ambassador added, "At the same time, we would like China to cooperate with us and other European countries on strengthening our joint capabilities to respond to those challenges, especially on such issues as terrorism, climate change, and developmental predicaments."
In addition, Ripert pointed out that exchanges and collaboration between China and France in wider fields are crucial. Underlining bilateral economic cooperation in particular, he said: "Obviously, there's still room for France to improve its cooperation with China in the field of foreign trade. France is expected to do better in its collaboration with China in industrial sectors."
Moreover, the ambassador expressed hope that the two sides seek more cooperation opportunities in energy transformation. "President Xi strongly emphasized the significance of energy transformation," said Ripert, recalling his meeting with the country's top leader. "International forums on biodiversity and desertification control have been held in China. I believe, as a firm supporter of the Paris Agreement, China is in the process of making realistic and in-depth reflections on climate issues like the greenhouse effect." In Ripert's opinion, entrepreneurs, researchers, and high-tech companies, including start-ups in both countries, have considerable influence and potential to tackle those issues.
Shortly after his work in Beijing began, the ambassador visited the 2017 China International Senior Services Expo and attended a seminar to discuss the aging population and sustainable development. He was amazed at China's thriving market for senior services. "France and China are confronted with an aging population. This is an area where cooperation and joint progress can be achieved," Ripert said.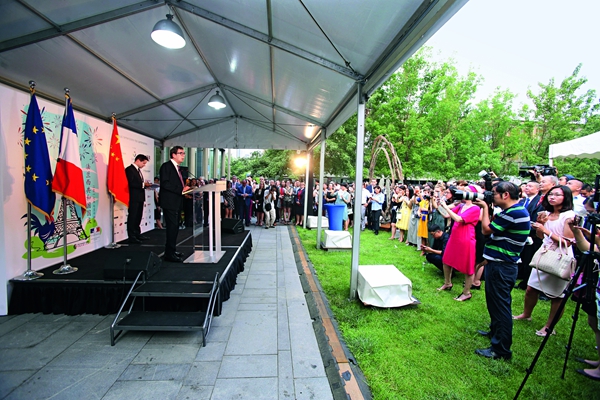 Jean-Maurice Ripert delivers a speech at the French Embassy Bastille Day reception on July 14, 2017.
Cultural and people-to-people exchange is another essential element in the bilateral ties in Ripert's eyes. "We are looking forward to seeing more students from China. At present, a large number of Chinese students choose to study in the U.S., Australia, or Germany. There is much more we can do to show that France is an ideal study destination as well." Ripert said. "What's more, the Alliance Française will be revitalized. For instance, we are going to carry out activities to promote French language in China with the aim of encouraging cultural diversity."
Meantime, the ambassador revealed that French Foreign Minister Jean-Yves Le Drian will visit Beijing to attend the meeting of the China-France High-Level People-to-People and Cultural Exchange Mechanism in late November. He expects the two sides to intensify exchanges and communication in the cultural sector.
Busy Schedule
Ripert said that he sensed a friendly vibe between the two nations as soon as he took office in Beijing. In the first three weeks, he was received by the Chinese president, met officials of China's Ministry of Foreign Affairs, and started Chinese classes. He currently attends three sessions per week with a Chinese teacher.
"I am very pleased to be the head of the French Embassy in China with a busy agenda," said Ripert. It is the first time he has worked in China. Nevertheless, the country is not unfamiliar to him as he has previously taken many business trips here.
Ripert has been busy preparing for the visits to China of two French ministers. Furthermore, much work needs to be done ahead of President Macron's state visit which is expected to take place at the beginning of next year.  
ZHANG XIN is a journalist with Nouvelles d'Europe.
Services