Striving for Ecological Advancement
AIR, soil, and water – the basic elements of the ecological system – are not simply substances for human beings to survive on, but also indispensable natural resources critical to economic and social progress. Therefore, strengthening the control of pollution and facilitating the restoration of polluted air, soil, and water, play a vital role for China's sustainable development.
New Responsibility of National Development Strategies
Striving to achieve green, low-carbon development and ecological progress has been set as an important goal for national growth in China, providing guiding philosophies to tackle environmental challenges. Top-level design and national strategies in this regard have been continuously improved by the Communist Party of China (CPC). The basic framework for ecological progress took shape at the 18th CPC National Congress in 2012, followed by underlining the importance of establishing a comprehensive system for ecological progress at the third and fourth plenary sessions of the 18th CPC Central Committee. Later in 2015, the CPC Central Committee and the State Council expounded opinions on accelerating the promotion of ecological progress which are considered to be a guideline in this field.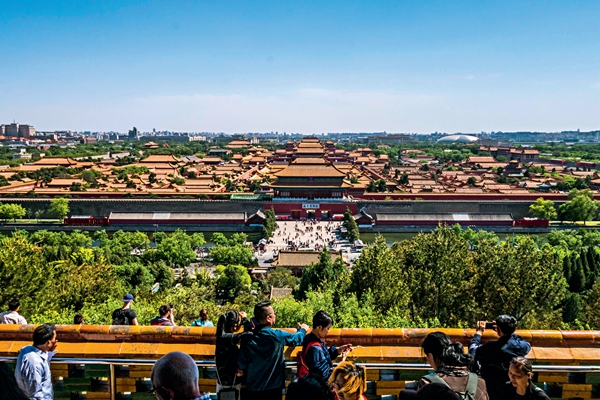 Clear skies allow for a beautiful view from Jingshan Park in Beijing.
In his report delivered at the 19th CPC National Congress in October, President Xi Jinping vowed to speed up reforming the system for enhancing ecological advancement and continuing the Beautiful China initiative. He further stressed acting on the principles of prioritizing resource conservation and environmental protection and letting nature restore itself, developing spatial layouts, industrial structures, ways of work and life that help conserve resources and protect the environment. With this, Xi indicated, we can restore the serenity, harmony, and beauty of nature. Implementing the Beautiful China initiative heavily involves industrial transformation and upgrading.
Speaking of prominent environmental problems, Xi, in his report, noted that "We will get everyone involved in improving the environment and address environmental issues at the root; continue our campaign to prevent and control air pollution to make our skies blue again; speed up the prevention and control of water pollution, and take comprehensive measures to improve river basins and offshore areas; strengthen the control of soil pollution and the restoration of polluted soil, intensify the prevention and control of agricultural pollution from non-point sources and take measures to improve rural living environments." Pollution prevention is both an integral aspect of China's sustainable development and a sure way for the country to serve as a responsible global leader.
Tough measures for curbing polluted air, water, and soil were launched in 2013, 2015, and 2016. In the past year, progress has been made in strengthening the environmental protection law system, which has substantially facilitated the implementation of environmental management schemes. Supervision and law enforcement on environmental issues has been carried out tighter than ever before since the 18th CPC National Congress. A series of laws on environmental protection, air and water pollution prevention, evaluation of environmental effects, environmental protection tax, and nuclear safety have been revised. Moreover, a soil pollution prevention law has been tabled in the National People's Congress Standing Committee for consideration. In addition, new regulations and mechanisms have been playing a proactive role in urging companies to obey the laws ever since the revised Environmental Protection Law was enacted in 2015.
Pollution Control Achievements
Pollution prevention sets the foundation of ecological advancement. In 2017, China has witnessed encouraging achievements in building up its capability in this regard.
Automobile emissions are one of the main causes of air pollution. Guided by the Action Plan for Air Pollution Prevention and Control released by the State Council in September 2013, low-carbon transportation systems have taken shape in such areas as Beijing, Tianjin, and Hebei Province. What's more, examinations on ship oil quality have been conducted to supervise the use of qualified fuel oil. Some toll stations are charged by weight in a bid to rein in excessive emissions of overloaded or oversized vehicles.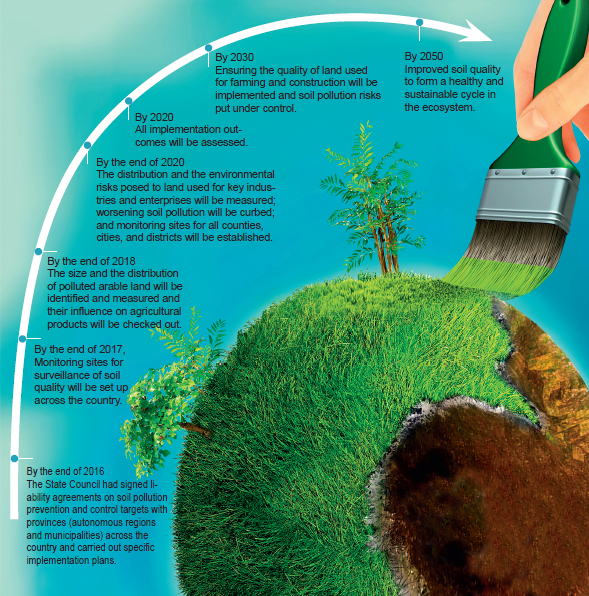 Measures addressing climate change are expected to produce synergies in reducing the discharge of major pollutants and improving air quality – most likely to an extent of 42 percent according to experts' calculations. Stronger measures against air pollution introduced in the past year have greatly enhanced the country's ability to adapt to climate change. For instance, regular air pollution assessments have been set up; and environmental meteorological indexes and reports of national atmospheric environment are frequently released. Evaluations on emission reduction and forecast of heavy pollution have also been carried out.
In addition, a haze examination and detection mechanism has been established and extended to cover wider areas. The number of smog monitoring sites across the country has been increased from 126 in 60 cities to 150 in 74 cities. Also, a pilot project has been conducted in a number of cities to survey the source of air pollutants (including PM2.5) in densely populated public places and their influence on people's health. Boosted by stringent measures, synergies in air pollution control and the ability of adapting to climate change are conspicuously manifested nowadays.
Water treatment projects in cities have been propelled towards the goal of eliminating black and stinky water in urban areas by the end of 2017, a target set by the State Council's Action Plan for Prevention and Treatment of Water Pollution. Over 200 heavily polluted water bodies nationwide are set as key targets of which geographic information, treatment progress, and desired outcomes are open to public supervision. In addition to remote sensing satellites, other means including investigations in various forms and handling public tip-offs are adopted to monitor the projects as well. Heads of departments overseeing water pollution control are responsible for these projects. Up to April 2017, 34.9 percent of black and odorous water bodies in urban areas have been cleaned up. Some 51 percent are either in progress or undergoing the earlier stages of clean-up. Relevant plans are being developed for the rest.
Curbing soil pollution also makes up an important part of ecological progress and environmental protection. According to the Action Plan for Soil Pollution Prevention and Control announced by the State Council in May 2016, surveys on soil quality would start in 2017, involving former areas used for such industries as non-ferrous metal metallurgy, petrol refining, chemical engineering, coking, electroplating, tanning, and so forth as well as lands transformed from the aforementioned industries into schools, medical centers, nursing homes, and commercial districts.
Take Tianjin for example. By July 2017, 136 tracts of land in the city had been evaluated for their soil quality, 27 of which were assessed to have been polluted. Soil restoration projects have been completed on five of these polluted lands while another six are under remediation. Same measures have also been taken in Chongqing Municipality, in Southwest China. To date, 26 pieces of land in the city covering 1.59 million square meters have been assessed, of which 13 have been cleaned up.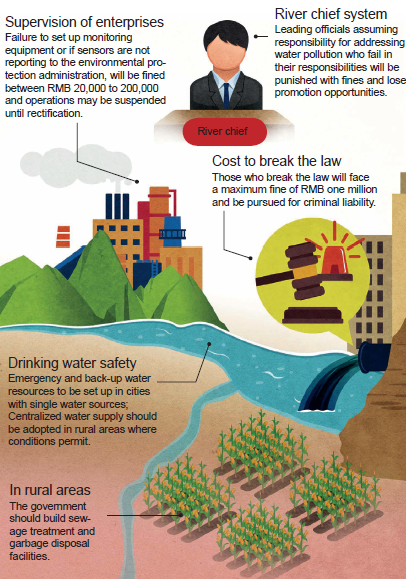 Water Pollution Prevention and Control Law.
The Action Plan for Soil Pollution Prevention and Control prohibits using polluted lands that are not yet recovered at the present stage. Local governments are in charge of marking out these lands, putting up signs, posting notifications, and supervising the quality of soil, air and water on the surface and underground. In case of any pollutant diffusions, the one who takes main accountability must take prompt actions including isolating contaminants.
In Hebei Province, for instance, risk management and control over long-standing sludge polluted lands have been strengthened. Xinji, known as China's "leather capital," has been producing sludge with residues. At present, seven places to temporarily store around 730,000 cubic meters of sludge that has not been cleaned up are blocked for public safety.
Furthermore, the action plan calls for preventing potential disasters caused by tailings ponds. All over the country, steps have been or are being taken to eliminate hidden dangers of tailings impoundments, particularly of those situated on the upper stream of populated areas. As of July 2017, 17 tailings ponds have been restored in Shandong Province; in Jiangxi Province 11 ponds have completed the remediation; and Xinjiang Uygur Autonomous Region has carried out comprehensive rehabilitation at 20 tailings ponds, and finished the work in eight of them.
Efforts have shown promising results. Compared to 2013 when the Action Plan for Air Pollution Prevention and Control was launched, PM2.5 density in Beijing-Tianjin-Hebei area, the Yangtze River Delta, and the Pearl River Delta has dropped by more than 30 percent in 2017, year by year. Meanwhile, the proportion of clean surface water meeting national environmental quality standards has increased to 67.8 percent. Moreover, lists of contaminated lands in cities including Beijing, Tianjin, Shanghai, and Chongqing have been released. Companies kept under intensive control of soil pollution have been listed as well in some cities. These approaches aim to ensure strict enforcement of the law to curb new pollutants.
Working towards Future Goals
As the biggest developing country in the world, China shoulders multiple responsibilities including growing its economy, eliminating poverty, improving people's livelihood, protecting the environment, and tackling climate change, to name a few. There is still a lot to do to refine its environmental governance system and improve the environment to satisfy people's expectations. China is striving to enhance its ecological progress by putting increasing efforts in pollution control and environmental improvement.
Resolving environmental issues ultimately relies on development. Pollution prevention and control requires further adjustment of the industrial structure, improving the energy mix, and promoting energy saving and energy efficiency among many others. Environmental protection actions have been included in China's economic and social development plans and are phased in in different areas and industries. The country will carry out a string of policies to stimulate the use of renewable energy, increase forest carbon sink, launch pilot projects of pollution control, and develop technologies aiming to improve energy saving and environmental protection.
Endeavoring to innovate on its development path, China vows to integrate ecological progress into the transformation of its development model, industrial upgrading, economic structural adjustment as well as other key strategies, so as to maximize positive and desirable outcomes in the fields of nature, economy, and society, creating a good working and living environment for its people, and playing its part in ensuring global ecological security.
FAN XING is an assistant researcher at the National Center for Climate Change Strategy and International Cooperation.
Services