China and the U.S.: Equality and Beyond
Eight years ago in 2009, when President Barack Obama was in Beijing for his first China visit, U.S. media such as CNN covered the trip by focusing on "whether China will develop a sense of global responsibility" as it grows bigger and bigger.
A CNN talk show host pressured her Chinese guest on tough topics like human rights and global responsibility. As his country was scrutinized, questioned, sometimes pilloried, the Chinese guest was obviously uncomfortable with being on the defense. He reminded the host that "we know the U.S. is faced with many burning issues, but I'm sure, if China and the U.S. can incentivize each other, respect each other, and build up mutual trust, then China and the U.S. can work much closer, hand in hand, in dealing with these challenging issues in the world." The visit took place one year after the financial crisis hit hard Western capitals, including Washington D.C.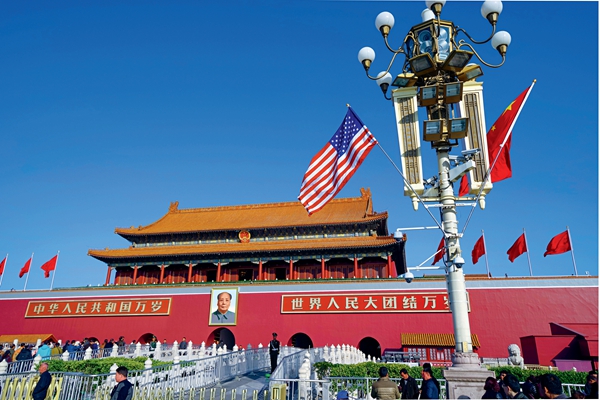 The Stars and Stripes are hung on a pole in Tian'anmen Square on November 8, welcoming the visiting American President Trump.
Later on, commenting on Chinese holdings of U.S. treasures, the Chinese guest spoke more directly in his rebuttal, "I believe countries should be a little bit more respectful in how they deal with their creditor nation rather than be abrasive in their questioning. That's the least we can ask for, I believe."
The commentator hit the nail on the head in Sino-U.S. relations – mutual respect and equality – something critical but missing in their relations despite being the most important one in the world. 
Anyone who follows Sino-U.S. relations closely would probably notice "inequality" between the two countries. Sino-U.S. discussions often concentrate on human rights, Taiwan, Tibet, Xinjiang, labor issues, etc., as if these are the only issues among their bilateral ties. One thing these topics have in common is that they have always been favorites of those in Washington D.C. Or simply put, it's almost always Washington who sets the agenda for what will be discussed in meetings with their Chinese counterparts.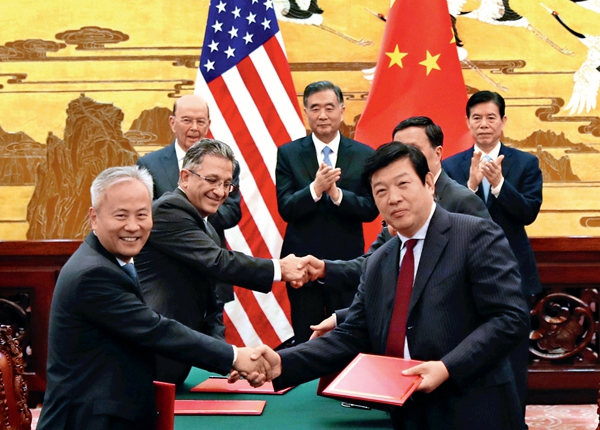 Chinese Vice Premier Wang Yang (center) and U.S. Commerce Secretary Wilbur Ross (first left) witness the signing of a slew of commercial agreements, a key part of President Trump's visit to China.
This practice exists mostly because the U.S. wields tremendous global influence. It's also due to the fact that China's diplomacy follows a principle of non-interference into the internal affairs of another country. Otherwise, wouldn't it be worthwhile to discuss the state of life of American Indians? Or the frequency of gun-related incidents in the U.S.? 
China prioritizes its relationship with the United States and the two countries have enjoyed a robust growth in their relationship. The U.S. may blame China for its trade deficit, but China is its third largest and fastest growing export market. People-to-people exchanges are so strong that, every 15 minutes, there's an airplane landing or taking off between the two countries.  
In order to build on the momentum following the successful bilateral meeting between Chinese President Xi Jinping and U.S. President Donald Trump at Mar-a-lago, Florida in April, the Chinese side has unfurled a red carpet reception, referred to as a "state visit plus," for Mr. Trump. 
President Trump was also given exceptional treatment with a dinner at the Forbidden City and Peking Opera; something unprecedented in greeting a foreign head of state. 
In addition, the two countries signed deals worth more than US $250 billion in multiple areas covering energy, agriculture, investment, etc. It's the largest deal ever reached between any two countries. 
The warmth and desire from the Chinese side to strengthen ties with the U.S. is crystal clear. President Trump proved to be pragmatic and skilled at building a strong personal rapport with President Xi. In response to their Chinese goodwill, he prepared a video clip featuring his granddaughter Arabella singing Chinese songs. Instantly, the cute little girl conquered the heart of the Chinese. 
There's chemistry, as said by Trump, between the two leaders of the world's two largest economies and arguably, the two most powerful countries. 
Something else noticeable during Trump's visit compared to other American leaders was his lack of discussion concerning human rights and other differences between the two nations. 
The changes were also reflected in U.S. media. Instead of focusing on human rights issues as in 2009, the U.S. media coverage was mostly about what to expect and what happened on the ground. 
Mutual Respect
One of the key points contributing to the success of Trump's China visit has been equality. One CNN report said it well: "Unlike previous stops in Japan and South Korea – where Trump boasted U.S. military strength, instructed the country's leaders how many weapons they were to buy, and received ebullient praise from them in return – the China trip was much more a meeting of equals." 
"More of equals" is largely a factual description of the state of affairs between China and the U.S. While the U.S. remains the most powerful country in the world, China is the largest trading nation of goods and the largest trading partners of more than 100 countries and regions. 
In contrast to Washington being deep in debt, Beijing boasts the world's largest foreign reserve. While the U.S. plays the most significant role in established international financial institutions like the World Bank and the International Monetary Fund, China has led efforts to establish new institutions such as the Asian Infrastructure Investment Bank with the grand Belt and Road Initiative. 
China has been stunningly successful in the past 40 years in economic growth and poverty alleviation. The success of the Chinese model reveals, among many things, that China's political system and ideology have functioned very well. 
By showing mutual respect and conducting foreign affairs on parity, a healthy relationship will be easier to build and maintain, as shown in President Trump's visit filled with enormous respect for each other.  
President Xi noted that China and the U.S. could co-exist peacefully if they respected each other's different political systems. 
White House Chief of Staff, General John Kelly, stated in a TV interview recently that the trade deficit with China "doesn't make them an enemy." He said of China that "they have a system of government that has apparently worked for the Chinese people." Kelly said he believed in cooperation with China. 
Kelly is brave in accepting the political differences and chooses cooperation instead of Cold-War style confrontation with China, which is a good sign and could well signal a new era of Sino-U.S. relations featuring equality, respect, and cooperation. 
As President Trump says, "There can be no more important subject than Sino-U.S. relations… we have a capacity to solve world problems for many, many years to come." If China and the U.S. could join hands, instead of a face-off against each other, there'd be no limit to what they can achieve in dealing with crises and problems around the world. 
Building a relationship that's based on equality or parity will serve as the foundation for a stronger and more vibrant Sino-U.S. cooperation in a variety of areas. 
XU QINDUO is a senior fellow at the Pangoal Institution.
Services