Joyous Students Take to the Sports Fields
By staff reporter LI YUAN
THE setting sun shines on the football pitch of Beijing Jinbu Primary School. Several schoolbags are lined up along one side of the pitch, while their owners, dressed in fluorescent green shirts, are running on the grass, passing the ball, assisting teammates or preparing to shoot at the goal… just like professional football players.
Wang Hucheng is coach of this amateur football team. He is a professional football coach for teenagers from Beijing's Citic Guo'an Group. According to him, since 2015, Guo'an Group has developed a "Football on Campus" project with many local primary schools. After that, he came to this school almost every day to give guidance to students, who chose football as one of their elective courses. Wang is pretty happy to see more and more kids who are fond of playing his favorite game.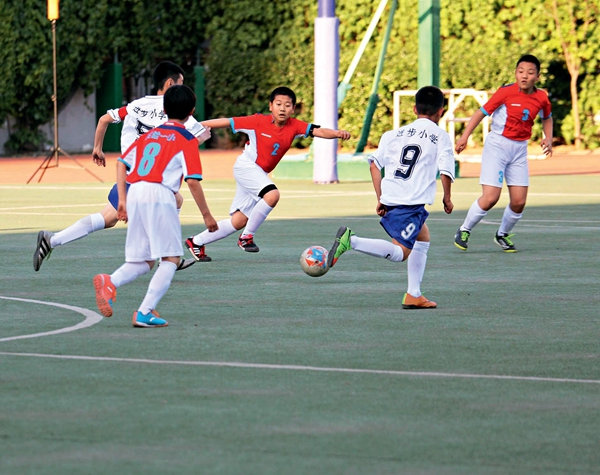 Since 2005, China's Guo'an Group has cooperated with a lot of primary schools in Beijing on a "Football on Campus" program.
Indeed, apart from football, a growing number of students have come to the basketball court, baseball field, and ping-pong tables… Physical education, which used to be undervalued in China, has now gained popularity. Both school faculties and parents are becoming increasingly aware that physical education is just as important as intellectual education. Now, many Chinese parents are choosing to take their children to different sports fields after school.
Rediscovering Fun in Sports
"We divide a big football pitch into several smaller ones; in this way, students can have more chances to control the ball. We lay emphasis on popularizing this game, on bringing students back into the open air and hope that they will love football and gain happiness from playing it." Beijing Primary School is also one which has joined Go'an Group's "Football on Campus" program.
Chen Chenliang, head of the physical education department, explained that after their cooperation with Beijing Guo'an Football Club, the school made football a compulsory course. Apart from the five PE classes every student has in a week, it is adding a football class, and its teachers will also be trained professionally by Guo'an Football Club. Additionally, in consideration of girls' and boys' different interests in football, they use a tiered teaching method to deal with this difference, such as making a game of it for those who are not so enamored with it.
Speaking of the cooperation with Guo'an, Chen said Chinese football has long been professionalized and the majority of funding for the sport has been invested in the competitive field. But if we don't have a good popular base, our football will not develop well, and we will always have a shortage of reserve talent. That's why at present, the country is popularizing it. "We are popularizing football in primary schools in the hope that when the pupils graduate, they will be able to watch the game and play it."
 Xu Yunfei, founder of Harlem Show One International English Basketball Training Camp, shares the same belief. In order to "do something" for China's basketball fans, he introduced the freestyle basketball of America's Harlem Wizards into China.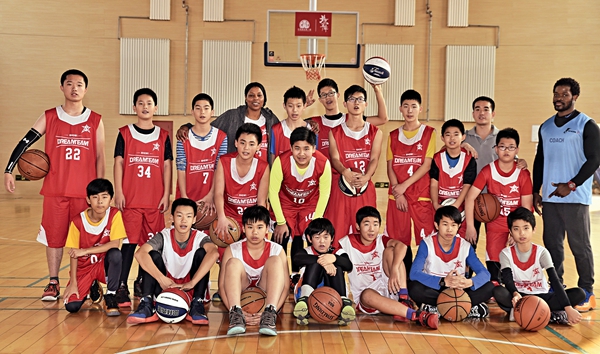 Foreign coaches and players from the Harlem Show One International English Basketball Training Camp.
Statistics from NBA show that there are at present about 300 million basketball fans in China, among whom 200 million are aged from 10 to 19 years old; while estimates from National Bureau of Statistics and CBA (Chinese Basketball Association) are more optimistic. However, as China's physical education becomes more professionalized, although there are many fans and amateur players, there's no market catering to them.
In 2005, Xu Yunfei hosted an audition at Beijing's Worker's Stadium to pick 15 teams to compete with America's Harlem Wizards. But to his surprise, there were 1,200 teams applying for the chance! This experience propels him to found a basketball training center to take basketball to young enthusiasts in China.
Copying the Harlem model, Xu introduced foreign coaches into his center, in order to create an atmosphere for students to learn to play football as well as to practice their oral English. This model is favored by Chinese students and particularly their parents who put major school courses (among which English is one) as a priority.
At present, Harlem Show One International English Basketball Training Camp has over 3,000 students from more than 40 camps in 10 cities. Their standardized management system could be duplicated across the country. Xu Yunfei plans to take a step further to build a total of 1,000 training camps in 100 Chinese cities. This plan aims to help basketball enthusiasts to realize their initial dreams: I play basketball, therefore I'm happy.
Learning through Play
"Sports are mere recreation" used to be a concept deeply rooted in the minds of Chinese parents. Bearing this notion in mind, they always overlooked the physical education of their kids.
Ms. Chen's son studies in Beijing Jinbu Primary School. In Fourth Grade, the boy passed physical fitness tests and was enrolled in the football training team. Every Wednesday and Friday after school, he spends an hour playing football. For a while, Ms. Chen worried that such intense training would steal time from her son's study of the main curriculum; but after a while, she felt highly relieved when she realized that in order to have more time to participate in the training, her son's efficiency in studying greatly improved.
"Having a good academic record is my primary request of these students. As a result, in order to be qualified to participate in the training, every one of them studies hard," Wang Hucheng, coach of the team, explained. He further added that playing football well and scoring high academically are supplementary to each other as excellent footballers need wisdom.
The same case happens in Harlem Show One International English Basketball Training Camp. Sasa Jovic, a foreign coach in this camp, said, "Chinese students are docile and have a good knowledge in the academic field. They study hard at school, but they also have little time to do sports. We see students who come to us after school, but due to their fatigue after a whole day's classes, they're normally too tired to concentrate on playing basketball. I think a good amount of sports helps them to relax and to refresh their minds, which is conducive to their academic study."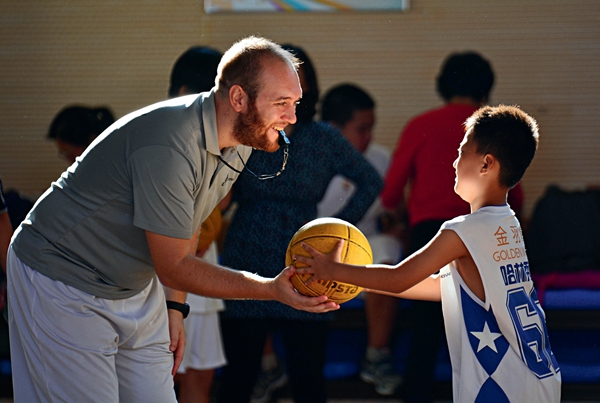 Sports not only benefit children physically, they also teach them how to understand rules.
Indeed, sports not only help students do well academically, build their confidence, and work together in a team, but also help to teach them how to understand rules and how to deal with failure.
"I myself knew almost all my friends at basketball fields," As a senior basketball fan, Xu Yunfei said proudly. He organized a "dream boat" basketball team, which has included many celebrities from the TV and film industry. In Xu's eyes, basketball is a tool for people to communicate with one another. "Basketball can help us to overcome greed. No matter how selfish a person is, when he or she picks up a basketball, it's natural for him or her to think that 'I have to find a few more people to play together with me.' That's the logic of basketball."
"Basketball can make children more social, and learn how to get along with others; it can make them more confident and bold enough to make their own judgments instead of relying on their parents; it can teach them how to deal with frustrations and failure." Sasa Jovic added.
The magic of sports also brings good news to disabled children. In the Harlem Show One Sunshine Training Camp, more than 40 children who suffer from autism, synesthesia, sensory integration disorder and other conditions, have found happiness here.
Ms. Zhang's daughter was disadvantaged because of optic nerve disorders. After two years of basketball training, her physical coordination ability has visibly improved and she has also become more optimistic! "On several occasions I have burst into tears to see my daughter so happy here," Ms. Zhang said.
Xu Yunfei, who has worked as a university teacher, believes that sports are never simply physical training; instead, sports should be educational in the first place. Recently, people.com.cn issued a "Chinese University Sports Competition List," in which it analyzed the sports development of 438 colleges and universities. As the list shows, more and more universities have realized that sports are an integral part of top universities.
Let More People Enjoy Sports
"Now I have players from the first to the sixth grade. In the past two years, each new football class was warmly welcomed by students." Wang Hucheng is so happy that an increasing number of students are beginning to love football. However, he also has his regrets: as the football pitch and coaches are limited, when the number of applicants exceeds their plan, they have to set some criteria to select only part of them.
On the one hand, there is a huge social demand; on the other hand is an insufficient supply of infrastructure. To Wang Hucheng, the problem facing China's stadiums is in fact a contradiction between a shortage in their total number and the long-term vacancy of certain existing ones. "Professional operations" is the solution.
Meanwhile Xu Yunfei suggests that we should increase the number of public sports facilities. Now he is raising money through an art basketball program to donate basketball courts to primary schools in China's remote and mountainous areas. He hopes more children can enjoy the right to have fun playing sports.
Services