Ammar's Silk Road Dream
By staff reporter LI YING
AMMAR Albaadani, aged 39, is from a working family in Ibb in southern Yemen. He has a clear memory from his childhood of a Chinese medical team based in his hometown providing the local people with medical assistance. When he was 13, Ammar's father suffered a facial paralysis, but fortunately the Chinese doctors were able to cure him using acupuncture. Since then, Ammar has always had a great admiration for China: "Back then I dreamed of studying in China. In my heart I built a 'Silk Road' to the East."
From Sinophile to Old China Hand
By virtue of his excellent academic performance at high school, in 1996 Ammar became one of 11 students chosen for a government-sponsored study program in China. He first attended a preparatory Chinese-language course at Shandong University. Two years later, he started his bachelor's degree and Master's program at Tianjin Medical University. In 2008, he went on to pursue a doctorate in Medicine at Zhejiang University. During his summer and winter vacations Ammar travelled across China. The more he sees of the country, the more he loves it.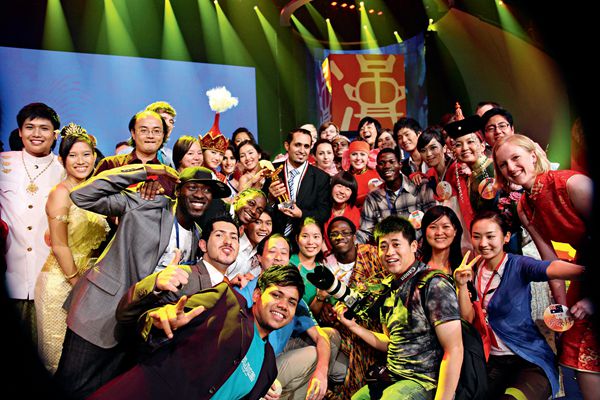 Ammar Albaadani, shown holding his award, is the first Arab to win the "Chinese Bridge" Chinese language proficiency competition for foreign students.
"I see the Chinese language as a gorgeous lady who is captivating and confusing at the same time. I'm deeply in love with this language, but I am so afraid of being unable to win her love." With a consuming passion, Ammar came up with a "crazy" way to study Chinese which helped him to attain intermediate level in the HSK Chinese Proficiency Test in a mere six months. It usually takes a foreigner two years or more to get to this level. While studying in Tianjin, Ammar spent much of his spare time in teahouses watching crosstalk shows with the aim of better understanding the culture and mindset implicit in the language. Tianjin is famous as a cradle of traditional Chinese folk arts, including crosstalk. When he later moved to Hangzhou in Zhejiang Province, Ammar took lessons from a renowned folk artist and gradually made a reputation for himself locally as a popular crosstalk comedian.
His language-learning efforts were further rewarded in 2009 by winning first prize in the Chinese Bridge language proficiency competition for foreign students. It was the first time an Arab had won the Chinese Bridge gold award. At the final, Ammar said: "My life in China is 'a Silk Road dream.' I have lived in various cities in both north and south, and my experiences in this country have been like a series of dreams, each linking one to the next. I wish to be a piece of the bridge connecting China and Arab countries." His fluent Chinese has been a huge help in developing his career in China. Meanwhile the exposure from his win on Chinese Bridge has brought him a series of offers from TV shows.
Settling Down in China
After receiving his doctorate degree in 2013, Ammar decided to settle down in Yiwu (a small city in Zhejiang Province) instead of in bigger cities like Beijing and Shanghai. The small commodity market in Yiwu is honored by the United Nations, the World Bank, and Morgan Stanley as the world's largest wholesale market of general merchandise. Every year the market attracts numerous merchants and customers from all over the world. More than 15,000 overseas businessmen stay in Yiwu long-term for procurement. Living in harmony while making progress together, people from over 100 countries and regions have brought diversified cultures, lifestyles, and thinking to this city. As one of the foreign businessmen in Yiwu, Ammar spares no effort in promoting the culture of the Silk Road while pursuing his own dream.
"To me, Yiwu is a kind of paradise where I have lots of friends and I can enjoy great food," Ammar commented. "I love the city's local customs and its cosmopolitan vibe. Another reason I chose to settle down in Yiwu was because of its openness and inclusivity."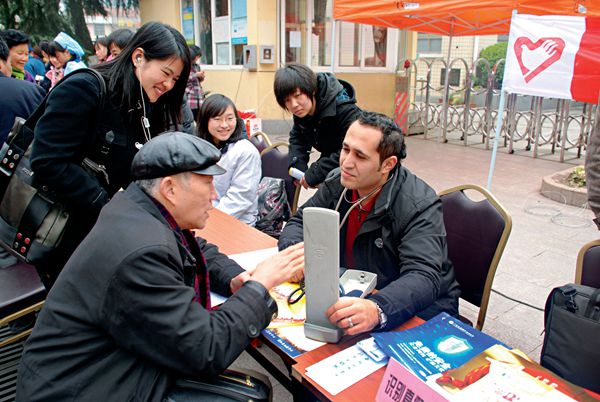 Ammar Albaadani often makes use of his medical knowledge to help out at voluntary medical consultations.
When he first moved to the city, Ammar helped his friend manage a company. A year later, he established his own firm as a venture in foreign trade. Starting a business is not easy. Ammar found it very challenging looking for suppliers and procuring commodities. Fortunately, difficulties can be overcome with a little help from the tight-knit international community in this small city. In return, Ammar teaches his friends Chinese via instant messaging app WeChat. He often posts practical conversations and the stories behind Chinese idioms.
"My company has now developed along the right track and seen its business grow," Ammar said. In addition to great friends and good food, Yiwu also means career and family to him. "My son Adde was born in Hangzhou and my other son, Deeya, was born in Yiwu. My wife and children are fond of Yiwu. We are relatively new residents of this city and enjoy life here."
Ammar first arrived in China at the age of 18 and has lived here now for 20 years. He feels half of him is "made in China." "I have spent more time in China than I have in Yemen. I hope my children can make a life for themselves in this country too because we feel at home in China."
Disseminating Silk Road Culture
Ammar is busy every day. He is CEO of the Silk Road Culture Club under Yiwu Global Merchants' Home, vice-chairman of the local Yemen Chamber of Commerce, a guest professor at Yiwu Industrial & Commercial College and also the first foreign member of Yiwu Ballad Singers Association.
No matter what titles he bears, Ammar never forgets about his dream – that of building a bridge of friendship between Yiwu and his native country, promoting economic and cultural exchanges. "I wish to be an envoy for the Silk Road Economic Belt and the 21st Century Maritime Silk Road," he declared. "The 'Silk Road dream' took root in my heart long ago." According to Ammar, Yemen played an essential role on the ancient trade route due to its strategic location on the corridor linking East and West.
"My Silk Road Dream" was the title of the speech Ammar presented at the Chinese Bridge competition. Today, his dream has come true as the Belt and Road Initiative constantly generates opportunities for bilateral cooperation between China and Yemen and for Yemen's economic development.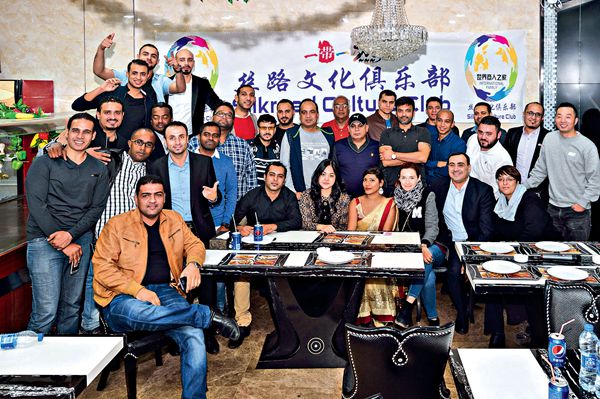 Some of the members of the Silk Road Culture Club pose for a picture.
Ammar and his friends have always been striving to facilitate exchanges between China and Arab countries. They often invite people to trade fairs in Yiwu, to do business while also learning more about China. In addition to this, Ammar proactively takes part in local government and Bureau of Commerce events, where he often puts forward proposals for Yiwu's future development.
A further step along the road to development was taken in 2015 when the Yiwu Global Merchants' Home was founded. Ammar was elected as the CEO of the organization's Silk Road Culture Club which provides a cultural platform for expats in Yiwu. Along with nearly 100 members from 25 different countries and regions, Ammar has become a true envoy of Silk Road culture and the promotion of cultural integration. He has organized several charity events including visits to welfare houses and blood donation drives, as well as supporting road safety and environmentally friendly cycling. The club held celebrations last year to honor the 60th anniversary of the establishment of diplomatic ties between China and Yemen.
As the first and only foreign member of Yiwu Ballad Singers Association, Ammar actively participates in non-profit performances. Every month, he goes to the countryside with the association to perform crosstalk for rural residents. He also hopes to interest more foreigners in Chinese crosstalk and learning the art form.
"I feel an ever-growing responsibility," Ammar confessed. "In addition to being a good businessman, I want to be a kind person. Most importantly, I'm determined to build this bridge to promote Silk Road culture."
Services