Advancing Judicial System Reform
By ZHANG XINBAO
Reform of the judicial system, as an important component through which to improve, develop and advance the political system of socialism with Chinese characteristics, has key status in China's reforms.
In recent years, China has made outstanding achievements in promoting such reforms. Upholding and improving the socialist judicial system with Chinese characteristics and ensuring that judicial and procuratorial organs exercise adjudicative and procuratorial power independently and impartially according to law was high on the reform agenda of the 18th National Congress of the Communist Party of China (CPC).
The Third Plenary Session of the 18th CPC Central Committee adopted the decision on "major issues with respect to comprehensively deepening reforms," and proposed the objectives of judicial reform. They include: guaranteeing that adjudicative and procuratorial powers are exercised independently and impartially according to law; improving the operation mechanism of judicial power; and improving the judicial protection of human rights.
The plenary session also laid down the roadmap and timetable for judicial system reforms. The theme of the Fourth Plenary Session of the 18th CPC Central Committee was "comprehensively advance the rule of law in China," signifying a new chapter of reforms to China's judicial system.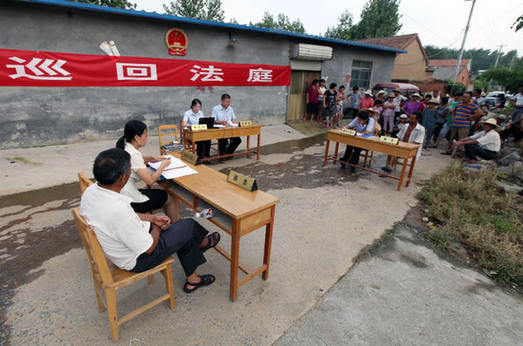 Farmers in Huzhuang Village, Shuiguo Town, Zaozhuang City, Shandong Province observe the hearing of a neighborhood dispute case.
Programmatic Documents
The decision adopted at the third plenary session made overall arrangements to deepen reform of the judicial system. Two of the five meetings that the Central Leading Group for Comprehensively Deepening Reforms convened hence focused on judicial reform, explicating its objectives and principles, and setting down the roadmap and timetable for reform-related tasks. The meetings provided policy guidance on key and difficult issues, making judicial reform the first of 15 areas of reforms, as identified in the third plenary session, to be explored.
The Supreme People's Court, proceeding from actual practice, also raised 45 reform measures in eight key areas of the court's work that will serve as important guiding documents on reforms in the coming five years.
Enhanced Judicial Protection of Human Rights
China has paid great attention in judicial activities to the protection of human rights, and preliminarily formed a relatively complete judicial system in this regard.
Services