Bright Prospects for China-South Korea FTA
By YU YINGLI
During President Xi Jinping's state visit to the ROK in July, China and South Korea pledged to conclude negotiations on a free trade agreement (FTA) before the end of this year.
Since China and South Korea established diplomatic relations 22 years ago, trade between the two countries has grown at an average yearly rate of 23 percent. In 2012, bilateral trade reached a new high of US $256.3 billion. Today, China is South Korea's top trading partner and largest export destination, while South Korea is China's third-largest trading partner. The bilateral FTA will take trade between the two countries to an even higher level. Bearing in mind that South Korea's exports to China's mainland are projected to grow by US $27.76 billion annually, both sides stand to realize their 2015 trade goal of US $300 billion, so consolidating the foundations of their political and economic relations.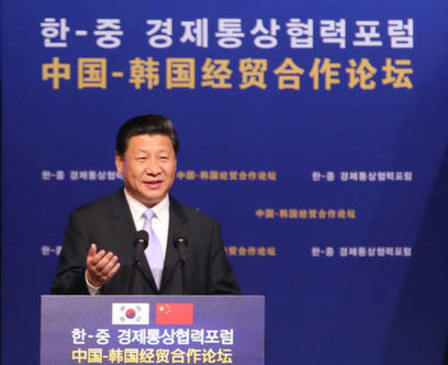 During his state visit to South Korea, President Xi Jinping attended a forum on China-South Korean economic and trade cooperation in Seoul, calling on all entities of the two countries to seize opportunities for further cooperation in economy and trade.
More Balanced Bilateral Trade
The China-South Korea FTA is a major step towards East Asia's long-awaited economic integration. It was during a meeting with ROK Prime Minister Lee Hae-chan back in 2005 that Premier Wen Jiabao proposed initiating FTA negotiations. The two countries announced establishment of the strategic cooperation partnership in May 2008, during ROK President Lee Myung-bak's visit to China. The two sides subsequently signed, in October 2009, the Joint Research Report on the China-ROK Mid-to-Long Term Development Plan on Economic Cooperation and Trade. The document clearly proposed pushing forward and discussing, under the principle of reciprocity, the establishment of a China-ROK free trade area. In 2010, while attending the fourth Summit of the Group of Twenty (G20) in Toronto, China's President Hu Jintao and ROK President Lee Myung-bak met on the sidelines. The two leaders once again broached the matter of initiating FTA negotiations, and of facilitating bilateral economic cooperation and trade. In May 2012, while commemorating the 20th anniversary of the establishment of diplomatic relations, China and South Korea formally announced the commencement of China-ROK FTA negotiations, and committed to signing the FTA within two years. After 12 rounds of arduous negotiations, the two sides have reached the final stages.
The China-South Korea FTA is expected to strike a balance in their bilateral trade. Over the long term, China's trade deficit with South Korea has remained high, accounting for 30 percent of the total bilateral trade. South Korean customs statistics show that, in 2013, the country's trade surplus with China stood at US $62.82 billion. This surplus is attributable both to South Korea's overseas investment structure and to the country's trade protection measures in certain fields. Guided by the principle of fundamentally balanced interests as agreed by the two sides, therefore, the FTA will help adjust bilateral trade to a more balanced and reasonable level.
Apart from trade in goods, the FTA will cover a wide range of fields such as trade in service, intellectual property, finance, and investment. It will also mark China's foray into high-standard FTA negotiations, with the aim of forging a strategy on free trade areas and thus advancing establishment of a global high-standard free trade area network.
Services