Promoting China-U.S. Economic Relations through the Bilateral Investment Treaty
By QU BO
Mutual suspicions concerning security among major countries and increasing economic competition among them are further complicating the situation in the Asia-Pacific region. The U.S. is proactively advancing talks towards the Trans-Pacific Partnership (TPP) Agreement in hopes of forging higher-level free trade agreements in the region, while China supports and is participating in the negotiations of the Regional Comprehensive Economic Partnership (RCEP). These moves signify the two powers' desire to gain a competitive edge in their economic arrangements. However, economically speaking, China and the U.S. can be mutually beneficial and achieve win-win results for their common economic interests, which would impel them to dissolve or alleviate tensions in certain areas. The two countries should plan economic cooperation and boost bilateral trade under the APEC framework and bilateral agreements. The China-U.S Bilateral Investment Treaty (BIT) which was jointly initiated in 2013, serves as a major move to promote bilateral cooperation and stabilize the Asia-Pacific region.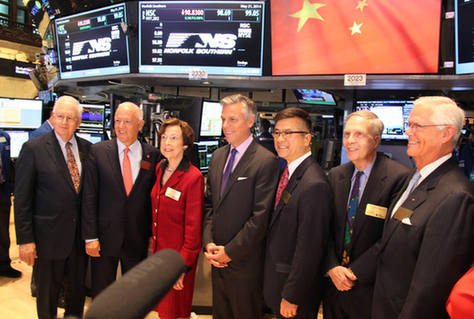 On May 21, 2014, five former U.S. ambassadors, Roy Stapleton (first left), Jon Huntsman (fourth left), Gary Locke (third right), Winston Lord (second right), and Joe Prueher (first right) gather in the New York Stock Exchange to commemorate the 35th anniversary of the establishment of China-U.S. diplomatic relations; Steve Orlins (second left), president of the National Committee on U.S.-China Relations, also joins in.
A Huge Breakthrough
The bilateral economic relationship has been taken as the hinge for stabilizing China-U.S. relations. Over the past 30-plus years since China started its reform and opening-up drive, China and the U.S. have witnessed a constantly deepening interdependency in economy. The 2013 bilateral trade volume topped US $520 billion, American direct investment in actual use in China totalled US $2.8 billion, and accumulative American direct investment in China stood at US $50-70 billion. As of 2012, China's accumulative direct investment in the U.S. reached US $17 billion.
The two countries' contradictions in economy and trade have nevertheless also become more striking. Such issues as imbalanced trade, RMB exchange rate, China's state-owned enterprises and the U.S. blocking investment from certain Chinese enterprises are factors disrupting Sino-U.S. economic relations.
To solve these problems, China and the U.S. started the China-U.S. Strategic Economic Dialogue in 2006, renamed the China-U.S. Strategic and Economic Dialogue after President Obama took office in 2008. Through this platform, the two countries discuss strategic, long-term and other important issues related to the development of bilateral relations.
At the fourth China-U.S. Strategic Economic Dialogue held in July 2008, the two sides proposed to start negotiations on a bilateral investment treaty. Negotiations restarted at the 2013 China-U.S. Strategic and Economic Dialogue.
The U.S. seeks to gain more benefits for American enterprises through BIT, including wider market access in China, national treatment, non-discrimination, protection of enterprise ownership, restriction on requirements for investment performance and impartial settlement of disputes. It has been taken as the most important bilateral investment treaty since the U.S. signed the investment agreement affiliated to the North American Free Trade Agreement.
Services