Shandong's Legacy
By XU HAO
Many Chinese cities have stamped their names on the pages of the nation's long history by virtue of their rich culture and historic events. In February 1982, in order to protect Chinese cities where important political, cultural and economic events had played out, the Chinese government officially proposed the designation of "historical and cultural cities."
Those historical and cultural cities, on the one hand, open a window for people to view Chinese history; on the other, they build a brand effect for the cities themselves. How best to preserve those historical and cultural cities and produce optimum results from their brand effect is a subject that demands deep research.
From September 15 to 19, I joined a research group on a trip to Shandong Province, birthplace of Confucius, to visit the many historical and cultural cities there.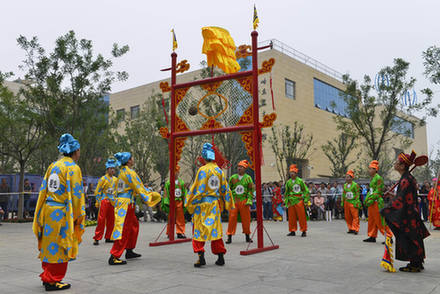 Cuju, which appeared over 2,300 years ago in Linzi, is the originator of modern football. Today, Linzi gives full play to the cultural influence of Cuju, expanding the Qi culture industrial chain. Wang Handong 
Competitive Edge
"History and culture are the soul of a city, as well as the core of a city's soft power and potential competitiveness. They are the source of a city's deep value. Abundant historical and cultural resources give a city its distinctive charm and quality, and only with these intact can it be attractive and influential in the long run," said Li Jianjun, vice director of the publicity department of the CPC's Shandong Provincial Committee.
According to Wang Shinong, director of the press office of the provincial government, Qufu was included among the first batch of national historical and cultural cities in 1982. Thereafter, Jinan, Qingdao, Liaocheng, Linzi, Zoucheng, Tai'an, and Penglai successively won this epithet. Last year, Yantai and Qingzhou were included, bringing the total number of such cities in Shandong to 10.
"The honor is not only an affirmation of the scientific development of those 10 cities, but also high-level recognition of their cultural consciousness, confidence and self-improvement in urban management. Practices of these cities testify that the protection of historical and cultural heritage will not adversely affect the economic development or social advances of a city, or people's livelihood, but on the contrary, the distinctive historical and cultural resources will provide strong and sustained impetus to the city's development," explained Li.
"Strengthening scientific preservation and rational utilization of historical and cultural sites has a powerful impact on such aspects as transforming regional development models, promoting harmonious development of local societies and economies and comprehensively enhancing the quality of urbanization," said You Shaoping, deputy director of the Shandong Provincial Bureau of Cultural Heritage. Mr. You also pointed out that cultural heritage resources, as an indispensable pillar for developing the local economy and tertiary industry, play a key role in improving the form of economic operation and boosting socio-economic development. 
Services