APEC – A Boost for Sino-Russian Economic Cooperation
By LI JIANMIN
The Asia-Pacific Economic Cooperation, APEC, is the highest-level inter-governmental mechanism for economic cooperation in the Asia-Pacific region. China and Russia, who joined in 1991 and 1998 respectively as sovereign states, have deepened bilateral economic cooperation and that with other nations in the region on this important platform. With the steady improvement in their national strength, the two countries now have greater sway within APEC and are expected to play significant roles in defending security and stable development in the Asia-Pacific.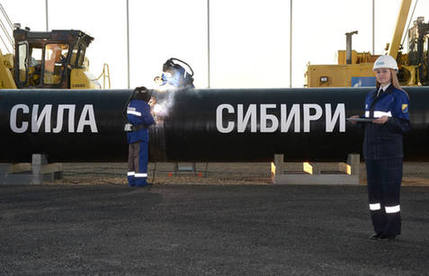 A pipeline under construction in Yakutsk to transport natural gas from Russia to China. 
Opportunities for Both Countries
APEC follows a pattern of market-driven regional economic integration. Its goals are to sustain economic growth, increase interdependence of economies in the region, enhance an open multilateral trade system, reduce barriers to cross-regional trade and investment, and defend the common interests of all peoples in the area. The organization has made solid progress in advancing free trade and investment and economic and technological cooperation in the Asia-Pacific and worldwide, contributing to regional trade and investment growth and economic prosperity.
The economic cooperation between China and Russia, two regional powers, is of great significance to the Asia-Pacific. And APEC proffers them a key conduit to participate in economic globalization and regional economic integration, as well as to propel their respective reforms, opening-up and economic development.
China and Russia are both in transition. Since their admission to APEC, they have gradually become conversant with the rules of regional and international multilateral cooperation, learned from other member countries' successful experience in management of the economic system, and accordingly ameliorated their own market systems. Membership in APEC prepared China and Russia for their later entry into the WTO and created external conditions for their accession. In 2001 and 2011, 10 and 13 years respectively after their joining APEC, China and Russia became members of the WTO.
Within the APEC framework both countries have substantively benefited in such areas as government procurement, management of international e-commerce and customs procedures. APEC is the first multilateral platform that China acceded to and is a key channel for Russia to get involved in the Asia-Pacific. In their applications for membership they made multiple promises such as those concerning market access conditions. Admission entitled them to a spectrum of opportunities and rewards, including tariff reduction, removal of non-tariff barriers, mutual open markets, more exports of commodities and greater competitiveness. The Asia-Pacific is now a critical region for both countries' foreign economy.
Last year the trade volume with other APEC members accounted for 60 percent of China's total international trade; as much as 83 percent of the actual inflow of foreign investment came from APEC countries, and 69 percent of China's outbound direct investment destined for APEC countries. Among China's top 10 trade partners eight are APEC members, testifying to the close economic ties within the regional organization.
Although two thirds of its territory lies in Asia, Russia has traditionally positioned its political, economic and cultural epicenters in Europe. But it has begun to tilt eastward over recent years.
Its investment in the Asia-Pacific is not remarkable yet, but trade with the region has increased dramatically. From 2001 to 2006 its trade volume with APEC tripled from US $85.3 billion to US $259.1 billion; the share of exports to the Asia-Pacific in its total exports rose from 14 percent to 17.3 percent, and that for imports from the region grew from 23.1 percent to 30.2 percent. During the 2008-2013 period APEC became Russia's second largest trade partner, next only to the EU, and its share in Russia's foreign trade expanded from under 20 percent to 23.9 percent.
Since Russia joined APEC in 1998, bilateral trade with China has been rising steadily, reaching US $89.2 billion in 2013, 15 times more than the 1998 figure, and accounts for 47 percent of its total trade with APEC (3.5 percent of China's total trade with the organization). The economic interdependence between the two countries has been growing: China is Russia's No. 1 trade partner within APEC and globally, and Russia's fourth largest source of foreign investment. Russia, meanwhile, is China's fourth largest energy supplier.
Services