Dynamic Private Enterprises in Shandong
By GAO XIN
On August 8, 2014 the All-China Federation of Industry & Commerce published the list of China's Top 500 Private Enterprises. Fifty-four private companies from Shandong Province ranked among the top 500, putting Shandong in third place behind Zhejiang and Jiangsu. Fifteen Shandong companies ranked in the top 100. This  achievement is attributed to the province's economic reforms and an improving business environment.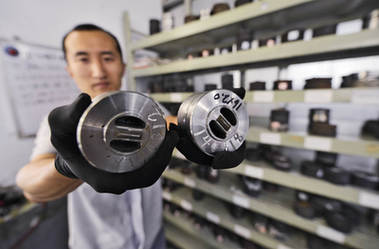 A Shandong Weirui Refrigeration Material Co., Ltd employee presents the company's products. In recent years, micro, small and medium-sized enterprises in Shandong have boomed, thanks to technological innovation, practical application of new research achievements and development of the new materials industry.
Private Enterprises on a Fast Track
  Over the three decades since China's reforms began, Shandong's private sector has grown into a major engine for local developments in society and culture.  In 2013, Shandong had 3,974,000 registered private enterprises, accounting for 96.3 percent of the local market. The added value generated by the private sector reached RMB 2.45 trillion, accounting for 44.8 percent of the province's GDP. Private businesses are playing an irreplaceable role in Shandong's development.  
  However, these figures are dwarfed by the accomplishments of more economically advanced areas in China.  
  According to official figures, Shandong has 77.4 private companies and 320.8 individual businesses per 10,000 people, both below the national average. In 2013 , the share of added value generated by private enterprises in local GDP and the total amount of private companies' registered capital lagged far behind Guangdong and Jiangsu.
  According to Shandong governor Guo Shuqing, the key to developing the private economy lies in clarifying the border between the government and the market to create a favorable business climate. The local government introduced a series of policies and measures to mobilize the vitality of private economy and improve the business environment. The provincial government's 2014 work report vowed to stimulate the private economy and remove barriers to private investment. In July and August, Shandong promulgated guidelines for boosting the private economy, which include strengthening the legal system, improving the market environment and reinforcing governmental oversight.
  Local officials said that the guidelines aim to remove institutional obstacles and relax restrictions on the private economy. With the implementation of more favorable policies, private enterprises are expected to develop on a fast track.   
Streamlining Administration and Delegating More Power to Lower Levels
 The transformation of government functions is breathing new life into Shandong's economy and society.  
 At a 2013 meeting, Guo Shuqing, then Shandong's acting governor, enjoined the new provincial government to delegate power to lower levels and give full play to civil society and the free market.
Services