APEC – A Boost for Sino-Russian Economic Cooperation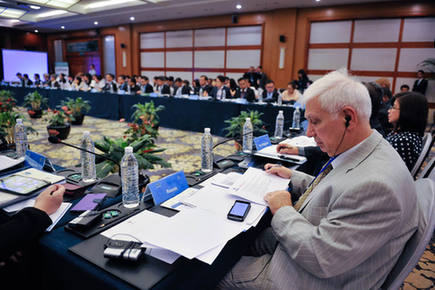 The 47th Meeting of the APEC Energy Working Group opens in Kunming, China's Yunnan Province, on May 19, 2014. 
Future Sino-Russian cooperation within the APEC framework will focus on the following fields. First, energy. It is a long-term goal of APEC to enhance regional cooperation on this issue, ensuring sustainable growth of the energy industry and better defense of energy security. China and Russia have agreed to establish a comprehensive energy cooperation partnership and deepen a package of cooperation in the oil sector. Russia has vowed to start supplying gas to China as soon as possible. And the two countries will enhance cooperation in coal by exploring coal mines and developing the transportation network in Russia. They will also study the construction of new power generation facilities in Russia and increase power exports to China.
Second, interconnectivity. To improve infrastructure in the region to increase interconnectivity has been a priority of APEC since 2013. Russia responded positively to China's proposal of building the New Silk Road Economic Belt, and has expressed its desire to make the Eurasian railway part of the plan for the new trade route, seeking compatibility between this project and the envisioned Eurasian economic alliance. China and Russia will accelerate construction of cross-border transport infrastructure in the Asia-Pacific region, improving the transport conditions of Chinese cargo through Russia's railway network, Far East ports and northern sailing routes. The projects include the railway bridge between Tongjiang Port in northeast China's Heilongjiang Province and Russia's Nizhneleninskoye, highway bridges between China's Heihe and Russia's Blagoveshchensk, Dongning and Poltavka, and between Luoguhe and Pokrovka, as well as a cableway between Heihe and Blagoveshchensk. Better interconnectivity realized through more cross-border networks will ramp up Sino-Russian trade and economic cooperation to a higher level and also lend impetus to the development of the entire APEC area.
Third, agriculture. Safeguarding food security through better regional cooperation is a key cooperative area of APEC. The agricultural sectors of China and Russia are supplementary, and their cooperation has bright prospects. Marked progress has been made in mutual investment and industrial upgrading in this regard. The Ukraine crisis and the sanctions and counter-sanctions between Russia and Western countries have opened up new opportunities for agricultural cooperation between China and Russia, which are expected to focus on trade in farm products, agricultural exploration abroad, cooperation on agricultural labor, and technological exchanges.
Fourth, finance. China and Russia see a solid foundation for financial cooperation within the APEC framework. Due to confrontation between Russia and the U.S. in the wake of the Ukraine crisis, Russia is more determined to quit the dollar system. China and Russia will, therefore, conduct closer collaboration in the financial sector, including extending the scale of local currency settlements in bilateral trade, investment and lending so as to better shield the two countries from fluctuations in exchange rates of the world's major currencies. Russia's VTB Capital has signed an agreement with the Bank of China to develop their partnership in a number of areas including cooperation on ruble and Renminbi settlements, investment banking, inter-bank lending, trade finance and capital-markets transactions. At present 75 percent of cross-border trade between the two countries is settled in U.S. dollars. Currency swapping can lower financing and exchange costs by a big margin for both sides and bring substantial benefits to their businesses.
LI JIANMIN is a researcher with the Institute of Russian, Eastern European and Central Asian Studies, Chinese Academy of Social Sciences.
Services