China-Canada Joint Efforts to Address Climate Change
By staff reporter ZHOU LIN
Canada's Environment and Climate Change Minister Catherine McKenna is visiting China from December 5 to 9, 2016, where she is leading a clean technology delegation of Canadian companies with stops in Guangzhou and Beijing.
Both China and Canada share a deep concern about protecting the environment and addressing the grave impacts of climate change on our planet. Minister McKenna's visit seeks to promote partnerships between Canada and China in order to accelerate the shift to a clean growth economy and spur the development of clean tech solutions to mitigate the effects of climate change and other environmental challenges.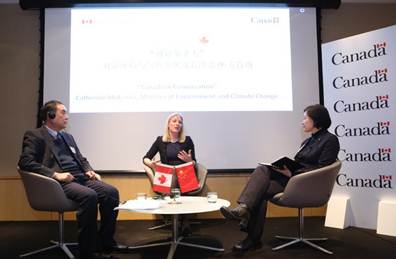 Canada's Environment and Climate Change Minister Catherine McKenna attended "Canada in Conversation."
China and Canada have several long-standing bilateral working groups focused on promoting deeper cooperation in the areas of clean technologies, climate change and the environment, including: the China-Canada Climate Change Working Group; the China-Canada Joint Committee on Environmental Cooperation; and the China-Canada Energy Working Group.
At the COP21 Paris Climate Conference in December 2015, China reiterated its commitment to peak CO2 emissions by 2030. Further, China's 13th Five Year Plan (2016-2020) highlights green development as one of the five major principles underpinning policies for the country's long-term growth.
Meanwhile, clean growth and addressing climate change are a top priority, and the Government of Canada has committed to invest more than $1 billion over the next four years to support clean technology. Also, through its Inclusive Innovation Agenda and the pan-Canadian Framework for Clean Growth and Climate Change, Canada has defined a new vision to build Canada as a center of global clean growth and innovation. Canada is also home to a number of world leading clean technologies in renewable energy, carbon capture and storage, smart grid distribution, hydrogen/fuel cells, and energy efficiency. Canada looks forward to working together with China to support its continuing efforts to address energy supply and demand needs, as well as environmental pollution and climate change.
While in Beijing, Minister McKenna served as the International Executive Vice Chair of the China Council and co-chair the Annual General Meeting with China's Minister of Environmental Protection, Minister Chen Jining. Minister McKenna also participated in bilateral meetings with Chinese counterparts to engage on key policy issues including National Parks, environmental protection, climate change, clean energy and clean growth economy.
"Canada looks forward to building on our accomplishments and working together with our partners in China. We are confident that we will continue to achieve important results through these exchanges. Together, we will continue to build a new global clean economy." Minister McKenna said.
Minister McKenna's mission to China builds on the successful outcomes of Prime Minister Justin Trudeau's visit to China and of Premier Li Keqiang to Canada (September 2016). On September 1, Prime Minister Trudeau and Premier Li agreed to cooperate in addressing climate change through the full and effective implementation of the Paris Agreement and to work together and with international partners to strengthen the global response to climate change.  
Services