Canadian Minister MacAulay Leads Largest-ever Agricultural Delegation to China
By staff reporter ZHOU LIN
November 4, 2016 (Beijing, China) - The Honourable, Minister of Agriculture and Agri-Food, today completed the first portion of his 10-day mission to China, which will later extend to Qingdao, Shanghai and Guangzhou. Over 100 participants from across Canada are part of this mission including: Agriculture ministers from Prince Edward Island, Nova Scotia, Newfoundland and Labrador and Alberta, and also representatives from the seafood, livestock, pork, beef, grains, oilseeds, pulses, processed foods, beverages and horticultural sectors.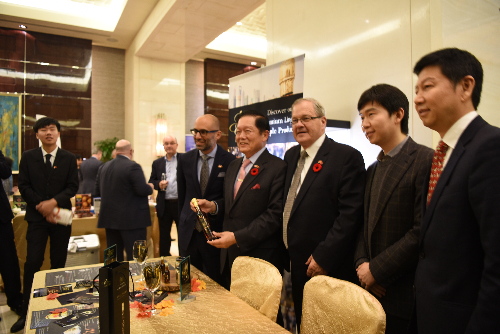 Minister of Agriculture and Agri-Food Lawrence MacAulay takes a photo with both Chinese and Canadian representatives.
"This trade mission is a great example of the Government of Canada's commitment to working with our global partners to expand market opportunities in China and around the world. We are not only creating tremendous trade opportunities for Canadian companies and exporters of agricultural products, we are creating jobs, strengthening the middle class and growing the Canadian economy," said Lawrence MacAulay.
Building on Prime Minister Trudeau's visit in September, this mission showcases Canada's agriculture, agri-food, fish and seafood. The mission also highlights the importance of bilateral trade between Canada and China and will create new opportunities to help grow Canada's economy and middle class.
While in Qingdao and Beijing, Minister MacAulay met with key Chinese officials to discuss important issues of mutual interest, including market development opportunities, and hosted networking and business-to-business opportunities to promote Canadian agricultural, agri-food and seafood products.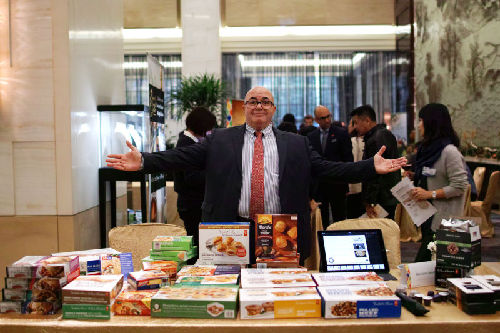 One Canadian exhibitor from the processed foods sector.
Minister MacAulay will continue his mission in Shanghai and other members of the delegation will also attend important business meetings and events in Guangzhou. At the same time, some Canadian exhibitors are participating in the China Fisheries and Seafood Expo in Qingdao and in the Food and Hospitality China trade show in Shanghai.
It is reported that China is Canada's second largest trading partner, after the United States.Over the past three years, bilateral agriculture and food trade has increased by 13% to reach 7.7 billion Canadian dollars.
Services