Red Berries that Glint in the Desert
GUIDED by the provincial strategy of building an ecologically strong Qinghai, goji berry cultivation in Haixi Mongolian and Tibetan Autonomous Prefecture has developed in leaps and bounds since 2008. The prefecture's total plantation area has expanded from a few sporadic patches to more than 27,000 hectares. Haixi is now China's second largest goji berry growing region. A small fruit has thus promoted a big industry, so adding impetus to local agricultural structural adjustments.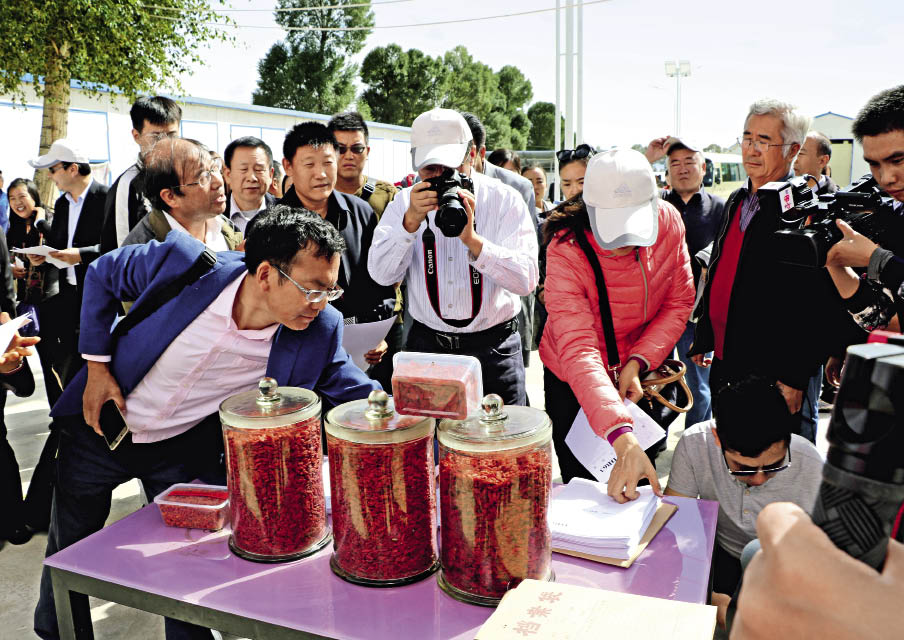 Several new goji berry species cultivated in Haixi in recent years strengthen their market appeal.
Rather than merely focusing on scale and yield, local goji berry industry now seeks better quality and efficiency, according to head of the prefecture's Institute of Agricultural Sciences Ren Gang.
Millennium-old Goji Berry Forest
Most goji berries grow in the areas of Dulan, Uland, Delingha, Da Qaidam, and Golmud in the Qaidam Basin. Visitors in search of the origins of the local goji berry culture are often directed to a 1,000-year-old wild goji berry forest in Wulonggou. Hidden in Dulan County, it is the largest forest of its kind in the Qaidam Basin.
Wulonggou is situated on the Kunlun Mountains. The name, which literally means "valley of five dragons," originates in a local legend about five dragons that once guarded the 12 divine trees that stood in the valley.
A surprising quantity of wild goji berries doggedly survive in the valley, on land that has sparse vegetation due to an arid climate. Some trees may grow to a height of two meters, their trunks the girth of an adult's forearm. However, their fruits are small and scant. Most trees no longer bear fruit, even though their leaves still flourish. Local professionals explained that artificially planted goji berry trees often yield more, and their fruits are plumper. In a bid to make picking easier, the height to which saplings grow is controlled. Yet although wild goji berry trees bear smaller fruits and yield less, they taste much better than those that have been planted.
Wild goji berry trees grow on almost 66,667 hectares of the Qaidam Basin, of which 227 hectares are in Wulonggou. Their natural seeds provide ample gene varieties for cultivating new species. Besides, goji berry trees of more than 200 years old – conspicuously beyond the average age of 35 to 50 years – are still found in the region. And there are also 100 or so trees in Wulonggou that are more than 60 years old. It is said that the forest could have a 1,000-year history.
A hill shaped like a monkey stands among the trees. According to folklore, the Queen Mother of the West, a Taoist goddess who once lived in this area, ordered the monkey to protect the forest. At harvest season, the monkey would offer goji berries as tributes to celestials.
"The Qaidam Basin is one of the native sources of goji berries, and more than 10 wild varieties grow here. Among them, the wild black goji berry is a rare species with a medicinal value far higher than that of other varieties," said president of the prefecture's goji berry association and goji berry industry administration Li Jianxin.
Diversified Development Mode
Although the Qaidam Basin is a native source of goji berries, no proper industry formed in the past because only a few small plantations existed in Haixi Prefecture. Since 2008, when the local Haixi government named goji berry-planting as the priority industry for local development, the industry has made remarkable progress.
Generally speaking, Ningxia Hui Autonomous Region dominates today's domestic goji berry market. Meanwhile, emerging production areas like Xinjiang and Gansu are developing rapidly. In a sense, therefore, Haixi faces great challenges in this market. "That means we must build up a distinct brand image and embrace a diversified development mode," Ren Gang said.
After spending a week traveling more than 3,000 kilometers in the vast Qaidam Basin, this reporter was deeply impressed with its unique environment that endows local goji berries with their distinct advantages.
The Qinghai-Tibet Plateau interior where Qaidam Basin is situated is acknowledged as one of the cleanest areas in the world. Innocent of industrial pollution, it enjoys clean air, water, and soil. Meantime, a dry climate, long hours of sunshine, and the considerable difference between day and night temperatures provide favorable natural conditions for the local goji berry industry. For instance, the plateau's chilly, dry climate and ample sunshine help to reduce plant diseases and insect pests. What's more, the good gas permeability of its sandy soil is ideal for growing goji berry trees. Potassium- and nitrogen-rich soil is another main reason why the quality of goji berries here is remarkably better than in other regions.
The genes of goji berries produced in the Qaidam Basin are thus different from those growing in Ningxia, Xinjiang, and Gansu. This qualifies Haixi Prefecture to position its products as organic and high-end. At the same time, Haixi plans to build a plant base on the Qinghai-Tibet Plateau. "Natural conditions are our god-given advantage," Vice Chairman of the Haixi Prefectural Committee of the Chinese People's Political Consultative Conference Zhang Jiyuan said. "We have always set out to build a green brand based on quality products. This is the key to maintaining a cutting edge in market competition."
Policies on supervising the quality of goji berries have been carried out by the prefectural administrations. Chemical pesticides and food additives are strictly forbidden. Production technologies and quality control are also standardized. Moreover, a national level quality and safety demonstration area for exported goji berries has been established in Golmud. Favorable financial policies have also been launched in such fields as plant disease and insect pest prevention, hygienic ways of drying goji berries, and green food authentication. Haixi's dried goji berries have been certified as organic products by China's Quality Certification Center, and by certification institutions in the EU, the U.S., and Japan. Exported to Europe, the U.S. and other Asian countries, Haixi's organic produce makes up 90 percent of national total goji berry exports.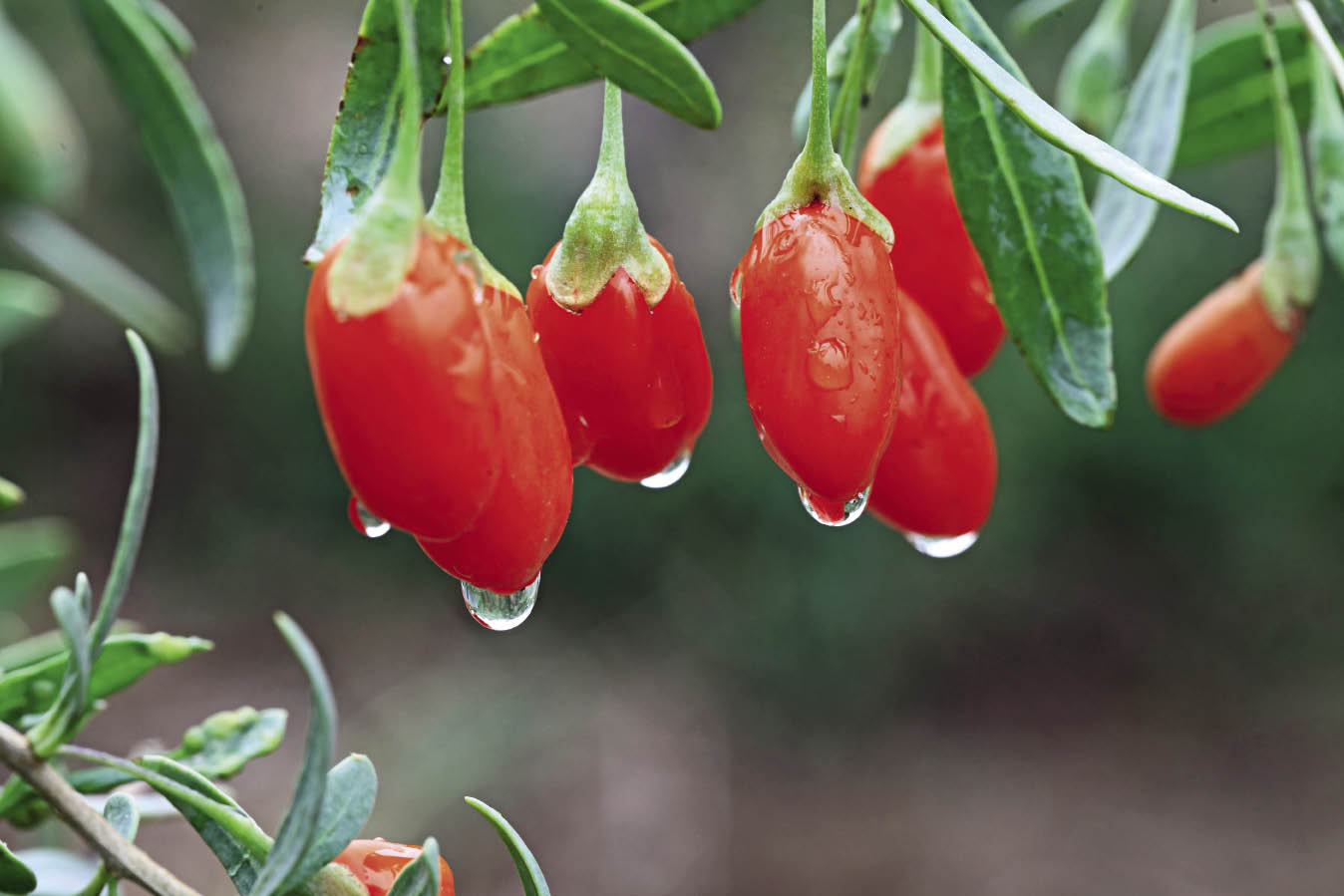 Goji berry, a small fruit that has promoted a big industry.
"Haixi has made outstanding achievements in the standardization, greenization, and organization of goji berry planting," Zhang Jiyuan said. In addition to the strategies Zhang mentioned, the local government and producers also aim to develop more diversified and upscale products while building up production zones.
Ren Gang revealed that several new goji berry species had been cultivated in Haixi in recent years, which strengthens further their market appeal. In 2015, the estimated net worth of the Haixi goji berry brand was RMB 8 billion.
Red Glints on the Plateau
When traveling through the gobi in Haixi, red goji berries constantly catch the eye.
Haixi used to suffer from sandstorms. The harsh environment made it impossible for farmers to plant any crops other than highland barley, spring wheat, and oilseed rape. This forced them to subsist on meager incomes. However, locals did not complain and were not restricted by their unfavorable conditions. Having discovered the value of goji berries, they promoted them as an industry that benefits both themselves as farmers and the natural environment. The main thrust of their campaign was that goji berry trees help fix the sand and afforest desert. It was hence not only an emerging green agricultural industry, but also an environmental protection undertaking. Over the centuries, goji berries have hardily grown in desert. Their tenacity is echoed by the Haixi people, who strive to improve their hometown in an innovative yet steady and devoted way.
Legends about goji berries have been passed down for generations in Haixi. One tells of the Queen Mother of the West who, before she became immortal, made a living from digging up herbs in Wulonggou. Even after becoming a celestial goddess, she always felt concern for people's well-being, and would transform herself into an old woman who gave herbs to mortals. It is said that she transformed her walking stick into a goji berry tree and her earrings into berries to treat patients. Another story tells of the Third Panchen Lama, who contracted smallpox at the age of 18. Fortunately he was cured by herbal medicine whose main ingredient was goji berries grown in the gobi. These tales reflect the long history of goji berries as a Chinese herbal medicine ingredient.
Today, local people are proud of their goji berry industry. Greater numbers of people now acknowledge Haixi and the Qaidam Basin as a main Chinese goji berry production base. 
Services