New Tech, New Opportunities
Connecting farmers to markets has always been hard in regions with scant commercial infrastructure and information imbalances. By reducing circulation procedures and costs, e-commerce not only increases farmers' profit margins, but also greatly decreases information asymmetry between producers and consumers. Farmers are able to keep in touch with changes in consumer demand and market fluctuations. By selling agricultural produce to the whole national market, they thus see income expansion and poverty reduction.
The Internet connects a remote village to huge international markets.
Caoxian in Heze City is the poorest county in Shandong Province. Many residents here engage in the sale of costumes, stage props and dancing shoes. They process these products in scattered family workshops and then carry them in bags to sell in neighboring cities and counties. Transaction volumes of this energy-consuming model are low, and sales uncertain. However, e-commerce has hugely accelerated the connectivity between sales channels and platforms, promoting the development of Caoxian.
As China's first pilot city for poverty alleviation through e-commerce, Longnan City in Gansu Province established six systems across 450 impoverished villages, including administrative services, online retailing, online goods supply, Internet logistics, and personnel training and evaluation.
E-commerce provides more entrepreneurship and employment opportunities for rural residents. It not only improves the overall economy of rural areas, but also encourages more college graduates and migrant workers to return home and start businesses. Joining this movement also are young people forced to stay at home due to physical challenges, women, children, and the elderly in rural areas.
In poor villages where e-commerce is burgeoning, village elders may be oberved typing on the computer, "If you buy two, the logistics fee is covered by us, my dear." After training, exchanges and independent study, many farmers either start their own online stores or engage in support industries. E-commerce makes it possible for farmers to gain employment in their own locality by promoting development of diverse service industries and so creating large numbers of jobs.
In the past, farmers spent their leisure time during the off season playing cards, chewing the fat or watching a lot of TV. But today, sitting in front of computers, they manage online stores.
E-commerce changes the consumption model of impoverished populations. Increased incomes from online sales give them more desire to consume, their access to quality consumer goods at reasonable prices only a click away. Convenient services such as online shopping, bill payment, financial management, and ticket booking have all come to rural residents. They can now say goodbye to counterfeit and fake commodities, and hello to diverse goods at the same prices as those available to urban residents.
People in impoverished areas are beginning to enjoy unprecedented benefits and conveniences, as online consumption increases at an accelerated pace. According to statistics, the rural online shopping market is expected to exceed RMB 460 billion in 2016. E-commerce has brought about great changes to the consumption patterns of rural residents, as their demand for daily necessities, cars or even luxuries continue to rise.
E-commerce Giants Chip in
In September 2015, Alibaba Group and Ganzhou City signed a cooperation agreement on e-commerce promotion in the latter's counties, aiming to establish a rural e-commerce environment covering channel building, product supply, quality guarantees, and platform integration. Two months later, Alibaba and the Hebei provincial government entered into a cooperation memorandum for "Internet Plus poverty alleviation," with the goal of deepening collaboration in this area.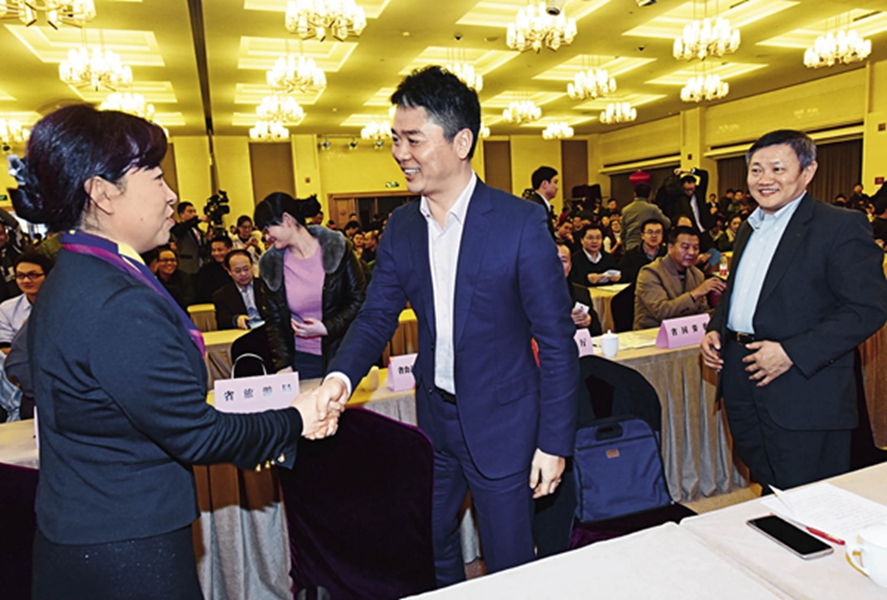 Richard Liu, founder and CEO of JD.com, shakes hands with an official after inking an agreement with Shaanxi Province to promote e-commerce in rural areas.
In September 2015, JD.com and the Banan District of Chongqing decided to join hands to facilitate industrial products entering the rural market and sales of agricultural produce in cities. By combining JD's 3F Strategy (Factory to Countryside, Finance to Countryside, and Farm to Table) for rural e-commerce and Banan's advantages, this cooperation initiative will help local farmers shed poverty and become better off.
In December 2015, JD.com and the Shaanxi provincial government signed a strategic cooperation agreement on accelerating the building of an e-commerce operation center and logistics infrastructure, and strengthening cooperation on promoting e-commerce in rural areas, so facilitating mass entrepreneurship and innovation.
Creating a Conducive Environment
A sound industrial basis is the solid foundation for e-commerce to prosper in rural areas. Currently, in many places where e-commerce is relatively developed, each village has its own specialized products, making it possible for e-commerce to take full advantage of established reputations, industrial clusters and specialized markets.
The sizable markets brought about by specialization speeds up market access to online stores. For example, the Yiwu Wholesale Market for small commodities offers a huge variety of products at reasonable prices. Making use of this industrial foundation, Qingyanliu Village in Yiwu has successfully developed into "China's No. 1 Village for Online Stores." Premier Li Keqiang praised the high numbers of villagers engaged in e-commerce, the number of online stores here exceeding that of households.
As most impoverished rural areas lack a solid industrial foundation, some visionary pioneers have taken the lead in helping develop e-commerce. Bei-shan Village in Lishui City, Zhejiang Province, has developed an outdoor products industry from scratch based on e-commerce tools. BS Wolf Outdoor Products Co., Ltd used to engage only in distribution, until it gradually began to take on some original equipment manufacturing. More and more villagers have chosen to join the company, and together have created an outdoor products industry. Today, one out of four outdoor outfits sold on Taobao comes from Bei- shan Village.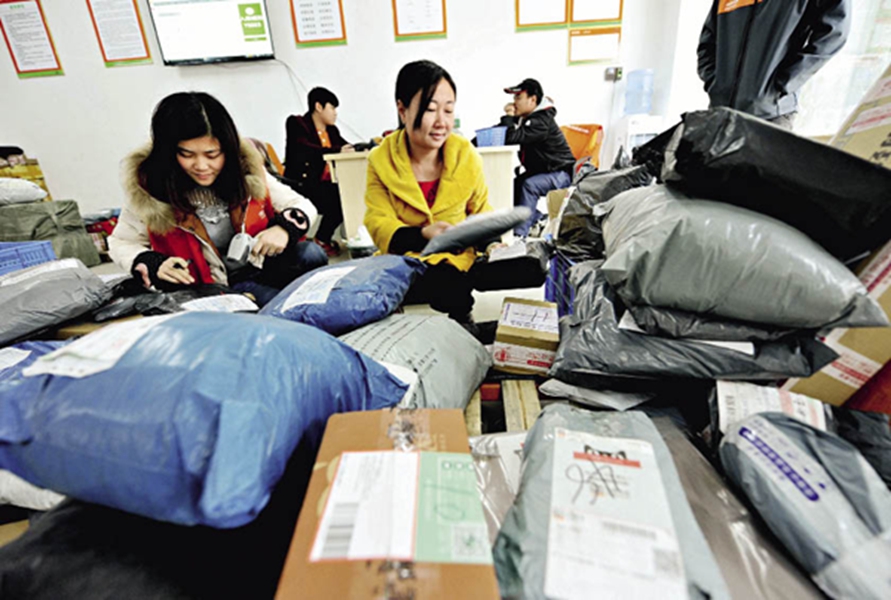 Piles of packages in a brown sugar plant for delivery to online buyers.
Having started from zero, e-commerce has now begun to take shape among China's rural population. Exemplary e-businesses have played a representative role. In recent years, many young people have returned to their hometowns to start businesses in areas related to e-commerce. Some sell featured products through e-platforms, some help fellow villagers purchase daily necessities online, and others engage in logistic services for local e-businesses. Most of these young people who have introduced the Internet mindset into rural areas are now advancing with confidence.
Sun Han comes from Dongfeng Village, Shaji Town, Suining City in Jiangsu Province. He and two other young men were locally called "the three swordsmen of e-commerce." They returned from cities to their hometown to sell furniture online. Their successful attempt inspired other villagers to set up online stores. Now, the formerly impoverished village has shaken off poverty and blazed a trail for poverty alleviation in the region through e-commerce.
Stimulated by innovators and promoted by the bonds of blood and family kinship in rural areas, e-commerce models can naturally spread, as they are quickly learned and copied. Some villagers become avid followers and imitators of market trends.
At the initial stage, innovators lead fellow villagers on to the fast train of e-commerce; at the next stage of intensive development, the whole village becomes devoted to entrepreneurship; at the rapid expansion stage, cooperation and collaboration become more important; and at the stage of branding and upgrading, e-businesses begin to explore industry standards and make a greater contribution to standardized development of the industry.
Some rural areas enjoy convenient transportation, which is a major stimulus for developing e-commerce. But most rural areas suffer from disadvantageous location and transport, which is a major cause for protracted poverty. As labor costs continue to climb, some e-businesses in developed regions have chosen to establish customer services in underdeveloped regions in order to reduce human resources expenditure and keep the team stable.
In December 2014, Alibaba Group's first Taobao village took shape in Feiyun Village, Lefeng Town, Nan'an City, Fujian Province. This village lacks an industrial foundation, logistics facilities and convenient transportation. Its main business is selling shoes and clothing, as all warehouses and production bases are situated in other locations. Residents here now focus on online marketing. But this tiny marketing link is all they need to help them shake off poverty and lead a better life.
Commercial culture is one of the reasons for e-commerce's blossoming in rural areas. Thanks to their commercial traditions and adventurous spirit, farmers in southeast coastal regions are willing to take on new challenges. What is more, they have a very strong sense of community. There are informal institutions that share information and resources, as well as risks. Such institutions are also advantageous as regards higher levels of integrity, and the observance of laws and fair competition.
By contrast, in some places in northern and central China, although there are innovators, a solid industrial basis and convenient transportation, rural e-commerce still lags behind due to the lack of a strong supportive commercial culture.
While tapping into market methods and Internet technologies to alleviate poverty, we should still employ traditional circulation systems, explore new business models, and nurture a supportive environment for e-commerce in rural areas. A booming e-economy in rural China will help us realize the goal of building a moderately prosperous society in all aspects.
DR. HONG YONG is an assistant researcher at the Research Institute of the Credit and E-commerce School, Ministry of Commerce.