Tong Ren Tang Sailing into Overseas Markets
THE leading traditional Chinese medicine (TCM) brand, Tong Ren Tang, now has a presence on five continents. Since setting up a retail pharmacy in Hong Kong in 1993, the first out of China's mainland, Tong Ren Tang has opened more than 130 stores in 26 countries and regions. These establishments, including drug stores, TCM clinics, wellness centers, medical centers, and cultural centers, have received more than 30 million individual visits.
Global Vision
Tong Ren Tang's expansion of its overseas markets has gathered pace in recent years. In August 2012, it set up a retail outlet in Warsaw, Poland, the first in Europe, a milestone for the time-honored TCM brand to set foot in the European market.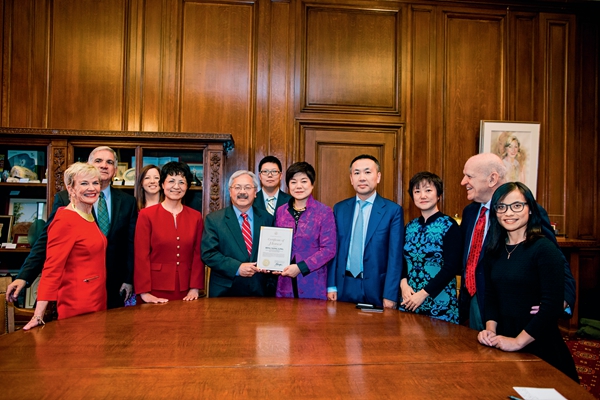 Edwin M. Lee (third left in front), mayor of San Francisco, delivers a Certificate of Honor to Beijing Tong Ren Tang in September 2016.
Tong Ren Tang entered the U.S. market in 2016, and achieved instantaneous success. The company's retail outlets were bestowed certificates of honor from the city governments of New York and Los Angeles, and San Francisco designated September 30 as Tong Ren Tang Day. The same year, the company broke into the South African market by opening five retail stores in Johannesburg, Pretoria, and Durban. The sixth establishment in South Africa – a TCM acupuncture center and a Tong Ren Tang museum – was opened in Johannesburg in April 2017.
As the Belt and Road Initiative rolls out, Tong Ren Tang is doing its utmost to perfect its global market layout. It has so far established branches and stores in Thailand, Malaysia, Singapore, Cambodia, Brunei, the Philippines, United Arab Emirates, Poland, and the Czech Republic.
In June 2017, Beijing Tong Ren Tang European Holding Co., Ltd., CITIC Kazakhstan Co., Ltd., and the Medical Center Hospital of the President's Affairs Administration of the Republic of Kazakhstan signed a strategic cooperation agreement on setting up the Tong Ren Tang TCM Healthcare Center in Astana. The signing exemplifies the fruits of establishing the Silk Road Economic Belt, a proposal by President Xi Jinping during his visit to Kazakhstan in 2013. Tong Ren Tang, with a history of more than 300 years, has extended its network to every corner of the globe.
Cultural Awareness in Overseas Markets
As the most successful TCM company in overseas markets, Tong Ren Tang attaches great importance to promoting TCM culture at its stores, a "secret" of its success.
Upon entering any one of Tong Ren Tang's overseas stores, what first catches the eye is the tasteful decor of each establishment's TCM cultural corner. Customers benefit from the therapeutic effects of TCM through the four diagnostic modes of observing a patient's symptoms, listening to their voices, asking relevant questions about nutrition and sleep, and feeling the pulse, and through its treatment methods that include acupuncture and massage. Overseas TCM aficionados can also attend talks on maintaining health through practicing Taiji and Qigong.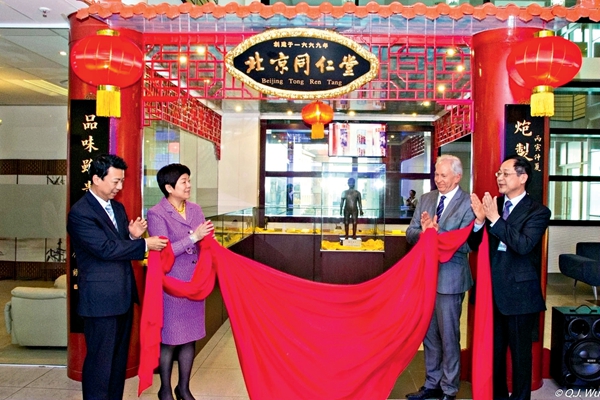 Beijing Tong Ren Tang opens a TCM acupuncture center in Johannesburg, South Africa, in April 2017.
During Chinese President Xi's visit to the Czech Republic in March 2016, the local Tong Ren Tang store invited a group of distinguished Chinese TCM experts to give lectures and have interactive activities with local people. The event was both well attended and warmly received by local residents. In October of the same year, Tong Ren Tang held a one-month stroke prevention and treatment campaign in Hong Kong, where 1,680 people jointly practiced Baduanjin, a branch of Qigong, creating a Guinness World Record.
Tong Ren Tang has also established museums in San Marino, Italy and Los Angeles, U.S.A., allowing local access to TCM and the traditional Chinese culture.
"If they were unaware of TCM's cultural identity, foreigners could not acknowledge TCM," said Ding Yongling, deputy general manager of China Beijing Tong Ren Tang Group Co., Ltd. "We will continue to play the dual role of economic entity and cultural carrier, in a bid to present the TCM culture to the world."
Tong Ren Tang plans to build local factories along the Belt and Road routes, quickening the pace of localization and globalization of its products. It will continue to open TCM retail terminals and health care centers in mature markets. Meanwhile, it will enhance cooperation with institutions of higher learning and scientific research overseas, so as to expand its network in overseas markets.  
Services