Sharing Economy in Full Swing
PICTURE this: you are working in the office and your car is in the parking lot, doing nothing – and you have to pay for parking! What if you could make some money with this idle car?
The answer to this question first appeared a few years ago. In 2013, PP Car Rental (now Start Car Rental) launched a business aiming to increase transport by improving car utilization, while bringing revenue to car owners.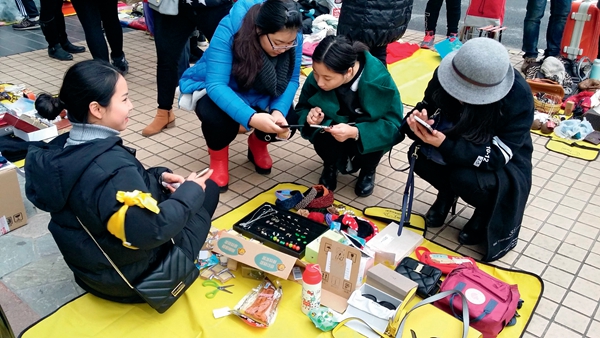 Taobao launched the Xianyu marketplace, which is a secondhand goods market that offers another channel for consumer to get what they want at prices they can afford or make a little money by selling things they no longer need.
So far, its service is available in 16 large cities, with 600,000 car owners and one million clients registered. This new model of how cars are used is becoming popular. In February 2017, Atzuche, one of its competitors, raised nearly RMB 400 million of funding.
In the last couple of years, the sharing economy has significantly changed our everyday lives in terms of clothing, food, housing, and transportation. Take transportation for example. Didi Chuxing, a ride-hailing app, has made daily trips to work more convenient and the bicycle-sharing service has made the first and last kilometer of a commute a more pleasant experience.
According to a report released by the Sharing Economy Research Center under the State Information Center, China's sharing economy sector saw deals worth some RMB 3.45 trillion in 2016, a 103 percent increase over the previous year. During that period, 600 million people were involved in the industry, up 100 million from the previous year.
The report also predicted that the sector will grow at an average annual rate of 40 percent over the next few years, and will account for more than 10 percent of the country's GDP by 2020.
Access Instead of Ownership
The sharing economy is a new business model where people can have access to goods and services by directly paying the owners. It aims to integrate and better utilize idle resources like goods, labor, educational resources, and medical and health services. It focuses on enabling access instead of ownership, while the sharing of unused goods, technology, and other resources will generate profits.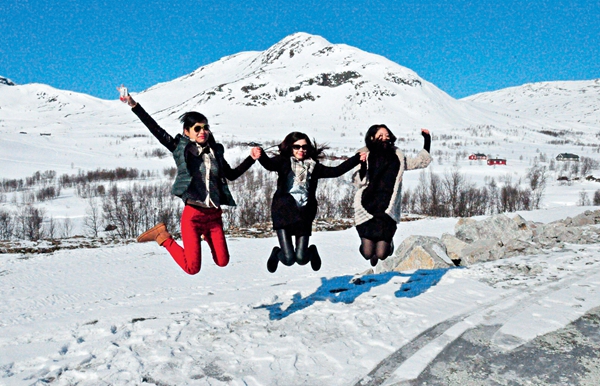 Personalized travel service is getting popular in China

.
The development of the Internet, especially mobile Internet, has provided fertile soil for the sharing economy to grow. According to PwC's data, the global revenues of the sharing economy will soar to around US $335 billion in 2025.
In October 2015, the Proposal on Formulating the 13th Five-Year Plan for National Economic and Social Development (2016-2020) and the Communiqué of the Fifth Plenary Session of the 18th CPC Central Committee proposed developing the sharing economy. That marked the first time the sharing economy was included in the strategic plan of the Party and the nation. In March 2016, 10 Chinese ministries, including the National Development and Reform Commission, jointly issued guidelines on promoting green consumption, which stated that efforts will be made to support the development of the sharing economy, encourage the effective utilization of unused private resources and develop ride-hailing platforms, private car rental, short-term rentals, and even the swapping of used goods.
Airbnb is the largest global online market for short-term rentals. It represents the earliest form of the sharing economy. It serves as a broker to connect tourists who are searching for a place to stay and hosts who have empty houses or rooms to lease. Without running costs of a traditional hotel, by hiring a few employees and purchasing some servers, a business can grow and make profits. Now Airbnb has over 1,600 employees, who jointly manage over two million available rooms for rent in 191 countries around the globe.
In China, xiaozhu.com, a short-term home-rental site, is quite similar to Airbnb. Currently, the company has over 100,000 listed homes in over 250 cities across China, with its total volume of business transactions exceeding RMB 1 billion in 2016.
Xiaozhu.com started with single rooms, with its clients being mainly young people looking for a place to stay during graduation trips or while job-hunting. However, as the concept of renting short-term grew popular, the company attracted a growing number of clients aged from 20 to 30. Their needs are more diverse: some need a place to stay on holidays or business trips and some need to rent an apartment during hospital visits in more developed cities.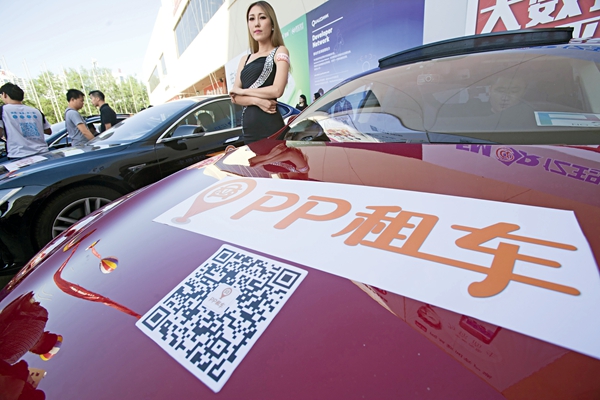 The PP Car Rental is exhibited as a form of the sharing economy at the 2014 China Internet Conference on August 26, 2014.
Chen Chi, the founder of xiaozhu.com, is very confident about his business. He said that the core idea of xiaozhu.com is to connect the hosts with guests. The advantage of this model is that we don't need to pay to run a hotel or hire employees; we just help hosts to utilize their empty apartments. What we focus on is helping to build trust between the hosts and guests, as they don't know each other beforehand.
"China has a large population and people need to travel and move. China also has many empty houses and apartments. If those idle resources can be utilized to offer travelers a better experience, the market potential could be huge," enthused Chen.
People with "Slash Careers"
To celebrate the birthday of his parents at home, Mr. Song booked a catering service on Idachu.com. Song discussed the menu with the chefs and personally chose all the dishes to be served, from cold dishes to a fruit plate. The next day, two young chefs arrived on time, dressed in uniform and with all the ingredients and seasonings. Four hours later, Song's parents returned and were surprised with a delightful dinner. Song said it was not the first time he had used this service and he said it was the best choice for people like him who are busy with work and seldom cook.
Over the last few years, catering service platforms have sprung up like mushrooms. It is no longer the privilege of rich people to hire a chef to cook for them. To meet diverse needs, various platforms at different levels have been established, targeting both high-end and ordinary customers.
Catering services platforms fully utilize idle labor in society. The "Home-Cook" app has attracted many parents who are good at cooking. They enjoy their "work" very much as they can earn money by utilizing their spare time to cook for young office workers who are at a similar age to their own children. Compared with restaurants, these part-time "chefs" are more careful about choosing, washing, and cooking ingredients.
As the sharing economy evolves, the goods and services that can be shared cover a wider and wider range, from cars and houses, to talents and skills. This trend has led to a growing number of freelance workers. Luo Zhenyu, the host of Logical Thinking, an online talk show on social issues, commented on the deciding role of markets, by saying that when you hold a basket of radishes and go to the market, you can sell them all if your price is reasonable.
In addition to ZBJ.com and doumi.com, Lagou.com, an online job market, is confident in the potential of the freelance job market. It has established a platform to connect project work with talents such as developers, designers, programmers, salespeople, and even small companies and studios. Through the platform, enterprises hire employees according to their needs and the employees don't have to keep office hours. This platform also provides complete legal and social security services.
Therefore, more and more young people become a "slash." This nickname refers to the many slashes between their job titles, such as "a photographer/illustrator/columnist" and "a private tourist guide/yoga coach/prominent blogger." They are professional in certain areas, so they can participate in projects anytime and anywhere, enjoying a new model of life and work.
"Now people have changed their understanding about freelance work. In the past, people often had the stereotype that it was not stable," said Bao Aile, Chief Marketing Officer of lagou.com.
New Trend Amongst Young People
It is not a new trend to rent a formal dress online. However, now people can rent fashionable clothes for everyday use as more and more fashion rental services have emerged, such as yi23.net, msparis.com, meilizu.com, and duolayimeng.com. All of them are competing to meet demand and lead the trend.
By paying a membership fee ranging from RMB 399 to 499, clients can rent three items of clothing at one time and as many times as they want per month. These platforms target office ladies in first-tier cities by providing fashionable and high-end brand clothes. Meanwhile, to convince people that all the clothes are clean, the platforms choose to cooperate with professional laundry services and even establish their own laundry centers.
Today, many young people like shopping online via large websites such as Taobao, and they are also fans of Xianyu, which is a second-hand online market under Taobao. It was established in 2014, and offers swapping, selling and buying second-hand products, apartment renting, auctions, and the sharing of knowledge and skills. One of the reasons behind the sharing economy in the U.S. was that people owned too many things and the demand for leasing unused things made the sharing economy possible. Now the problem of owning more than they need also perplexes many young Chinese people.
In 2016, over 200 million users used Xianyu. During graduation season, Xianyu organized flea markets in 117 colleges and universities around the country, making it convenient for graduates to sell what they no longer needed. Flea markets are very popular among students.
On March 29, CBNData, a commercial data company affiliated with Alibaba and Xianyu jointly released a report on the consumption of the sharing economy among the post-1990s generation, which showed that the number of users aged from 16 to 27 years old on Xianyu accounts for about 55 percent of the total. That means the post-1990s generation has become the main force for boosting the sharing economy.
These young people not only swap their personal items such as collections related to movie stars or singers, but also create their own living style and pattern of consumption. For example, some earn money by utilizing their spare time and skills. The services they provide cover all sorts of things, like morning wake up calls, tarot card readings, and playing online games.
A shared workspace has now become the new model when establishing an office. The famous WeWork company was founded in New York, with its estimated value exceeding US $10 billion. Its 54 shared workspaces are scattered in major cities across the U.S. It has also expanded its business to other parts of the world.
Since 2014, the Chinese government has encouraged innovation and entrepreneurship, more and more start-ups have emerged, bringing a huge demand for workspace. The People Square (P2) Company is the first domestic company to provide this service. Now it has 15 workspaces in Beijing and Shanghai. During peak season, a newly established workspace is full within just two or three months. The model of working together is not just about sharing the rent, but about sharing resources. In a shared workspace, different companies can solve their problems or meet their needs by utilizing the same infrastructure and technicians. They can support each other when organizing offline activities. A brainstorming meeting for one company may give inspiration to another company or may lead to the creation of a start-up project.
Call for Credit System
A survey launched by Start Car Rental showed that only 17 percent of private car owners are willing to share their vehicles in first-tier cities such as Beijing and Shanghai. They are worried that improper operation by others will damage the vehicle and are worried the rent is not enough to pay for the maintenance fees.
Mutual trust remains at the core of the sharing economy. People who do not know each other are connected through shared goods and property and they are jointly responsible to safeguard this model. How can we build trust and control the risks? It is an urgent problem that needs to be addressed.
After experiencing some cases where rented vehicles were illegally mortgaged, Start Car Rental stipulated that people who want to rent a car must meet certain requirements and the company will check the information with the police and traffic police. The leaseholders must have had a driving license for at least six months, with no record of drunk or dangerous driving, and never have had their license suspended.
Chen Chi, CEO of xiaozhu.com, pointed out that a credit environment should be established. He proposed to follow Europe and the U.S. where they established credit files for everyone. He believes that when everyone's history can be traced, trust will be established among strangers when they conduct deals with each other.
The establishment of a credit system remains crucial for the development of the sharing economy. On April 14, officials from the National Development and Reform Commission said that efforts will be made to enable information sharing between bike-sharing companies and CreditChina.gov.cn and other credit information service departments. People will be rewarded for good behavior and punished for wrongdoing.
As early as January 2015, the People's Bank of China asked eight credit information services companies, including Sesame Credit, Tencent Credit Services, and Qianhai Credit Services, to prepare to collect personal credit information. Today those eight companies have launched electronic data interchanges with various online shopping platforms, social platforms, car and home rental apps and financial credit apps, with the aim of building a credit information system using big data technology. It will be an unstoppable trend where the development of the sharing economy will be inextricably linked with the personal credit information system.
SHI XUN is a Chinese media veteran.
Services