BRICS: Towards Multi-Polarity and Global Governance
WE have witnessed the world move away from uni-polarity towards bi-polarity, and now towards multi-polarity. The U.S. is not declining; however, its clout is fading as other countries such as China and India are gathering strength. Multi-polarity is reflected not only in these emerging economies but also in the organizations formed by developing countries and those by non-state actors. This heterogeneous multi-polarity calls for a structural change.
Various scholars have tried to find ways to facilitate these structural changes. American political scientist Samuel Huntington coined the notion of a "uni-multipolar structure" with the U.S. at the core and various other countries extending diplomatic, economic and military support for its initiatives. Such a structural arrangement is unsustainable in the long term – the crises in Libya and Syria clearly demonstrate this. With Donald Trump in the White House, the fissures between the U.S. and its allies are becoming all too obvious and the insular thinking of the Trump administration shows that the U.S., as well as its allies, will remain non-committal on shaping the future of global order.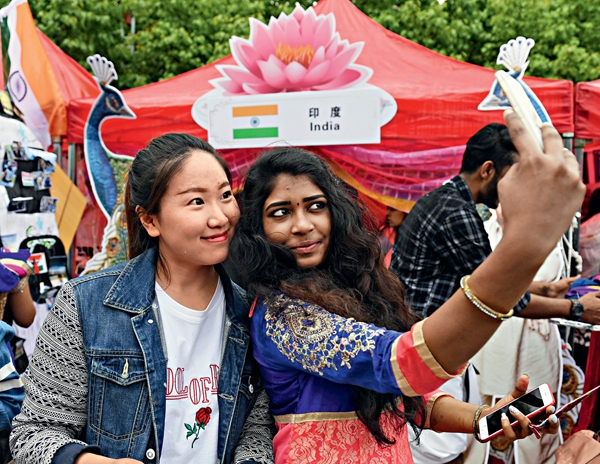 Students from China and India take a selfie at the 12th International Culture Festival of Jilin University in Northeast China.
American diplomat Richard Haass has argued that "non-polarity" is the answer, where dozens of countries could have the capability of "exercising different powers." On the other hand, Giovanni Grevi, a senior fellow of the European Policy Center, argues that the world is becoming increasingly "inter-polar" which is "multi-polarity in the age of interdependence." He puts a state at the center, but agrees that non-state actors could inflict a severe blow to the system. Whatever term is employed, everything points to multilateralism in the age of global interdependence. Multilateralism or multi-multilateralism is not necessarily the ultimate solution to bilateral or multilateral problems, but is still extremely important for conflict resolution and enhancing understanding and cooperation among nations.
BRICS is just one example of this. The group contributes to more than 50 percent of the world's economic growth.
It is inevitable that the following issues will be discussed in depth at the BRICS Xiamen Summit:
Globalization vs. Deglobalization 
The West is now plagued with the following problems: Retrenchment of the West led by the U.S. and fissures in the Western alliance; doubts over the success of the European Union following Brexit and the resulting economic slump in most European countries, plus the refugee crisis. These issues in the West have resulted in countries becoming increasingly protectionist, so much so that the U.S. has pulled out of the Paris Agreement. In contrast, BRICS has remained committed to the Paris Agreement as well as to globalization and connectivity initiatives within the region and beyond.
Regarding this state of affairs, BRICS faces new opportunities but needs to assume greater responsibility too. During the BRICS Xiamen Summit, BRICS is likely to make a call for the furthering of globalization to counter this trend in deglobalization or protectionist tendencies in the West. Since the Belt and Road Initiative proposed by China has become the biggest connectivity project of the century, the endorsement by BRICS may be problematic as there are conflicting views on some Belt and Road Initiative corridors amongst BRICS countries. However, BRICS countries may not be averse to cooperating on certain projects selected after mutual consultation. 
South-South Cooperation
It is evident that developing countries would like to break free from the subservient role they have long played under industrialized economies and instead forge stronger economic and political relations among themselves, based on mutual respect, equality, and win-win cooperation. The establishment of BRICS and its affiliated institutions such as the New Development Bank (NDB) and the Contingent Reserve Arrangement should be seen in this light. China's connectivity initiative appears to offer such a model for cooperation, which is seen as less exploitative and more relevant to mutual development. It is a fact that BRICS countries, especially China, have been instrumental in increasing the flow of South-South finance – China's policy banks lend more capital than any other banks in the world. This cooperation has resulted in an increase in foreign direct investment, trade, the transfer of technology, energy resources, and infrastructure projects. Therefore, South-South cooperation will be one of the major themes of the summit. The NDB is expected to provide US $2.5 billion in loans this year as a result of such cooperation.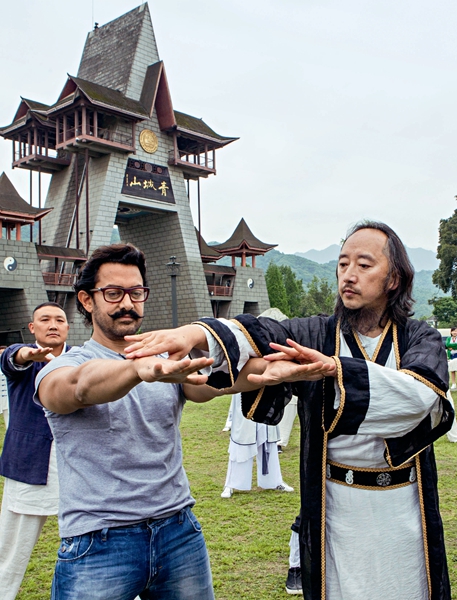 Aamir Khan, a renowned actor from India, learns tai chi to experience Chinese culture during his trip to Sichuan Province in Southwest China in April 2017.
However, despite the fact that Brazil is a huge commodity market, South Africa and Russia are rich in natural resources, India has an enormous agricultural economy, and China is the largest exporter of commodities with the biggest production capacity, intra-trade between BRICS countries remains abysmal. For example, in 2015, intra-trade stood at about US $250 billion, and even though Indian Prime Minister Narendra Modi has proposed doubling this number to US $500 billion by 2020, if development strategies are not aligned, this will be almost impossible. 
It must be understood by BRICS member countries that unless they align their respective national development strategies, they will not be able to make their domestic drivers stronger. Hence, the alignment of each other's connectivity projects, whether domestic or international, will result in an enhanced level of engagement within BRICS and beyond. In the long run, it would be more constructive to promote better regional connectivity and intra-regional connectivity, to pave the way for regional and trans-regional economic integration.
Global Governance
The paradigm shift in the global economic and political structure has resulted in a structural adjustment within the global governance system. The G20 Summit demonstrated that both developed and developing countries could sit together around the discussion table, while the birth of various new mechanisms such as BRICS, the Shanghai Cooperation Organization, the NDB, the Asian Infrastructure Investment Bank (AIIB), and the Silk Road Fund, indicated that emerging economies were capable of reshaping existing governance mechanisms or supplementing them with new ones. As founding members of many of these mechanisms, both India and China are playing a leading role and building bridges between developed and developing countries while contributing immense wealth to the global economy.
Some critics have said that the establishment of these institutions, including the NDB and the AIIB, has challenged the post-WWII order. The fact remains that the establishment of the old institutions is a result of the Bretton Woods system, which has been on shaky ground ever since the financial crisis broke out in 2008, not to mention the Euro crisis, a reminder that if institutions like the International Monetary Fund, the World Bank and the Asian Development Bank continue to attach strings to developmental aids and loans, there is going to be a serious demand for alternative institutions. Especially when global economic recovery is slow, the establishment of such new institutions will promote infrastructure development as well as social and economic development in the region.
Counter-terrorism
BRICS countries remain committed to combating terrorism in any shape or form, and believe that there is a need to expand practical cooperation in intelligence sharing, capacity building, and providing security for their rapidly expanding interests abroad. For this purpose the Joint Working Group on Counter-Terrorism was established during the eighth BRICS Summit in Goa and held its first meeting in India in September 2016. The group agreed to expand counter-terrorism cooperation further to include measures for denying terrorists access to finances or terror hardware such as equipment, arms and ammunition. The second meeting was held in Beijing on May 17, 2017, and extensive discussions were conducted on the issue, both within the region and beyond. India has been urging the BRICS nations to back its efforts for the adoption of a comprehensive convention on terrorism at the United Nations to dispel ambiguous views about "good" and "bad" terrorists.
People-to-people Exchanges
People-to-people exchanges are the pillar of all bilateral and multilateral exchanges. They are the cultural capital of a country. Regarding people-to-people exchanges between BRICS nations, I believe, even with existing exchanges such as cultural festivals, media and film exchanges, BRICS scholarships programs and so forth, there are still many opportunities to strengthen and broaden the scope of these exchanges. The establishment of the BRICS University League is an excellent example. There is a need to institutionalize these mechanisms and establish even more mechanisms at various levels.
What Can India and China Do?
At the outset, the economic and political clout India and China are able to exert on the mechanisms of global governance hinges upon their domestic drivers. Therefore, the greatest contribution they can make to the G20 or other new mechanisms is the maintenance of robust domestic growth and regional peace and stability. It is for this reason that these two emerging economies have been able to inject billions of dollars into the existing institutions of global governance, push for reforms and demand greater representation.
Secondly, it is owing to these strong domestic drivers that emerging economies are able to support ideas such as a global infrastructure hub and the global infrastructure fund mooted by the G20 Brisbane Summit in 2014 and the World Bank. Chinese President Xi Jinping supports such moves and has demonstrated that support through such mechanisms as the Belt and Road Initiative, the AIIB, and the Silk Road Fund.
Thirdly, domestic growth can be stimulated in various ways, and both India and China have unfolded ambitious connectivity projects that have the potential to be linked together through consultation and coordination at provincial as well as national levels. For example Indian Prime Minister Modi's pet project, the National Perspective Plan of the Sagarmala Programme, which aims to modernize India's ports and integrate them with its special economic zones, port-based smart cities, industrial parks, warehouses, logistics parks and transport corridors, could be coupled with China's Belt and Road Initiative. As far as regional connectivity is concerned, India's Bharatmala Project (by way of which India plans to connect the entire Himalayan Mountain belt of Indian States through a network of railways and roads) could be integrated with China's northwest and southwest regional plans. In eastern India, the Bangladesh-China-India-Myanmar Economic Corridor could revolutionize overland connectivity and facilitate not only domestic, but also regional growth within the Association of Southeast Asian Nations (ASEAN). Similarly, India and China could negotiate the establishment of a larger economic corridor running through Northwest China and Northern India, which could easily be connected by a network of roads, railways, and oil and gas pipelines. Needless to say, in order to make these projects come to life, China and India need to take a holistic and long-term view of their relations, as well as the global shift from the Atlantic to the Pacific. BRICS will cease to exist if India and China cannot hold together. 
Finally, in order to push forward the transformation of the global governance structure, China and India need to become partners in each other's development. There have been positive changes in bilateral security as well as the general business environment. However, given the potential of both countries, there is huge scope for further development. In order to tap this potential, both nations need to initiate innovative developmental plans and policies, as well as initiating structural reforms in areas such as taxation, investment, finance, labor, and so on. Their macroeconomic policies should also be in sync with social policies, which will ensure stability in society and the acceptance of government planning.  
B.R. DEEPAK is a professor at the Center of Chinese and Southeast Asian Studies at Jawaharlal Nehru University and managing editor of Think India.
Services