Building a Forest Park: Restoring the Ecological Environment
By staff reporter CHEN JUN
THE 18th CPC National Congress advocated the creation of a "beautiful China," making ecological progress a priority by incorporating it into China's overall development plan, along with economic, political, cultural, and social progress.
During an inspection tour in Anhui Province from April 24 to 27, 2016, General Secretary of the CPC Central Committee Xi Jinping spoke highly of the progress already made there. He said: "Anhui has laid a foundation for green and low-carbon development. I hope Anhui can take the lead in reform and innovation." For this purpose, Anhui Province published five development action plans, one of which is green development and the construction of an ecological model.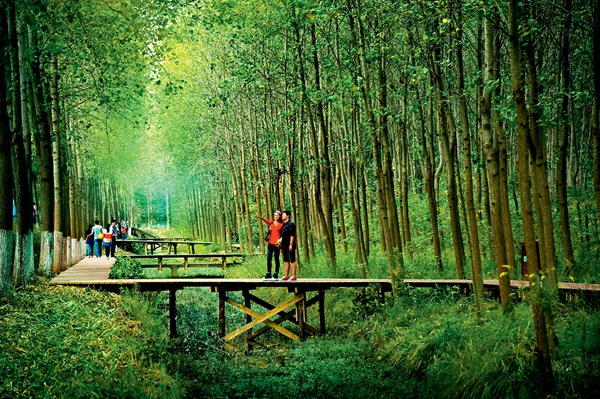 Binhu National Forest Park in Anhui Province draws a large number of tourists every year for its clean air.
The Chaohu Lake, one of the largest freshwater lakes in China, is located in southeast Hefei, the capital of Anhui Province. In recent years, Hefei has aimed to become a city famous for its lakeside scenes and innovation capacity, promoting the construction of an ecological demonstration area around the Chaohu Lake. Located on the north shore of Chaohu, the Binhu National Forest Park is a successful template for ecological restoration.
A Jewel on the Shore of Chaohu Lake
The Binhu National Forest Park enjoys an excellent geographical location. Located on the north shore of the Chaohu Lake and near the South Feihe River estuary, it is only five km away from the future administrative center of Anhui Province. The total area is 1,072 hectares, including 799 hectares of forest and 263 hectares of water surface. According to the results of a scientific test, the negative oxygen ion count is 2,500 to 3,000 per cubic centimeter; this level meets the highest national standard. The park deserves its reputation for being the "Lung of the City."
As a state-level forest park, the Binhu Wetland Park in Hefei is the result of reforesting cultivated land and ecological restoration. Hefei is now the only provincial capital in China with two national forest parks. For many years, the forest has played a significant role in the air purification, climate regulation, water purification, water conservation, and protection and restoration of the ecological environment in the city.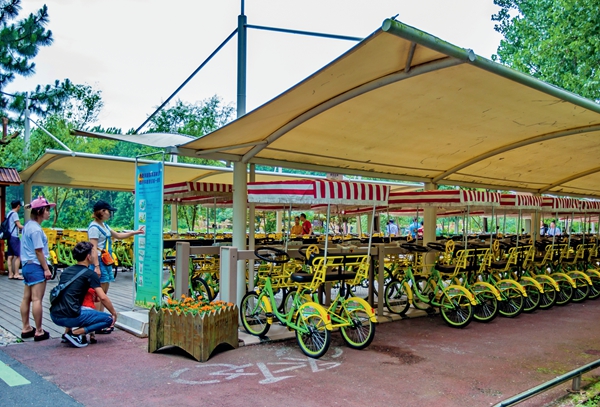 Based on the principle of "protection, utilization, and moderate development," the park authority put large tourist facilities like bike rental stations outside the park. Zheng Liang
This reporter saw tourists everywhere in the park. Some took the sightseeing bus, some rode bicycles and some wandered through the forest, enjoying being close to nature. Now and then, newly-weds could be seen taking wedding photos against beautiful backdrops. They told China Today that the lush, green place with water and forests was a perfect match for beautiful brides.
According to the staff, this park boasts the only forest of 10,000 mu (about 667 hectares) with a water network in Anhui Province. The multi-level plant community consists of over 280 species. The upper part of the forest features numerous tall poplar trees and rare plants such as metasequoia, glossy privet, and slash pines; the middle part features camphor trees, mulberry trees, Chinese tallow trees, etc.; the lower part features vegetation like palm trees, cotton roses, and vines. Some rare tree species such as metasequoia, Chinese dove trees, and ginkgo can also be found here, in addition to water plants including powdery thalia, German iris, and lotus.
However, the place was in a terrible state before the park was built. An official in Baohe District, Hefei, explained: "This place was originally called Dazhangwei. 'Wei' means dams built around low-lying areas. Since ancient times, this place has had plenty of water and lush pasture, so from the Qing Dynasty people began building dams to reclaim land from the lakes, causing environmental degradation."
To improve the ecological environment in Dazhang-wei, Baohe District reforested some of the cultivated land in 2002, creating about 10,000 mu of poplar tree plantations. In 2011, Anhui Province adjusted the administrative division, beginning construction of an ecological demonstration area around the Chaohu Lake. Due to the ongoing ecological construction around Chaohu, in August 2012, Baohe District gave the park top priority in ecological construction and strove to make it a jewel next to Chaohu Lake that would benefit all residents of the city.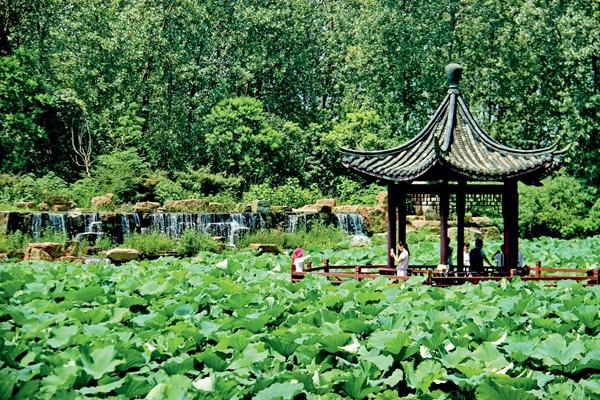 A green place with water and forests, the Binhu Wetland Park boasts the only forest of around 667 hectares with a water network in Anhui Province. Uncredited photos by Baoxuan
Binhu National Forest Park broke two national records for parks of its kind. First, it was the most creative, turning an artificial forest into a state-level national forest park by ecological restoration; second, it took only 17 months to get state approval, which was the shortest time taken for any park.
Ecological Restoration First
General Secretary of the CPC Central Committee Xi Jinping once pointed out: "To promote green development and green lifestyle, one of the key tasks is to speed up ecological restoration and implement the integrated preservation and rehabilitation of water, mountains, forests, farmland, and lakes." According to workers in the park, in the process of construction, Hefei vigorously implements restoration projects such as vegetation expansion and wetland restoration. Every year people throw in tens of thousands of fish fries to maintain the original water system and protect native plants, minimizing construction areas and human activities by using non-artificial methods to restore natural rivers.
The Jiaolao River, originally a major canal within the Dazhangwei Forest Area, is a typical example of ecological restoration. It used to be plagued with water shortages, wetland functional degradation and a poor self-purification capacity. To solve these problems, a series of restoration measures were taken during park construction. For example, the channel was dredged to restore water flow. Ecological revetments were built using wood piles and various kinds of shrubs and trees such as calamus, Indian shot, Fatsia, and pine trees. A multi-level artificial water purification system was installed to replenish the park with one to two tons of purified water every day. A multi-level artificial wetland was constructed to promote overall water quality. Now, the Jiaolao River is lively with flowing water channels, overgrown reeds and calamus, as well as flying egrets.
Environmentally friendly materials are used as much as possible in building necessary facilities. The eco-toilets are all equipped with a complete sewage disposal system for discharge and waste utilization; all the service centers are housed in eco-cabins, the trails are built from eco-pavement and plank roads. Based on the principle of "protection, utilization, and moderate development," the park authority put large tourist facilities, catering and parking service projects outside the park, controlling the size and scale to match the ecological environment. After years of development and construction, the Binhu National Forest Park, with remarkable ecological value and social benefits, has multi-functions such as sightseeing, leisure, sports, and popular science education.
The Forest Ranger System
Hefei initiated the "forest ranger system" after successfully implementing the "river ranger system." Henceforth, every river, slope, and park has qualified personnel in charge.
On June 4, 2017, the inauguration of the "forest ranger system" was held, kicking off the implementation of the system in six ecological regions and the construction of the National Ecological Garden City. According to the "Forest Ranger System" Implementation Plan for Key Ecological Regions in Hefei, the city will build a four-level (city, county, township, and village) "forest ranger system" and implement it in six ecological regions, namely the state-level forest park, the state-level wetland park (a pilot project), the state-owned forest farm, the major ecological corridor, the major urban park, and the key water conservation forest, to ensure clear division of responsibility to the specific person in charge.
Meanwhile, an evolution system for the forest ranger will be implemented. The forest ranger at and above county level is responsible for monitoring his subordinates. This evaluation is crucial for local Party and government officials to give comprehensive appraisal. Any rangers who are dismissed will be held accountable in strict accordance with pertinent regulations.
Utilizing regional forest resources, Hefei is speeding up the integrative development of its forestry and tourism industry, promoting eco-tourism, building relevent industrial bases, and creating influential tourist attractions and brands.
"A clean environment and people's livelihood are closely related; people's happiness lies in a beautiful homeland with blue sky and green hills," said President Xi Jinping. Over recent years, Anhui Province has balanced economic growth with ecological progress and created a better ecological environment that improves people's quality of life. In time, green fields, clean water, and blue sky in the region will be even more beautiful.
Services