BRICS Draws Up a Blueprint for Further Cooperation – An Interview with Indian Ambassador to China Shri Vijay Gokhale
China Today (CT): How does India regard and evaluate the BRICS mechanism?
Shri Vijay Gokhale: India views BRICS as an important platform for the exchange of views on the entire spectrum of regional and multilateral issues. These include sustainable development, global trade and investment regimes, environment and climate change, terrorism, connectivity and the democratization of the international order. We believe that the significance of BRICS extends beyond its five members and has a visible regional and global impact. We have made significant strides forward in the first 10 years of the BRICS mechanism, including the leaders' summits, ministerial interactions, and functional cooperation. Besides noteworthy developments in the economic realm – the New Development Bank (NDB) being one of the most important – we are also building cooperation in sports, traditional medicine and healthcare, education and culture. We look forward to new ideas for future cooperation under the chairmanship of China.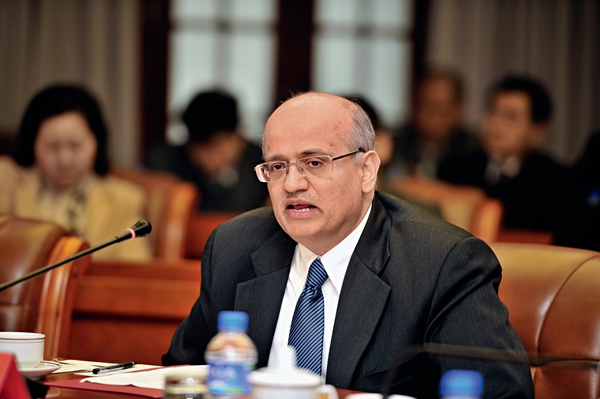 CT: How has India benefited from this mechanism?
Shri Vijay Gokhale: India attaches high importance to our engagement with BRICS. As mentioned above, we regard BRICS as an important platform for the exchange of views on a wide range of issues. At a time of global uncertainty, we believe that BRICS can act as a means of stability. We have established effective synergy in the past 10 years. We have a common agenda in terms of speaking out against the practice of protectionism, pushing for a more representative structure of global economic governance and a fair, open and transparent multilateral trading system with the WTO at its center. As a means for enhancing cooperation under the BRICS framework, India also proposed the idea of introducing an independent credit rating agency and a BRICS research body (the BRICS Institute for Market Research and Analysis). We look forward to further movement on this. The relevance of BRICS also extends beyond economic and trade matters, to the entire spectrum of global issues and challenges. India believes that BRICS has considerably shaped the global discourse on several of today's important and pressing issues.
CT: How do you see the New Development Bank?
Shri Vijay Gokhale: The New Development Bank is one of the most significant outcomes of the BRICS process. The bank is now fully operational, reflecting the success of our collective efforts. We welcome the fact that the New Development Bank prioritizes clean energy as well as green and sustainable infrastructure. There is huge demand for infrastructure in emerging markets and developing countries, including India. We believe that the New Development Bank can fill the gap between this demand and the constraints faced by established multilateral development banks. For our part, we would like to work with the NDB in key areas such as smart cities, renewable energy, urban transport, clean coal technology, solid waste management and urban water supply. In addition, we also welcome the aim of the NDB to become a knowledge partner facilitating the exchange of knowledge between member states.
Chinese Foreign Minister Wang Yi meets in Beijing with Indian Minister of State for External Affairs Vijay Kumar Singh on June 18, 2017. Singh is in China for the Meeting of BRICS Ministers of Foreign Affairs.
CT: Chinese Foreign Minister Wang Yi proposed a "BRICS Plus" mechanism to enlarge BRICS' circle of friends. What is your take on this?
Shri Vijay Gokhale: BRICS has established a fine tradition of inviting regional leaders and partners to the BRICS Summit since the Durban Summit in 2013 under the chairmanship of South Africa. When India chaired BRICS in 2016, we organized an outreach summit for BRICS and the BIMSTEC group of countries, in Goa. That outreach summit provided a platform of engagement between BRICS and other developing countries and we welcome the continuation of this tradition.
CT: What are India's expectations for the ninth BRICS Summit in Xiamen?
Shri Vijay Gokhale: We have expressed our full support to China for organizing the BRICS Summit in Xiamen. We deeply appreciate China's active participation in and contribution to the Goa Summit. India will work closely with China to build on the concrete outcomes of the Goa Declaration. We have had a number of important events so far. Several Indian ministers have visited China to participate in BRICS-related meetings. The first formal meeting of BRICS foreign ministers was held in Beijing in June and the seventh meeting of BRICS High Representatives for Security Issues was held in Beijing at the end of July. We have also supported China in organizing people-to-people exchanges such as the second BRICS Film Festival and the BRICS Games. We look forward to building on these achievements and drawing up a blueprint for future cooperation at the ninth BRICS Summit in Xiamen.
Services