Employment Preserved as Overcapacity Is Shed
By staff reporter JIAO FENG
EXCESS capacity of its manufacturing industry is currently the most urgent economic problem China needs to deal with. The issue is especially serious in the iron, steel, coal, cement, and plate glass industries where enterprises are struggling. These industries exhaust resources, making it impossible for China to rely on emerging industries, which represent the future of China's economy. What's more, credit risks such as overdue loans and overdue corporate debts haunt these industries, and may spill into other areas. Therefore, China's top economic priority this year is to dissolve excess capacity.
The Central Economic Work Conference convened at the end of 2015 proposed that a comprehensive supporting policy system be formulated to facilitate bankruptcy procedures based on market rules, and accelerate insolvency liquidation, so enabling low added-value and energy intensive companies to exit the market sooner. During this process, concerned enterprises should play the principal role, governments provide the impetus and incentive, and all measures should be market-based and law-abiding.
One vital and difficult aspect of cutting overcapacity is the reallocation of laid-off workers. Statistics show that most of the industries with excess capacity are labor intensive. As many as 1.8 million employees need to be outplaced in the iron and steel industry alone. The overall number is estimated to be 10 million. This is quite a challenge for the Chinese government.
According to the Ministry of Human Resources and Social Security, there are mainly four ways of reallocation: transferring to different positions within the enterprise, offering new jobs in other companies, early retirement for senior workers, and arranging public service jobs. This year, RMB 100 billion will be allocated by central finance to help resolve this issue.
More Input to Help Job Transfers
Sinosteel Xingtai Machinery & Mill Roll Co., Ltd. (Sinosteel XMMC), established in 1958, mainly produces mill rolls and metallurgical equipment. Its output and sales of rolls ranked first in the world in 2007. However, in 2012, Sinosteel XMMC was listed by the municipal government of Xingtai, Hebei Province, as one of the most air polluting companies, and that needed major treatment.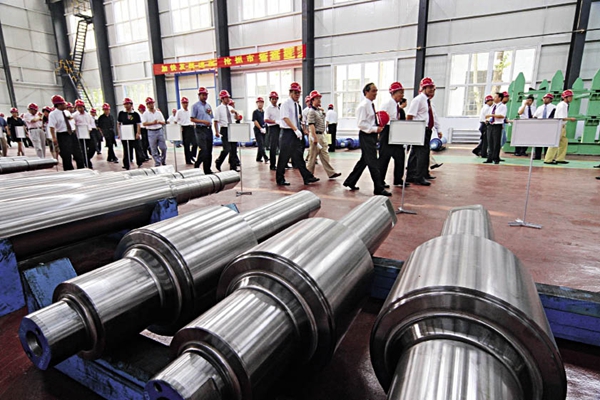 Sinosteel XMMC is a leading producer of mill rolls.
With enhanced financial input, the company upgraded its environmental protecting facilities, overhauled its product lines and halted certain operations. As a result, emissions of various pollutants were effectively reduced. But, at the same time, operation costs rose. In tackling pollution and readjusting its industrial structure, Sinosteel XMMC retrained as many as 2,000 employees for new jobs and skills. "Affected by the sluggish international iron and steel market, demand for some products is shrinking sharply. Orders are paltry, prices are falling. Enterprises are facing the dual pressure of environmental protection and a sluggish market," a manager told the reporter.
Zhang Yushan is a member of the security staff of a subsidiary of Sinosteel XMMC. He used to work in the packaging section for an income of nearly RMB 3,000 per month. It was enough for his family to make ends meet. But after the industrial restructuring, output dropped sharply – so did his income. The reduced salary of RMB 1,200 was not enough for him to support his family. Distressed and worried about the economic crisis his family was facing, Zhang Yushan decided to quit the post, and retrained to become a security officer. This new position secured him a higher and more stable income than before.
In 2014, Hebei Province put forward new policies to help enterprises retain jobs, stipulating that the unemployment insurance fund should finance qualified companies to conduct retraining, subsidize certain positions, and complement social security. The goal is to encourage employers to reallocate workers and reduce layoffs as much as possible. For companies where the average income is below 60 percent of the regional figure, the companies and their workers are allowed to pay their respective share of contributions to a social security fund according to their actual income, so easing their financial burdens. Sinosteel XMMC received a RMB 7.7 million subsidy thanks to these supportive policies. Since 2014, Xingtai City has altogether offered 34 companies RMB 58.52 million in such subsidies, bringing real benefits to over 50,000 employees.
Inner Digestion within Companies
Cutting overcapacity is a truly tough challenge but will revolutionize industry. Statistics show that a reduction of 10 million tons of capacity in the iron and steel industry will reduce government revenue by RMB 1.42 billion.
To realize industrial transformation, upgrading, and green development, Hebei Xingtai Cable Co., Ltd. has set a good example. In 2014, Xingtai Cable moved from downtown Xingtai to a suburban industrial park. Two boilers were dismantled, each with a production capacity of 10 tons, and many production lines of wires and cables were shut down. All this was accomplished without any government compensation.
"We were facing extreme difficulties. Workers could only earn minimum wages," Hu Jianzeng, human resources manager of Xingtai Cable, recalled. However, without laying off one single employee, the company concentrated its finances to optimize and upgrade its operation. High energy-consuming procedures were eliminated, low efficiency processes were phased out, and new technologies were adopted. Meanwhile, to meet market demands, Xingtai Cable developed a bunch of popular, environmentally friendly products, hugely enhancing its competitiveness. Hu Jianzeng said, "Cutting excess capacity did bring about some temporary obstacles. But these challenges are at the same time opportunities. As long as we seize the opportunities, and make breakthroughs in transformation, upgrading, and innovation, we will absolutely realize new development."
Duan Fuqing, his father, and his wife all work for Xingtai Cable. When production was halted and the company was being relocated in 2014, he was earning a mere RMB 1,000 each month. After the relocation, in order to meet the demand of new production techniques, the 50-year-old was retrained with some of the younger employees. Now, he is a supervisor in one of the workshops at the new factory and his monthly income has risen to over RMB 3,000. "I never imagined that at this age I could be promoted." He was quite optimistic about this change.
In August, 2015, Xingtai took the lead in Hebei Province to conduct retraining in some special fields, promoting the techniques and skills of laid-off workers to make sure that they could be reallocated to new positions within their enterprises.
According to relevant Hebei Province regulations, enterprises that provide jobs for those made redundant due to overcapacity cuts will receive a government subsidy of RMB 1,000 for each job they offer; for enterprises who recruit those struggling to find employment, taxes and fees will be exempted or deducted, an interest subsidy will be offered for micro loans, and a social security subsidy and job subsidy will be provided for a minimum of three years. These incentives are all in place to encourage companies to ease the employment pressure of cutting overcapacity. Altogether Hebei has granted RMB 16 million in social insurance subsidies for workers and RMB 532,000 for eligible enterprises in this regard.
Xu Guixia works for the blast furnace division of Xingtai Iron & Steel Corp., Ltd. Since the capacity cutting campaign began, two blast furnaces have been shut down, one where Xu Guixia worked. She recalled her feelings back then: "I was 38 years old. I had been working there since graduation. But all of a sudden, I had no job. Where should I go? I felt very worried and insecure."
Xu Guixia was one of the 300 workers in the company who needed to be reallocated. The workers' union arranged specialized retraining for them. After six months, Xu Guixia was studying at a raw materials workshop. Thanks to her diligence, she secured a statistics position amid quite fierce competition. She said happily, "My income now is RMB 1,000 higher than before the retraining. I'm very satisfied."
Reallocation Pressure Growing
Hebei is implementing the "6643 Project," which means that from 2014 to 2017 the production capacity of iron and steel will be reduced by 60 million tons, cement by 61 million tons, standard coal by 40 million tons, and glass by 36 million weight cases.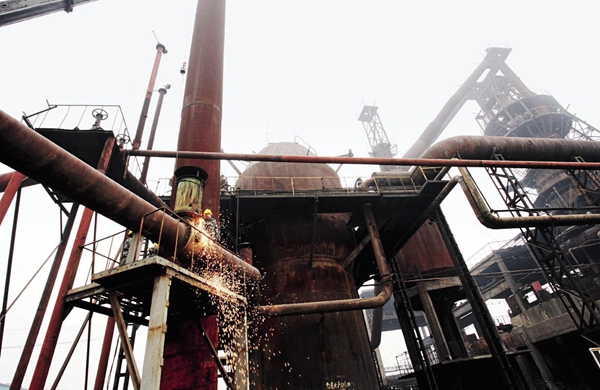 The blast furnaces of two iron and steel companies in Xuanhua District, Zhangjiakou City of Hebei Province are dismanteled in February 2014.
It is estimated that by the end of 2017, industrial restructuring in Hebei will involve as many as 7,071 companies, 1,888 of which are concentrated in the iron and steel industry, 966 from the building materials industry (cement and glass), and 955 are coal-fueled boiler companies. By the end of 2017, 1.06 million workers will be affected: 700,000 are insured and the remaining 358,000 are migrant workers or temporary ones. Of them about 415,000 could be reallocated through retraining and position transfer, 214,000 could be helped by the unemployment insurance fund through its subsidies to their employers, 123,200 may see their labor contract terminated, and about 310,000 migrant workers will need new jobs.
By the end of 2015, the arrangement of 116,700 workers in Hebei was still undecided. Governments at various levels do not allow companies to lay off large amount of workers, so the companies are resorting to temporary arrangements, such as internal training, work shifts, providing unemployment subsidies, and offering temporary supportive jobs. As time goes on and corporate financial pressure increases, the employment situation in the province will undoubtedly worsen.
Services